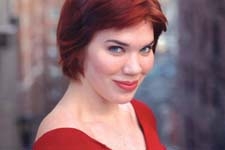 The fall colors are in, but we're not talking about fashions or foliage. Color headshots are steadily becoming more popular in the entertainment industry, already ubiquitous on the West Coast and now catching on here in the East. Traditional black-and-white versions are still acceptable and will probably survive this latest trend, but the popularity of digital photography is making color photos not only more available but affordable as well. Back Stage gathered a group of industry insiders to offer opinions on both styles, as well as the résumés attached to the backs of these actor "calling cards."
William Eston Duey III has been an agent at Hanns Wolters International for five years. He's recently noticed many more color pictures coming across his desk. "It has spread from L.A. like the avian flu" were his exact words. Fellow agent Dave Bennett of Talent House suggests that if you're getting digital shots done, do them in color; you can always switch to black-and-white reproductions later.
Elsie Stark of Stark Naked Productions and Elsie Stark Casting says she's also had an increase in color submissions: "They're fun to look at and can show great skin tone. I used to say no color, only because it was so cost-prohibitive, but it's not anymore." And Jessica Kelly of Carol Hanzel Casting initially professes to not liking the color trend, yet she seems to change her mind after being impressed by several examples from our actor participants.
Read on and you can decide for yourself if the color wave is an effective choice for your next headshot. There are also tips on résumé layout, makeup choices, full-body versus headshots, etc.
BackStage.com members: To read the rest of this terrific feature, click here.
Not a member yet? Click here for information on how to receive all the benefits of BackStage.com.