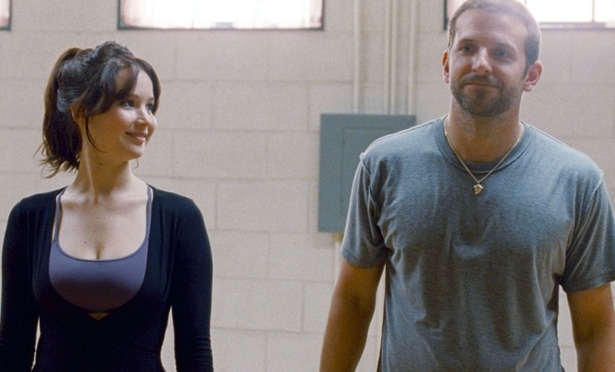 The big winner at the 2013 Independent Spirit Awards was "Silver Linings Playbook," taking home four of the five awards it was nominated for--including best feature, best director, best screenplay, and female lead for Jennifer Lawrence. The only category it lost was male lead, which instead went to John Hawkes for "The Sessions." Hawkes' co-star, Helen Hunt, took best supporting female, while best supporting male went to Matthew McConaughey for "Magic Mike." Going into tomorrow's Academy Awards, "Silver Linings" has eight nominations, and beat fellow Oscar nominee "Beasts of the Southern Wild" for the top prize today.
The ceremony was hosted by Andy Samberg and held in a tent on the Santa Monica beach; though the show wrapped by 3:30pm PST, it won't air until 10pm on IFC. That should give editors plenty of time to work around the lengthy first acceptance speech for best first screenplay, given by winner Derek Connolly for "Safety Not Guaranteed." Appearing intoxicated (which might have had something to do with sponsor Jameson whiskey handing out drinks the moment attendees walked in and bottles of the spirit at every table), Connolly gave a lengthy speech that eventually prompted actor Bryan Cranston to jump onstage and jokingly pour him a drink.
Other speeches were more succinct. "Silver Linings" writer-director David O. Russell scored two wins, first for screenplay, then for best director. His biggest competition was considered to be "Beasts" filmmaker Benh Zeitlin. Open accepting best director, Russell joked, "Benh Zietlin is a young man. So Benh Zietlin will be back."
Nudity was a hot topic. McConaughey noted that he won for playing a stripper, saying, "I had to take my pants off to win trophies. I had to drop my drawers off to win an award." Backstage, Hunt was asked about doing future nude scenes after she bared all for "The Sessions," and she remarked, "I'm not taking them off again. That was it. But it worked out."
A full list of winners follows.
Best First Screenplay:
Derek Connolly, "Safety Not Guaranteed"
Best First Film:
Stephen Chbosky, "The Perks of Being a Wallflower"
Best Supporting Male:
Matthew McConaughey, "Magic Mike"
Piaget Producers Award:
Mynette Louie
Chaz and Roger Ebert Fellowship:
"Mr. SOUL!"
Robert Altman Award:
"Starlet"
Best International Film:
"Amour"
John Cassavetes Award:
"Middle of Nowhere"
Best Supporting Female:
Helen Hunt, "The Sessions"
Best Cinematography:
"Beasts of the Southern Wild"
Best Screenplay:
David O. Russell, "Silver Linings Playbook"
Best Documentary:
"The Invisible War"
Someone To Watch Award:
Adam Leon, "Gimme the Loot"
Truer Than Fiction Award:
Peter Nicks, "The Waiting Room"
Best Director
David O. Russell, "Silver Linings Playbook"
Best Female Lead:
Jennifer Lawrence, "Silver Linings Playbook"
Best Male Lead:
John Hawkes, "The Sessions"
Best Feature:
"Silver Linings Playbook"