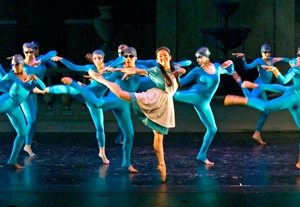 The Tribeca Film Festival is known for bringing some of the best documentaries in the world to New York City each spring. The 2012 festival, running April 18-29, is no exception. Back Stage highlights some of the docs in this year's lineup that were made with actors in mind.

"Fame High"
The World Documentary Competition includes the world premiere of this coming-of-age feature which follows a group of struggling students at the Los Angeles County High School for the Arts from the uncertainty of freshman auditions to a triumphant senior graduation performance. By capturing the onstage and behind-the-scenes drama, competition, heartbreak, and achievements of these young artists, director Scott Hamilton Kennedy shows that reality can be even more inspiring than an episode of "Glee."

"Fame High" premieres Saturday, April 21 at 6:30 p.m. Kennedy's "The Garden" was nominated for an Academy Award for Best Documentary Feature in 2009. "OT: Our Town," his documentary about a high school's attempt to stage its first play in more than 20 years with no money and no stage, screened at TFF in 2002.

"Journey to Planet X"
Eric Swain and Troy Bernier are two South Florida scientists who are inspired by their love of sci-fi. But after leaving the lab, they don't just go to midnight movies—they make their own. The results are low-budget, campy crowd pleasers that resemble recent cult hits like "The Room" and "Birdemic" much more than "Star Wars" or "Star Trek." Co-directors Myles Kane and Josh Koury spent two years documenting the DIY duo's most ambitious green-screen project yet, crafting an offbeat yet entertaining and inspirational look at why we love to make movies.

"Journey to Planet X" premieres Saturday, April 21 at 10 p.m. Kane and Koury co-founded the Brooklyn Underground Film Festival in 2002.

"Side by Side"
Keanu Reeves narrates, hosts, and also produced this fascinating debate about the future of filmmaking, which includes interviews with cinematographers, editors, and directors such as James Cameron, Martin Scorsese, Christopher Nolan, George Lucas, Danny Boyle, Robert Rodriguez, and many more. The digital age has transformed how movies are made. Will celluloid cease to be part of the business?

"Side by Side" premieres Tuesday, April 24 at 8:30 p.m. The documentary will be distributed by Tribeca Film, and will be released in August in New York and Los Angeles, as well as on VOD.

"BAM150"
The Brooklyn Academy of Music celebrates its 150th anniversary this year, and this world-premiere doc takes audiences backstage at the nation's oldest performing arts center. Director Michael Sladek incorporates footage of recent performances, interviews with artists like Laurie Anderson and Robert Wilson, and archival material to create a loving look at how BAM put Brooklyn on the cultural map. Learn why the relentless determination and vision of its leaders in its first century and a half established BAM as a creative home for such greats as Pina Bausch, Merce Cunningham, and Peter Brook.

"BAM150" premieres Friday, April 27 at 6:30 p.m. Sladek previously directed the docu-comedy "Con Artist," which premiered at TFF in 2009.


Judith Malina in "Love and Politics"

"Love and Politics"
Judith Malina has been an enduring icon of New York's independent theater scene since she co-founded the Living Theater in 1947 with her late husband Julian Beck. The 85-year-old Malina must now fight her company's mounting financial problems and her own failing health as she begins rehearsals on a new play and struggles to sustain her dream of a "beautiful non-violent anarchist revolution." The world premiere of this feature documentary will remind viewers that some of the city's most valuable cultural institutions can be found far from Times Square's Broadway marquees.

"Love and Politics" premieres Sunday, April 29 at 4 p.m. as a "Special Screening" at Tribeca.

"Joe Papp in Five Acts"
The founder of the Public Theater spent his life bringing theater and the arts to the masses. The indomitable Joseph Papp introduced interracial casting to the American stage, brought free Shakespeare to Central Park, developed future Broadway hits like "Hair" and "A Chorus Line," and nurtured many of the greatest American playwrights, directors, and actors. Meryl Streep, Christopher Walken, Martin Sheen, Kevin Kline, James Earl Jones, Olympia Dukakis, Mandy Patinkin, and more speak to filmmakers Tracie Holder and Karen Thorsen about the man whose personal life was as dramatic as his on-stage productions.

"Joe Papp in Five Acts" premieres Sunday, April 29 at 5:30 p.m. as a "Special Screening" at Tribeca. This world premiere documentary is a co-production with PBS/American Masters.

Also at Tribeca:

Actors Will Arnett, Jason Bateman, Paul Rudd, Zach Galifianakis, and others examine male grooming trends in the world premiere of "Mansome" (April 21), the newest documentary from Academy Award nominee Morgan Spurlock ("Super Size Me").

The New York premiere of "Jean Lewis" (April 21), a short documentary in competition at Tribeca, introduces viewers to a former Hollywood reporter whose fascinating life and famous connections are revealed when she moves into a nursing home and is forced to leave her belongings behind.

"Wagner's Dream" documents the five-year artistic process behind the Metropolitan Opera's ambitious and challenging production of Richard Wagner's four-part "Ring Cycle." After the film's world premiere on April 25, Margaret Juntwait, "the Voice of the Met," moderates a conversation with filmmakers Susan Froemke and Bob Eisenhardt, the Met's general manager Peter Gelb, opera soprano Deborah Voigt, and tenor Jay Hunter Morris as part of the Tribeca Talks series.

The children's chorus of Staten Island's PS22 are the subject of "Once in a Lullaby: The PS22 Chorus Story," which follows the fifth graders to their closing performance at the 2011 Academy Awards ceremony. Following the world premiere screening April 29, director Jonathan Kalafer, PS22 chorus teacher Gregg Breinberg, executive director of the Office of the Arts and Special Projects at the New York City Department of Education Paul King, and more will talk about how new media arts in the classroom can benefit students' learning.

For the full 2012 Tribeca Film Festival schedule and to purchase tickets, visit TribecaFilm.com.