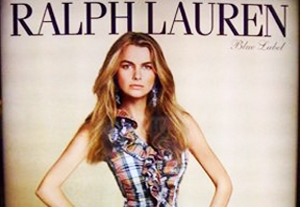 This morning "The Today Show" devoted seven minutes to the story of Filippa Hamilton, the Ralph Lauren model who was retouched into a mere wisp of a person in a much-criticized in-store ad.
Hamilton says Ralph Lauren fired her in April (before the recent ad controversy) because she was too big to fit into some clothing. (She's size 4, 5'10" and 120 pounds.) Hamilton decided to speak out after seeing the distorted picture of herself in the ad.
In the "Today" segment, Hamilton's attorney, Geoffrey Menin, says: "They Photoshopped her in a way that, for me, is grotesque and makes her look like a cartoon. The trouble is it's damaging to her. Who wants to hire someone who looks like that?"
"Today" managed to get a few comments from Ralph Lauren, though no one from the apparel company appeared on camera. Ralph Lauren says Hamilton was let go because she failed to meet the obligations of her contract, not because of her weight. "Today" also reported that the ad appeared in only one department store in Japan.
As we now know, once the ad appeared on the Internet, it spread everywhere, despite Ralph Lauren's hapless efforts to use the Digital Millennium Copyright Act to get it taken down.
Hamilton told "Today": "I saw my face on this super extremely skinny girl, which is not me. It makes me sad. It makes me think that Ralph Lauren wants to have this kind of image... It's not healthy and it's not right."
– Nielsen Business Media