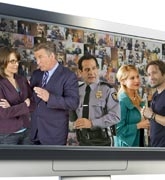 Emmy season dawns this year amidst clouds. The industry is still reeling from the three-month work stoppage precipitated by the Writers Guild of America strike and is already flinching in anticipation of a possible Screen Actors Guild strike this summer. In light of a shortened TV season and a loss of billions to the industry, tempered enthusiasm for the Sept. 21 Emmy Awards would make sense.
Yet they're being greeted like long-lost comrades, with an earnest new cheerleader on the scene: the Academy of Television Arts and Sciences' chairman and CEO, John Shaffner. "The audience is coming back to scripted television!" he exults. "It seems like viewers missed it during the strike. The quality in prime time has never been better. It's so amazing and great that it seems unfair to have to hold a contest."
Perhaps. But here comes the 60th annual Primetime Emmy season, starting with the announcement of nominations (July 17) and leading up to the dispersal of the statuettes (Sept. 13 and 21) in recognition of excellence during the 2007-08 TV season (at least, what there was of it).
Of course, from November through the beginning of February, pens were down and nearly all scripted series and longform production shuttered. About a third of this year's season was lost to the labor dispute. Many shows struggled to complete 13 or 14 of their ordered episodes, rather than the typical allotment of 22 or more.
But despite the abbreviated, compromised, and chaotic television campaign, the Emmys will carry on as if the strike never happened. There will be no tweaking of eligibility rules to accommodate the production shortfall. A series must still present six original episodes during the qualifying period (June 1, 2007, to May 31, 2008) to meet the criteria, which John Leverence, the TV academy's senior vice president of awards, maintains won't exclude the overwhelming majority of Emmy-worthy programs.
This year, broadcast may be out of luck regardless, as 2008 is shaping up to be the year that "Cable Ate the Emmys" or at least became an equal player. Several cable series eligible for Emmy consideration for the first time are receiving early Emmy buzz, and with long-dormant HBO back in the running for longform, expect a near clean sweep of those categories.
"It really is just an amazing time for cable," says James Duff, the creator and executive producer of TNT's The Closer. "TV can do drama that's as deftly plotted and thematically united as anything the movies are doing. It demonstrates what can happen when a studio trusts the storyteller."
Following is a handicapping of lead actors in the comedy and drama series.
ACTOR IN A COMEDY SERIES
FAVORITES (Lead Actor): Alec Baldwin, 30 Rock (NBC); Steve Carell, The Office (NBC); David Duchovny, Californication (Showtime); Lee Pace, Pushing Daisies (ABC); Tony Shalhoub, Monk (USA Network); Larry David, Curb Your Enthusiasm (HBO); Kevin Connolly, Entourage (HBO); Kelsey Grammer, Back to You (Fox); Charlie Sheen, Two and a Half Men (CBS); Josh Radnor, How I Met Your Mother (CBS); Brad Garrett, 'Til Death (Fox); Jason Lee, My Name Is Earl (NBC)
FAVORITES (Lead Actress): Tina Fey, 30 Rock (NBC); Christina Applegate, Samantha Who? (ABC); Mary-Louise Parker, Weeds (Showtime); America Ferrera, Ugly Betty (ABC); Julia Louis-Dreyfus, The New Adventures of Old Christine (CBS); Tichina Arnold, Everybody Hates Chris (The CW); Felicity Huffman, Desperate Housewives (ABC); Marcia Cross, Desperate Housewives (ABC); Anna Friel, Pushing Daisies (ABC); Patricia Heaton, Back to You (Fox); Joely Fisher, 'Til Death (Fox); Sarah Silverman, The Sarah Silverman Program (Comedy Central)
The lead comedy actor category always, or nearly always, defies conventional wisdom. Consider that Monk's Shalhoub won three of the four years before last year's ceremony, when 30 Rock's Baldwin was as close to a slam dunk as one can get. If not Baldwin, it was destined to be Shalhoub again — or the always-passed-over Carell. So who wins? Ricky Gervais for Extras. There is just no figuring these Emmys. But Gervais is out of the running this time, so perhaps now it's Baldwin's turn. Or Carell's. Or Shalhoub's again. Or Golden Globes darling Duchovny could swoop in and steal it. Knowing the TV academy, however, it might be none of 'em.
As for the lead actress lineup, it is not inconceivable that all five nominees from a year ago could be back for a second go-around. Those would be Fey, Huffman, Louis-Dreyfus, Parker, and winner Ferrera. The wild card this time, however, is Samantha Who?'s Applegate, who is considered nearly a shoo-in for a nomination. Might we see six nominations this time? It wouldn't be unprecedented. The favorite for the statuette itself? It looks to be very much up for grabs.
ACTOR IN A DRAMA SERIES
FAVORITES (Lead Actor): Hugh Laurie, House (Fox); James Spader, Boston Legal (ABC); Jon Hamm, Mad Men (AMC); Bryan Cranston, Breaking Bad (AMC); Michael C. Hall, Dexter (Showtime); Denis Leary, Rescue Me (FX); Gabriel Byrne, In Treatment (HBO); Patrick Dempsey, Grey's Anatomy (ABC); Eddie Izzard, The Riches (FX); Jonathan Rhys Meyers, The Tudors (Showtime); Peter Krause, Dirty Sexy Money (ABC); Kyle Chandler, Friday Night Lights (NBC)
FAVORITES (Lead Actress): Glenn Close, Damages (FX); Kyra Sedgwick, The Closer (TNT); Holly Hunter, Saving Grace (TNT); Sally Field, Brothers & Sisters (ABC); Calista Flockhart, Brothers & Sisters (ABC); Minnie Driver, The Riches (FX); Patricia Arquette, Medium (NBC); Mariska Hargitay, Law & Order: Special Victims Unit (NBC); Connie Britton, Friday Night Lights (NBC); Elisabeth Moss, Mad Men (AMC); Ally Walker, Tell Me You Love Me (HBO); Mary McDonnell, Battlestar Galactica (Sci Fi Channel)
It seems that the Emmy voters like to choose one name and stick with it in the series acting categories. How else to explain the unblemished success of Boston Legal's Spader, who has been eligible for lead actor honors three times and won each year? It could happen again this year, though the competition has, if anything, grown stiffer. Gone from the category are James Gandolfini for the departed The Sopranos and Kiefer Sutherland for Fox's ineligible 24. But standing in Spader's way for a fourth Emmy are House's Laurie, who has been expected to take home the gold the past two years only to get shut out (instead earning a pair of Golden Globes), and this year's Globe victor, Hamm, from Mad Men. A wholesale reconfiguration of the category this year is not out of the question.
Meanwhile, among drama series lead actresses, the overwhelming favorite has to be Close for Damages. Not only did she already earn a Globe for the role, the 10-time Emmy nominee (and one-time winner) is widely considered the finest actress in television.
But there's plenty of competition between The Closer's Sedgwick (a 2007 Globe winner), 2007 Emmy champ Field, and 2007 category nominees Driver, Hargitay (who won in 2006), and Arquette (who won in 2005). Flockhart, from Brothers & Sisters, also has to be seen as a strong candidate. And Mad Men's Moss has the look of a wild card, particularly if a bandwagon gets rolling for the show.
ACTOR IN A MOVIE/MINISERIES
FAVORITES (Lead Actor): Paul Giamatti, John Adams (HBO); Kevin Spacey, Recount (HBO); Tom Wilkinson, Recount (HBO); Sean "Diddy" Combs, A Raisin in the Sun (ABC); Ralph Fiennes, Bernard and Doris (HBO); Simon Woods, Masterpiece: Cranford (PBS); Chris O'Donnell, The Company (TNT); David Oweloyo, Five Days (HBO); David Haig, Masterpiece: My Boy Jack (PBS); Daniel Radcliffe, Masterpiece: My Boy Jack (PBS); Paddy Considine, Pu-239 (HBO); Michael Imperioli, Mitch Albom's For One More Day (ABC)
FAVORITES (Lead Actress): Laura Linney, John Adams (HBO); Bryce Dallas Howard, As You Like It (HBO); Susan Sarandon, Bernard and Doris (HBO); Judi Dench, Masterpiece: Cranford (PBS); Vanessa Redgrave, The Fever (HBO); Phylicia Rashad, A Raisin in the Sun (ABC); Kim Cattrall, Masterpiece: My Boy Jack (PBS); Catherine Keener, An American Crime (Showtime); Ellen Page, An American Crime (Showtime); Hattie Morahan, Masterpiece: Sense and Sensibility (PBS); Janet McTeer, Masterpiece: Sense and Sensibility (PBS); Emily Watson, The Memory Keeper's Daughter (Lifetime); Sissy Spacek, Pictures of Hollis Woods (CBS)
Among the potential nominees for lead actor in a telepic or miniseries sit three Oscar nominees (Giamatti, Wilkinson, and Fiennes) and one winner (Spacey). Not too shabby. But how do you bet against the second U.S. president?
Perhaps you don't. It just depends on whether or not John Adams runs the table with its potential to emulate the record 11-Emmy megasuccess of HBO's Angels in America in 2004. Giamatti, nonetheless, has to be seen as the favorite, but Spacey and Wilkinson (for Recount), Fiennes (for Bernard and Doris) and Combs (for the much-praised A Raisin in the Sun) also are exceptionally strong contenders for a nomination.
The heavy buzz on Linney for her performance as Abigail Adams in John Adams leaves her as the actress to beat, though it should also be mentioned that her chief competition — Sarandon, Dench, Redgrave, Spacek, and Watson — have 25 Oscar nominations and four wins among them (only Watson failed to win among that group). Of course, Linney has three Academy Award nods, while Keener (two noms) and Page (a single nom) also have Oscar connections.
So yes, this is quite the category indeed. But it will still probably require an act of Congress to stop Linney from earning her third Emmy in as many tries.
Save the Date
Clear your calendar -- here are the deadlines and events worth remembering during Emmy season. www.emmys.org.
Week of June 2
Nominating ballots posted on TV academy website
June 20
Nominating ballots must be returned to Ernst & Young by 5 p.m.
July 17
Emmy nominations announced at 5:35 a.m. from the Leonard H. Goldenson Theatre
Week of August 4
DVDs for Creative Arts Awards categories mailed out
Week of August 11
DVDs for Telecast Awards categories mailed out
August 22
Ballots for Creative Arts Awards categories due to Ernst & Young
August 29
Ballots for Telecast Awards categories due to Ernst & Young
September 13
Creative Arts Awards and Ball
September 21
Emmy Awards Telecast on ABC, followed by the Governors Ball