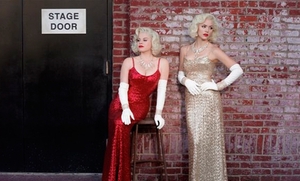 It looks like "Bombshell," the Marilyn Monroe musical being developed as the show-within-the-show on NBC's "Smash," will not be making the leap from the screen to the stage, as had been predicted. The Broadway-themed musical series returns to NBC for a second season early next year, but any actual opening night remains a distant dream.

"I don't think it will happen at this time," "Smash" choreographer Joshua Bergasse told The Stage. "Everybody is so consumed by the TV series. And as you can see by watching the series, it is hard to get a show to come to Broadway, and it would take a whole other team of people to make that happen. Right now we are just trying to get through [season] two."

The network secured the rights for a Broadway version of the show before "Smash" premiered in February, according to the L.A. Times. Executive producer Steven Spielberg had envisioned "Smash" as a vehicle to develop a new Broadway musical, and the theater pedigree of the rest of the show's cast and creators encouraged rumors of a potential move to the stage.

Neil Meron and Craig Zadan, co-producers of the film adaptations of "Chicago" and "Hairspray," are producers. Creator Theresa Rebeck, who was showrunner for the first season, has written Broadway plays including "Seminar," "Mauritius," and the upcoming "Dead Accounts." Tony winners Marc Shaiman and Scott Wittman ("Hairspray," "Catch Me If You Can") write the show's original music; selections from the first season have been collected on a 13-song soundtrack. NBC Entertainment Chairman Bob Greenblatt, who shepherded the show to TV, produced the musical version of "9 to 5" on Broadway. But Greenblatt warned that making a musical is about more than writing a few original songs.

"No one has thought twice about trying to find the time or energy to develop 'Bombshell' for the stage," Greenblatt told the L.A. Times in April. "It takes several years to write and construct a big Broadway musical, and most of the hard work starts at the script stage before the songs are even conceived."

Bergasse also revealed details of a second musical that will be introduced in "Smash's" second season. Shaiman and Wittman, who are currently working on a stage musical version of "Charlie and the Chocolate Factory" in London, will continue to write music for "Bombshell"—but a new writing team has been hired to craft songs for a rock musical that Bergasse said has a more "downtown feel" and will start Off-Broadway before moving to Broadway.

"Scott and Mark are very busy," Bergasse said. "For them to write two shows for us and 'Charlie and the Chocolate Factory' is a lot."

Jesse L. Martin, Jennifer Hudson, Jeremy Jordan, Nikki Blonsky, Daniel Sunjata, and Sean Hayes have been added to the cast for the second season of "Smash," which will premiere mid-season on NBC.