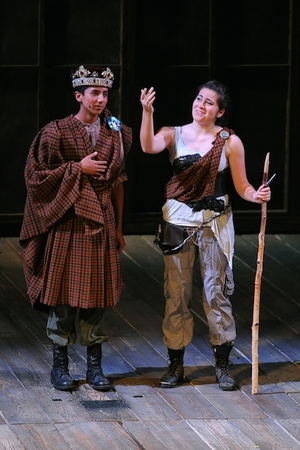 Forget the beach: This summer young actors in southern California can spend time with The Bard.
While professional thespians troop to far-flung festivals to portray Shakespeare's immortal characters, their young colleagues can recite the same soliloquies in San Diego where the Old Globe is holding auditions for its Shakespeare Intensive for local high school students.
Successful applicants to the four-week program get a chance to "refine their skills as performers in a professional setting," according to a release. They do that by "study[ing] classical theater technique, voice, movement and stage combat led by theater professionals while rehearsing for two productions of Shakespeare's plays."
The Intensive, which costs $700 (although some scholarships are available) will take place July 19 and on weekdays from July 21 through Aug. 18. It culminates with a public performance of two Shakespeare plays in the outdoor Lowell Davies Festival Theatre on Monday Aug. 18. Auditions are set for March 15–16, but are by appointment only. Visit the Globe's website for more information.
The theater also runs the Middle School Summer Conservatory, a three-week program of intense acting study taught by a professional teaching staff and actors from the Shakespeare Festival's repertory company. The program runs $600 for participants and will also be holding auditions March 15–16. Globe subscribers' families can save $50.
In Pasadena A Noise Within, the city's classical repertory theater company, presents its Shakespeare camp June 2–July 12. Actors ages 10–18 "who want to have fun in the theatre" are invited to register. Attendees are placed in age-appropriate groups and perform scenes and monologues in a public performance July 12. The camp costs $850, t-shirt or tickets to the final performance not included.