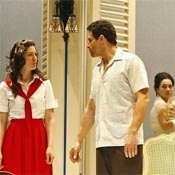 One day last month, New York's INTAR Theatre was preparing for the mid-February opening of two new one-act plays, Eduardo Machado's In Paradise and Nick Norman's She Plundered Him, at the Zipper Factory, a venue for theatre and music in Manhattan. That morning, however, INTAR executive director John McCormack got word that the Zipper Factory, which has hosted performers such as Margaret Cho and Justin Bond, had permanently shut its doors.
"I had to scramble," McCormack said. "We were already cast, designed, and in rehearsals over there."
According to former Zipper Factory producing associate Bill Coyle, the venue closed Jan. 14 because the Zipper Tavern, a bar adjacent to the theatre, was facing financial problems due to the economic downturn. The tavern and the theatre, which are owned jointly, were shut by the building's owners, and Coyle had to cancel bookings that were set through the end of May. "We helped move some of the homeless companies to different venues," he said. "But these places were expensive for the audience, or they were music venues and not theatre venues."
For McCormack, the Zipper Factory shutdown was a disappointment but not a shock. INTAR, a nonprofit company, left its Manhattan home of almost 35 years in 2006 when the building was purchased by developers, making INTAR a double victim of the real estate market: It lost its space at a time when a boom market enticed building owners to sell, leaving theatre companies that leased their spaces on the street, and now that the market's gone bust, INTAR is out in the cold again.
Finding permanent and temporary space has challenged theatre companies nationwide. In Chicago many small groups depend upon larger companies to present their work, while in Los Angeles eviction and development have left several theatres clambering for space. Many nonprofit companies are depending on creativity, relationships, and resilience to survive.
Keeping Cool
When it was displaced in 2006, INTAR rented spaces ranging from the venues on Theatre Row in midtown Manhattan to smaller theatres on the Lower East Side. "When you don't have a permanent home," McCormack said, "part of your job is to know the spaces out there."
When the Zipper Factory closed, he called his "usual suspects," including the company's press representative, to spread the word that he needed space. After a number of phone calls, he booked the venerable Cherry Lane Theatre in Greenwich Village. Opening night is slated for Feb. 15, just four days after the originally scheduled opening.
His success, McCormack said, was the result of timing, excellent contacts, and keeping an open mind: "These days there are fewer traditional 99-seat black boxes, but there are alternatives like cabaret spaces and presentation rooms in corporate buildings. If you're a young company and doing something that's not set-heavy, you can --and have to be --pretty flexible."
Sharing in Chicago
In Chicago, many itinerant theatre companies use space in the larger houses, such as Steppenwolf Theatre Company, the Goodman Theatre, and the Harris Theater for Music and Dance. Through Steppenwolf's Visiting Company Initiative, for example, three companies can share Steppenwolf's spaces for the duration of their runs by using modular unit sets and splitting costs, with Steppenwolf receiving a portion of the box office.
"We weren't sure that this kind of artistic constraint would be palatable to younger artists, but what we found was that they got very excited by the idea," said David New, Steppenwolf's associate artistic director. "A lot of the younger companies are experimenting with space, and they find that their audiences tend to respond better to a space that doesn't have the traditional proscenium arrangement."
The Chicago Children's Theatre has used six locations in its three years, including Steppenwolf, the Goodman, Grant Park, and its current leased space at the Museum of Science and Industry in Hyde Park. According to CCT co-founder and artistic director Jacqueline Russell, these larger spaces have been instrumental in her company's success. "We have a great community that way," she said. "I think that's how so many theatres get recognized."
Without a permanent space of its own, however, a theatre company is subject to the whims of its host. "You have a brand issue because people don't separate the host theatre from the theatre company," said Russell. "It confuses the audience, and if the museum suddenly gets a blockbuster coming through, you lose your spot. It's very challenging." While she'd prefer that CCT own its own space, due to the economy "no one is building anything right now."
A Space to Call Home
In Los Angeles several theatre companies --including the Actors' Gang, Company of Angels, and the West Coast Ensemble --have lost their original homes in the past four years, due to eviction, city development, the high cost of rent, or other reasons.
The La Brea Avenue Theatre, which housed the West Coast Ensemble for 23 years, was sold in 2005. According to West Coast co–artistic director Richard Israel, the company "floated around" Hollywood and settled temporarily last year in the El Centro Theatre; the lease is up this year. "We're always trying to figure out what our next move is," he said. "As you can imagine, in today's economy it's hard to find a space with 7,000 square feet with high-enough ceilings to be a theatre and a landlord who is willing to let them go for substantially lower than the market rate."
For Israel, the upside of moving has been a refinement of the theatre's mission and a clearer sense of its members' commitment levels. Before the move, the West Coast Ensemble had an actor base of 200; after the move, membership shrank to 85. "Some of that was attrition," he said, "and some of it was us saying that if you're not committed to it, it's not the theatre company for you, because there's a lot of work to do. It got us to look at what that meant as far as people's commitment to the organization."
The Zipper Factory was one of the few large, multidisciplinary venues in midtown Manhattan to invite upstart artists to its stage. Though he does not want to promote false hopes or offer a timeframe, Coyle is fighting to reopen the Zipper space or find a new one. "The Zipper has to be saved," he said. "Rents have to come down and the economy has to get better so that we can see a rise in interesting, noncommercial shows that are not put together for a broad suburban tourist market."
Even in an unfriendly economy, however, many small companies remain hopeful and prepared.
"The solutions are out there," said McCormack. "There are all sorts of options if you keep at it and keep being creative."