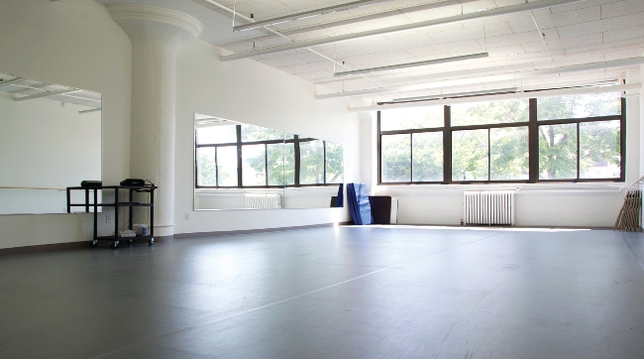 In a city like New York, rehearsal space is a commodity and affordable rehearsal space is practically unheard of. But what if there were a better way to rent studio space, through an organization that keeps artists' needs aligned with its own? Enter Spaceworks.
Launched in 2011 after a series of conversations within the Department of Cultural Affairs led to the recognition of the need for affordable, long-term workspace for artists in all five boroughs, Spaceworks is aimed at changing the way actors and artists create work. The organization currently includes two pilot projects—four studios in Long Island City and one in Gowanus, Brooklyn, for visual arts—and has updated the way in which artists book and access studio space. After an application to join Spaceworks has been approved, artists can book and pay for space online and are sent a welcome package with a Spaceworks key card.
"A lot of workspaces are still in the era of, 'Leave the key with the bodega,' " said Paul Parkhill, the organization's executive director. "I think this is a big step forward."
Focused on rehearsals, studios can be rented for $12–$16 an hour, while the visual arts spaces are priced for long-term use: Rent out a studio for a year for just $350 per month, move your supplies in, and take comfort in knowing your art is safe.
Parkhill said that these price ranges came out of feedback from focus groups, which decided that these were "doable" rates. The goal is to keep the spaces as affordable as possible and have them be used as much as possible.
In terms of restrictions on what the spaces can and should be used for, Parkhill said the organization is "really focused on creation of work, not really exhibition or performance." One company benefitting from this is the Chocolate Factory Theater, which is using Spaceworks studios for rehearsals and its own venue in Long Island City for performances.
"Artists are too often in the position of being transitional players in neighborhood development," Parkhill said. And though the organization—which is funded both by the city and by private grants—is out of its start-up phase, it's also still scaling up with three new projects slated for next year. Two of the projects are in the Brooklyn Public Library system—one is building out a portion of the upper floor of the Williamsburg branch, and the other is building rehearsal spaces in the Red Hook branch. Parkhill said the third project is converting an old school building on Governors Island into 43 visual arts studios and a few rehearsal spaces.
The Governors Island space is the largest one in the offing, but Parkhill said they hope to scale up even further.
"Artists and the creation of art are kind of fundamental to New York's identity," said Parkhill. "I think that it's really nice, clean, new space, and that's refreshing for a lot of people."