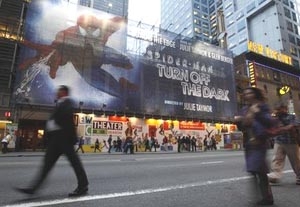 "Spider-Man: Turn Off the Dark" lead producers Michael Cohl and Jeremiah J. Harris announced Wednesday that Julie Taymor will step down as director to make way for a new creative team.
The troubled $65 million musical has been delayed for a sixth time and will now open in early summer to allow the time necessary to execute a new direction, which will include revisions to the script.
Philip William McKinley and Roberto Aguirre-Sacasa (an acclaimed playwright and a noted writer of "Spider-Man" comic books) have joined to help implement new staging and book rewrites, respectively.  
The expanded creative team also includes musical consultant Paul Bogaev ("Tarzan," "Bombay Dreams," "Aida," "Sunset Boulevard") and sound designer Peter Hylenski ("Elf," "Scottsboro Boys," "Rock of Ages," "Shrek"), both of whom have already been working on the production.
In a joint statement, producers Cohl and Harris said: "Julie Taymor is not leaving the creative team. Her vision has been at the heart of this production since its inception and will continue to be so.  Julie's previous commitments mean that past March 15th, she cannot work the 24/7 necessary to make the changes in the production in order to be ready for our opening.  We cannot exaggerate how technically difficult it is to make such changes to a show of this complexity, so it's with great pride that we announce that Phil McKinley is joining the creative team. Phil is hugely experienced with productions of this scale and is exactly what SPIDER-MAN Turn off the Dark needs right now."
– The Hollywood Reporter