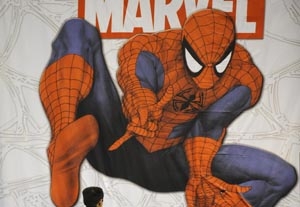 Spider-Man appears to be caught in a web of financial troubles. "Spider-Man: Turn Off the Dark," the Broadway musical based on the Marvel comic-book superhero, reportedly hit a financial speed bump last Friday, halting pre-performance production at the Hilton Theatre until further notice due to "unexpected cash flow problems."
The musical is still slated to begin previews on February 25, 2010. A statement released by Hello Entertainment, one of the producers of "Spider-Man," maintains that the "cash flow" will have "no material effect on upon the planned production schedule," and that production "will resume within the immediate future."
According to the New York Post, most of the blame for the unexpected halt is due to a power struggle between the inexperienced lead producer David Garfinkle and Julie Taymor, the Tony-winning director of "The Lion King." Garfinkle, originally a lawyer from Chicago, is reported as having "virtually no producing experience."
"Spiderman," estimated to cost $35 million, will star Evan Rachel Wood as Mary Jane, and Alan Cumming as the Green Goblin. Spider-Man himself has not yet been cast. The Spidey-extravaganza also has songs written by U2's Bono and The Edge.