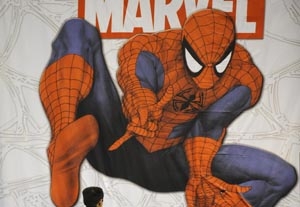 Telsey + Company's spider sense is tingling. The casting office posted a notice on March 19 announcing that it plans to hold Equity principal auditions for the role of Mary Jane Watson—protagonist Peter Parker's girlfriend—in the upcoming Broadway show "Spider-Man: Turn Off the Dark."
Evan Rachel Wood, the actor originally slated to play the role, dropped out of the production earlier this month after its opening was pushed back to later this year. The musical, to be directed by Julie Taymor, with songs by U2's Bono and the Edge, has been plagued by delays, production-team changes, and financing trouble. The show's budget has been reported to be around $50 million.
According to the casting notice, auditions will be held in New York on April 3 from 10 a.m. to 6 p.m. at Telsey + Company, 315 W. 43rd St., 10th floor. The character is described as: "Female, 16–20s. Beautiful girl next door. Strong singing voice." Actors are asked to prepare a rock ballad "showing range" and to avoid musical theater songs.