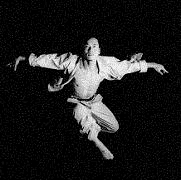 We all know how dancers keep in shape. They take daily dance technique classes, work out with Pilates exercises or other physical training regimens at a gym, and maintain their conditioning through countless hours of rehearsals preparing for performances. But how do choreographers "work out"? Where do they go to flex their creative muscles, to strengthen their craft, to develop their artistry, and to stretch their choreographic imaginations? How do they then go about getting their dances seen by audiences, critics, and funders who can nurture their talents and propel the development of their professional careers? Seeking the answers to these questions, Back Stage spoke with a variety of successful choreographers and identified the major arts organizations that support the making of contemporary dance. We learned what a challenging and stimulating process is involved in keeping these dance-makers "in shape."
Sean Curran Relishes Rigor and Experimentation
One of today's most popular contemporary dance choreographers, Sean Curran began his career as an Irish step dancer. By the time Curran was in high school, however, he was being encouraged by his English teacher to choreograph the school musicals. "Even though it was 'Bye Bye Birdie' and 'Carousel,' the choreography all looked a little Irish-y," Curran remembers, "but it served as a great jumping-off point for me. Then I went to NYU, where they are very interested in having the dance students make dances, whether they want to be choreographers or not. There I studied Louis Horst's pre-classic dance forms with Stuart Hodes, and had a great comp class with Sergio Cervetti. He taught choreography from a newer point of view--what I would call the 'postmodern toolbox' approach--developing a phrase and manipulating it in all sorts of ways. And then, being in the Bill T. Jones/Arnie Zane dance company for years, I had to really think like a choreographer, because in the studio, when work was getting made, there was a lot of creative problem solving required of the dancers." Curran believes that dancers can be taught the rules of choreography, "but those apply only to craft," he explains. "Choreographers also need a strong intuitive sense about movement that I think you almost have to be born with."
Curran has made acclaimed contemporary works for his own and other concert dance companies, and created the dances for the Broadway production of "James Joyce's The Dead." Nonetheless, he feels he is still growing and developing as a choreographer. "The season that I just had with my company [at The Duke on 42nd Street] I saw as a real breakthrough for me. I wasn't depending on my old tricks so much. For example, I intentionally approached the use of space in a different way--a looser way, maybe--than I usually do. And I went back, in a sense, to the classical music, emotion-driven stuff that I'd moved away from. And in going back to that kind of work, I discovered a new and different way to tap into it. I think that by bringing a sense of invention, and even re-invention, and lots of risk and play into the process, a choreographer finds new ways to work and continues to develop."
In trying to identify the factors that have supported his success in what he describes as a "challenging" field, Curran emphasizes the sense of "rigorousness" that he has learned to apply to his working process. "This idea of always going back and reworking again and again and really getting to the essence of a work is what it's all about," says Curran. "And then learning to be a good editor. [Choreographer and teacher] Phyllis Lamhut is famous for saying, 'If you can say it in 10 minutes, don't take 25.' Not being precious about material is very important."
Curran also advises developing choreographers to be open and receptive to criticism. "I bring in colleagues and mentors of mine to watch my rehearsals and give me feedback. Even if it's the week before a show, when I bring people in to see my work, I will look at what I've been looking at for three or four weeks and see a completely different dance. I'll see it through their eyes, and it really helps me. I'll suddenly say, 'Oh, why did I do that movement?' or 'Why did I make that particular decision?' And that's a really important tool. Also, listening to dancers is important--listening to their intuition, listening to how it feels from 'inside' the piece."
Curran encourages emerging choreographers to seek out all the choreography workshops and showcase opportunities New York has to offer because, he says, "You really learn to choreograph by choreographing. And you should treat the dance studio as a laboratory, so everything you do is an experiment. Trial and error plays a big role in the choreographic process. And seeing a lot of dance is also very important," Curran believes. "One of the reasons I came to school in New York was because I knew that every night of the week, I could go see something different. Lots of doing and seeing, I'd say, are the best practicing tools for the choreographer."
Curran stresses that getting work seen in New York is a vital part of the career-building process for emerging choreographers. He suggests choreographers look into programs such as Jennifer Mueller's "Hatch," and the various series at P.S. 122, Dance Theater Workshop, and Movement Research that feature work by new choreographers, as well as the "Choreolab" taught each December by Martha Myers. Another good place to find workshops that support and show work by emerging choreographers is the 92nd Street Y. Or, Curran urges, "Have the chutzpah to organize your own showing and work at getting people to come and see it. I'm lucky in that when I promote my work, I can advertise that I was in Bill T. Jones' company and that I was in the original cast of the show 'Stomp,' which always piques people's interest in my choreography. But it doesn't necessarily get them to the theatre. You really need to be able to talk about what it is you're doing: the content, the context, the process, the product, the reasons why you make dance. A big part of being a successful choreographer," Curran concludes, "is being a good salesperson. Know how to talk about your work. Know how to pitch it. And know how to explain what makes you different from everybody else."
--Lisa Jo Sagolla
Christopher Wheeldon Works Spontaneously
Christopher Wheeldon quit dancing cold turkey at the ripe old age of 26. Why? Most dancers are just peaking in their mid-20s, working their way through the ranks with an eye on principal dancer roles, and Wheeldon had hardly begun to enjoy his one-year-old soloist position with New York City Ballet when he went after choreography.
To continue reading this article, got to the Members' Area.
For information about upcoming National Dance Week, click here.
For a list of grants, programs and other opportunities for choreographers, click here.