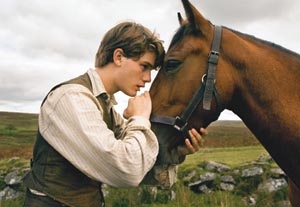 As the old saying goes, there are no small parts. Never was this more evident than in 2011, when actors shone with just a few scenes. Take Corey Stoll, whose performance as Ernest Hemingway in Woody Allen's "Midnight in Paris" overshadowed turns by Oscar winners Kathy Bates and Adrien Brody. Or Judy Greer, who, with three scenes in "The Descendants," nearly steals the movie. Then there are phenomenal British actors Colin Firth, John Hurt, and Mark Strong taking on supporting roles to Gary Oldman's wizened secret agent in "Tinker Tailor Soldier Spy."
Casting a great movie isn't just about the lead roles and the stars—though those stories are often equally fascinating. How did a relative unknown like Rooney Mara land the coveted role of Lisbeth Salander in David Fincher's "The Girl With the Dragon Tattoo"? Who is Jeremy Irvine, and how did he go from a British TV series to shooting his first film, "War Horse," with Steven Spielberg?
Casting is a difficult business—crucial to the quality of your project, but the best of it should go unnoticed. No one understands that better than actors, who get a chance to cast their votes for their favorite performances at the annual Screen Actors Guild Awards. This year ballots will be mailed to two committees—one for film, one for television—and each committee will choose the actors and ensembles it finds most deserving. The nominees will be announced Dec. 14, and the entire SAG membership will vote on the winners, who will be announced in a ceremony broadcast live on TNT on Jan. 29, 2012.
The SAG Awards stand out not only for their excellent running time (two hours, on the dot) but also for being one of the few ceremonies to honor a film's ensemble. To that end, Back Stage spoke with casting directors who put together some of the year's most intriguing casts.
—Jenelle Riley, Film & TV Editor
---
"50/50"
"Cancer comedy" may be considered an oxymoron, but "50/50" addresses the disease with sincerity and good humor.
"The Artist"
On paper, "The Artist" sounds like a risky proposition: a black-and-white silent movie starring two French actors who are virtually unknown in the United States.
"A Dangerous Method"
When casting director Deirdre Bowen, David Cronenberg, and producer Jeremy Thomas met to talk about casting "A Dangerous Method," they all came with ideas.
"The Descendants"
There can't be too many casting directors living in Iowa, but John Jackson is not your usual CD. Jackson has worked with Alexander Payne on all of the writer-director's features, stretching back to 1996's "Citizen Ruth."
"The Girl With the Dragon Tattoo"
Director David Fincher and casting director Laray Mayfield have teamed up once again to tackle Fincher's much-anticipated adaptation of the novel "The Girl With the Dragon Tattoo."
"The Help"
"We had an embarrassment of riches. A lot of people wanted to be a part of this film," says Kerry Barden of casting the adaptation of Kathryn Stockett's best-selling novel "The Help."
"The Ides of March"
"I'm definitely really proud of this one. I think it's really, really solid. I didn't cringe at all when I saw it, so that's a good sign." says casting director Ellen Chenoweth.
"Extremely Loud and Incredibly Close"
Casting director Mele Nagler scoured the world trying to find a boy who could believably portray 11-year-old Oskar Schell, the precocious protagonist in "Extremely Loud and Incredibly Close."
"J. Edgar"
Films about true events and figures in history have the built-in challenge of telling a compelling story while being prone to criticism about historical accuracy.
"Midnight in Paris"
Juliet Taylor has been casting movies for Woody Allen since the early 1970s, yet she still finds a special kind of thrill in embarking on a new project for the celebrated auteur.
"Tinker Tailor Soldier Spy"
James Bond is glamorous, tech savvy, and catnip to women. George Smiley isn't. Created by John le Carré, this other iconic British spy is brilliant, talented, and deeply responsible, yet life has crushed him.
"War Horse"
Jina Jay felt a special connection to "War Horse" before she even started casting it. Her family has always been a fan of English novelist Michael Morpurgo, and her children have read, and loved, several of his novels.
"Warrior"
For casting director Randi Hiller, the challenge was finding two men for the leads who could provide the requisite physicality and masculinity while convincingly inhabiting the roles of brothers.
"Young Adult"
The first time that writer Diablo Cody teamed up with director Jason Reitman, the result was "Juno." Their latest collaboration, "Young Adult," tackles such topics as regret and whether or not an individual can change.