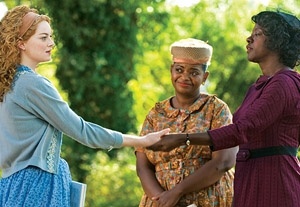 Back Stage highlights some of 2011's best ensemble performances in film and television, including "Breaking Bad," "The Help," and more.
Film Critics Pick a Few Front-Runners for Best Ensemble
Consider "The Help" and "The Descendants," both likely contenders, according to the five film critics we spoke with.
The Cast of 'The Artist' Speaks At Last
Ironically, this love letter to American cinema was brought to the screen by French filmmaker Michel Hazanavicius, who decided that to pay proper homage to the genre.
The Women of 'The Help' Work Together to Bring a Bestseller to Life
The film, directed by Tate Taylor, centers on African-American maids in 1960s Mississippi who decide to tell their stories to an ambitious young journalist.
'The Descendants' Ensemble on George Clooney, Alexander Payne, and Not Sucking
Like all of writer-director Alexander Payne's films, "The Descendants" boasts excellent performances from its cast.
John C. Reilly and Christoph Waltz Bring 'Carnage' to the Screen
Based on Yasmina Reza's play "God of Carnage," it has only four characters and—aside from brief opening and closing shots—takes place entirely in and around one Brooklyn, N.Y., apartment.
TV Critics Pick Their Top Ensembles
Repeat winners and nominees are the rule of thumb for the prizes recognizing outstanding comedy and drama ensembles.
'Breaking Bad' Ensemble on Meth and Method
Four seasons and three Emmy wins for Cranston later, "Breaking Bad" has proved to be not only groundbreaking television but also a showcase for one of the best dramatic ensembles on TV.