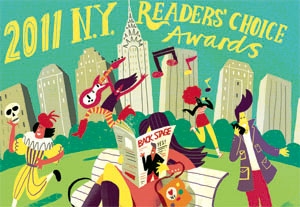 At Back Stage we take great pride in the content we create for you. This week it's time for you to take pride.
After all, you're the ones attending classes, shopping for headshots and creating demo reels, and appearing before casting directors. So we rely on you to tell us, as well as your fellow readers, which of those persons and services deserve your accolades.
Since 2006, we've asked our readers for their top choices among headshot photographers, acting teachers and coaches, reproduction houses, etc.
We gratefully thank those of you who voted. We hope you'll vote again next year, joined by other readers who want to become an active part of the Back Stage experience.
LOS ANGELES READERS' CHOICE WINNERS
NEW YORK READERS' CHOICE WINNERS