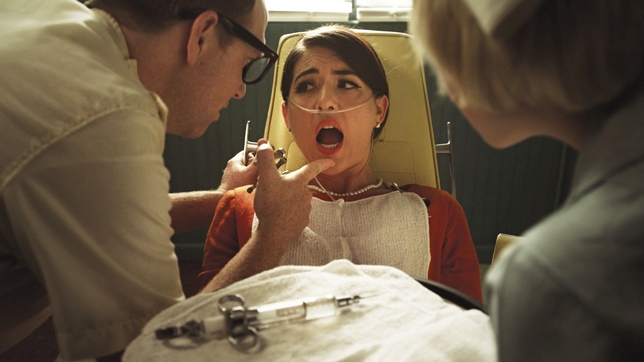 "Atlantic Avenue"
Unlimited Ride program
When Jeremiah (Brady Corbet) helps 17-year-old Celeste one day, she's instantly infatuated with him. But Jeremiah is a business-oriented prostitute—so Celeste hires him. Directed by Laure de Clermont-Tonnerre.
"Grandma's Not a Toaster"
The End Is Near program
Oscar winner Shawn Christensen returns to Tribeca as screenwriter and star of this movie about three siblings plotting to rob their grandmother on a dark and stormy night on Long Island. But Grandma is onto their whiskey-fueled scheme. Co-starring Mara Kassin, Michael Drayer, and Eileen Lacy; directed by Andrew Napier.
"The River"
Skin Deep program
Lauren Ambrose, pregnant during a sweltering summer, just wants to make it to the river to cool off. But mechanical difficulties and the weirdoes in her life—played by, among others, Michael C. Hall, Adam Driver, and Jay O. Sanders—make that a surprisingly difficult feat. Directed by Sam Handel.
"The Root of the Problem" (Pictured)
Deadbolt program
1950s suburbia goes under the microscope here, as housewife Alison Gallaher starts to wonder if her dentist is harboring a terrible secret. If he lives in the suburbs, the answer is probably yes. Directed by Ryan Spindell.
"Setup, Punch"
Worst Day Ever program
Elijah Wood stars as standup comedian Reuben Stein, who performs "the most daring routine of his life." Which may or may not involve co-star Alia Shawkat ("Arrested Development"). Directed by David Schlussel.