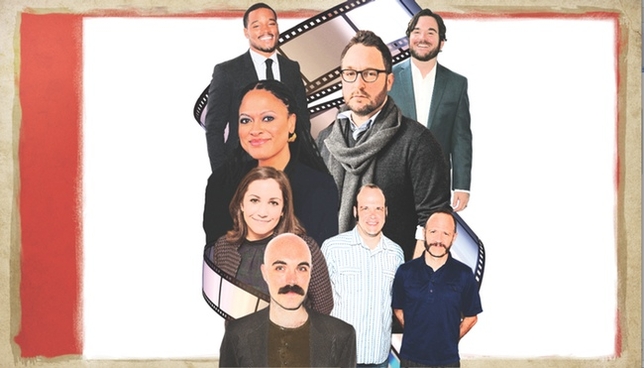 Ryan Coogler, Ava DuVernay, Hannah Fidell, David Lowery, James Ponsoldt, Colin Trevorrow, and the Zellner Brothers have all made films you should make it a point to see—because you will probably be desperate to work with them.
Ryan Coogler
"Fruitvale Station"
Few writer-directors have come out of the gate with a debut feature film as mature, original, and breathtaking as Ryan Coogler's. With "Fruitvale Station," the 27-year-old filmmaker tackled a deceptively simple story—detailing the final day in the life of Oscar Grant before he was shot and killed by a BART station officer on New Year's Eve—and created a beautiful portrait of a flawed man, with a star-making turn by Michael B. Jordan. The film caused a sensation at this year's Sundance Film Festival, where it won both the Audience Award and the Grand Jury Prize, then opened to rave reviews and Oscar buzz in July. Rumor has it Coogler may next tackle a remake of "Rocky" starring Jordan—an appropriate underdog story for this previously unknown artist.
Ava DuVernay
"Middle of Nowhere"; the upcoming "Selma"
Ava DuVernay earned national attention last year with her second feature, "Middle of Nowhere"—and her history-making win at the Sundance Film Festival, where she was the first African-American woman to take home the best director prize. "Middle of Nowhere" was a rarity: a quiet character study about a woman living life with a husband in prison that didn't rely on irony, melodrama, or any of the usual indie conventions. Now DuVernay is proving that "Middle of Nowhere" wasn't just an anomaly by taking up the reins of the upcoming Martin Luther King biopic "Selma" after Lee Daniels bowed out. From the indie world to the prestige picture biz in a year—DuVernay will be sticking around for a long time.
Hannah Fidell
"A Teacher"
After making the festival circuit this year—and winning its director the Chicken & Egg Emergent Narrative Woman Director Award at SXSW—Hannah Fidell's feature film "A Teacher" is available on VOD and will be in theaters Sept. 6. Fidell wrote and directed this micro-budgeted, clear-eyed gaze at a high school teacher who is in the middle of a complicated affair with one of her students—and what happens to an adult woman who becomes attached to a teenager. Neither prurient nor condemnatory, Fidell's feature is the work of a compassionate director who understands the needs of her story and can craft movie magic on a shoestring, armed only with a rock-solid script and a superlative star in Lindsay Burdge.
David Lowery
"Ain't Them Bodies Saints"
David Lowery has already this year seen two films he edited—"Upstream Color" and "Sun Don't Shine"—earn new fans for the directors. Now his chance to step into the spotlight has arrived with his feature film "Ain't Them Bodies Saints," a throwback to the American new wave of the 1970s starring Rooney Mara and Casey Affleck as lovers on the wrong side of the law. A hit at Sundance earlier this year, "Ain't Them Bodies Saints" reveals a writer-director with a sure sense of purpose and a solid grasp of film history who is more engaged in creating a tone than in special effects or blowing the budget.
James Ponsoldt
"The Spectacular Now"
With his last two films, Ponsoldt has proved himself an actor's director. Prior to starring as an alcoholic who tries to straighten out her life in 2012's "Smashed," Mary Elizabeth Winstead was known as a pleasant but unremarkable presence in films such as "The Thing" and "Scott Pilgrim vs. the World." Ponsoldt saw something more and gave Winstead the chance to show her stuff as the complex heroine of "Smashed." He also elicited amazing performances from a tight ensemble of actors, including Nick Offerman as a bumbling teacher who makes one of the worst passes in movie history. Ponsoldt showed he was the real deal with "The Spectacular Now," drawing performances from young stars Miles Teller and Shailene Woodley that feel wise beyond their years. Once again, they are supported by a flawless ensemble that includes Winstead, Brie Larson, and another actor cast against type—Kyle Chandler as Teller's disappointment of a father.
Colin Trevorrow
"Safety Not Guaranteed"
Trevorrow had only the documentary film "Reality Show" and a TV movie called "Gary: Under Crisis" to his credit when he took on Derek Connolly's offbeat, charming script "Safety Not Guaranteed" for his feature debut. The 2012 film about a magazine intern (Aubrey Plaza) investigating a man (Mark Duplass) who has placed a classified ad seeking someone to travel back in time with him could have been maudlin or silly, but Trevorrow created magic. With a singular and confident voice, Trevorrow expertly guides his actors through a strange but beautiful world. Now Trevorrow will bring that same sensibility to a bigger film: He was recently tapped to write and direct "Jurassic Park IV," whose catering budget is likely larger than the rumored $750,000 it cost to make "Safety."

David and Nathan Zellner
"Kid-Thing"
Some filmmakers whose early work falls firmly in the camp of the experimental and idiosyncratic tend to dial down the strange with subsequent features and subsequent success. Not so for David and Nathan Zellner. Their first feature, "Goliath," is driven by an unnamed protagonist's search for his missing cat and confrontation with a neighborhood pedophile. The Austin, Texas–based brothers' follow-up, "Kid-Thing," an ambling tale of a country-trash child raising herself with effectively zero supervision, was one of the 2012 Sundance Film Festival's most bizarre and enjoyable offerings. It gets a long-awaited theatrical release this month in New York and opens in L.A. in September.