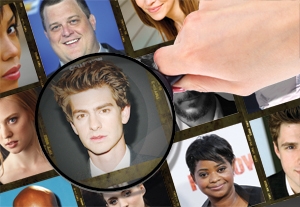 Dear Readers,
Back Stage's staffers know a lot about acting, but one thing in particular they excel at is recognizing emerging talent before it's on everyone else's radar. This first-ever special issue profiles 27 actors working in film, television, and theater who we believe will be talked about in the months and years to come. As always, we put our own spin on these profiles, finding out how these actors navigated the business, got their early and most recent breaks, and approached their recent breakout work.
We hope this will become an annual issue that you look forward to, as it was certainly a pleasure to put together. Thank you to all the actors who took the time to share their stories with us, and special thanks to casting director Laray Mayfield for stepping in to shed light on Rooney Mara's amazing story of being cast not only in David Fincher's "The Social Network" but also in the highly anticipated English-language remake of "The Girl With the Dragon Tattoo," also to be directed by Fincher.
We realize that there are many other actors who could have been included on this year's list, but there's always next time. And who knows? Perhaps your name will make the cut in a future issue. In the meantime, read on about how these 27 actors made it. There will likely be a nugget of information or inspiration in their stories that will help you.
Sincerely,
Jamie Young
National Editor-in-Chief Back Stage
'True Blood' Breakouts
Many great actors have come to our attention on the HBO series "True Blood." Two of our favorites, Deborah Ann Woll and  Joe Manganiello share how they made it this far.
'The Help' Scene Partners
Jessica Chastain and Octavia Spencer bring characters from the much-anticipated film adaptation of the bestselling book to life.
'Undercovers' Stars Uncovered
Two rising stars, Gugu Mbatha-Raw and Boris Kodjoe, can now be seen as Samantha and Steven Bloom, married ex-spies who come out of retirement, on "Undercovers," the new NBC show from TV hitmaker J.J. Abrams.
Kodi Smit-McPhee and Chloe Grace Moretz play innocent and vampire in the American remake of "Let The Right One In."
Rising Stars
Rooney Mara, Bill Heck, Joshua Henry, Billy Gardell, and Dot Marie Jones are stars of the future.
Runaway Talents
Andrea Riseborough, Josh Hutcherson, Garrett Hedlund, Lucy Punch, de'Adre Aziza, Aaron Tveit and Erich Bergen are actors to watch.