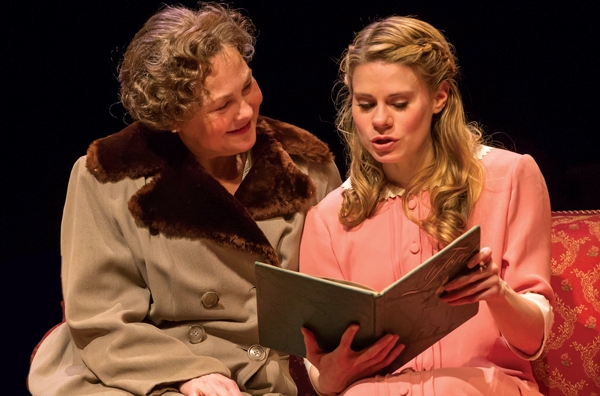 Audra McDonald. Steve Kazee. Andrea Martin. What do these actors have in common (other than Tony Awards)? They all started their Broadway-bound shows at the American Repertory Theater. Last year both Tony-winning musicals—"The Gershwins' Porgy and Bess" and "Once"—originated there, and by March, the theater will have three shows represented in New York: "Once," "Sleep No More," and the forthcoming "Pippin" revival, helmed by artistic director Diane Paulus.
Nestled among the ivy in Cambridge, Mass., A.R.T. couldn't be farther away from the bright lights of Broadway, and this "artistic haven," as Paulus calls it, just might be the ideal incubator for world-class actors and artists looking to perfect their craft.
"It's almost like a summer camp in the wintertime for New Yorkers," says Emmy and Tony winner Cherry Jones after a long day in rehearsal for Tennessee Williams' "The Glass Menagerie," directed by Tony winner John Tiffany and playing through March 17.
Founded in 1980 by Robert Brustein, A.R.T. is known for taking risks. It's a place where someone like Tiffany, whose career has largely focused on new work like "Once" and "Black Watch," can tackle a stage classic; where the conventional architecture of theater dissolves and "The Donkey Show" can be set in a nightclub; where running time is not an issue and the six-hour-long "Gatz" can be launched toward worldwide success; and where circus arts and musical theater can become one and the same in "Pippin."
Jones is a founding member of the company, and she spent her "salad days" there. "It was an incredible place," she says. "Menagerie" marks her first production since "Lysistrata" in 2002, Brustein's last year. "I'm a slow learner; I needed that kind of immersion in the craft, and I didn't really feel like I could hang up my shingle as an actor until I was about 33, at the end of my stint at A.R.T.," Jones says. "And I don't know that I would still be acting had I not had the A.R.T."
The days of an ensemble company might be gone, but the focus remains on the artists and the work. Paulus took the reins in 2008 and has since strived to support young local artists, foster a community of actors and attendees, and spark discussion. With Harvard University in its backyard, the artists have unparalleled access to research and experts in every field, lending the work deeper meaning and connection.
"To me, it's less about who's been on Broadway and who's not," Paulus says. For her, the emphasis has never been on getting a show to New York but rather on finding "the performers and the artists who are engaged with a question that fits with why we care about doing theater." Never mind that Broadway producers are watching.
"I would be lying if I said that I haven't thought that this could have a life after Cambridge," says Tony nominee Celia Keenan-Bolger, who also stars in "Menagerie," "but we have to make it good first, and making it good is so much easier to do here."
Why is it easier?
"We don't have our lives to go home to at the end of the day," Keenan-Bolger says. "I've been hanging out with Zach [Quinto] and Cherry and Brian [J. Smith] almost every night. And we talk about the play because we don't have anything else to do!"
That sense of passion for the work and the community is what fuels the fire at A.R.T. Artists from around the world flock to the theater with the intention of taking chances, and if Broadway comes, that's just icing on the cake.
"This has been mind-blowing," says Matthew James Thomas of his experience. The 24-year-old British actor starred in the title role in "Pippin" and will move to the Main Stem with the show. "I only hope all the exciting things that we're sharing and feeling and so proud of can be invigorated even more and then thrown into a Broadway house."