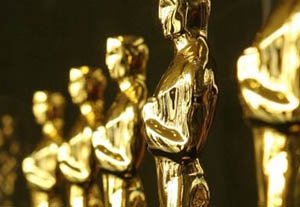 Over the last year, Back Stage has reviewed scores of movies and talked with some of the most talented actors and directors in the movie business. With awards season right around the corner, we have compiled our features, profiles, reviews, and videos with some of the leading award contenders. Enjoy!

Features and profiles:
Career Highs and a 'Low'
Robert Duvall's career spans a series of classic characters and performances in several of cinema's all-time greatest films
The Cut-Up
In "127 Hours," James Franco runs the full gamut of emotions, from elation to despair to full-on delirium.
Young at Heart
Even before his breakthrough role in Alexander Payne's "Sideways," the industry had caught on to Paul Giamatti.
Man About 'Town'
Jeremy Renner turns in another explosive performance, this time in 'The Town.'
Straight to 'Network'
Let's get this out of the way: Jesse Eisenberg does not use Facebook, but he does embody a media mogul in 'The Social Network.'

Best Firth Forward
Colin Firth leaves Mr. Darcy far behind with a shattering portrayal of King George VI.
Complicated Character
Javier Bardem is not one to shy away from challenges. In "Biutiful," he plays a dying man racing against time to ensure that his children are left in good hands.
Scenes From a Marriage
Ryan Gosling and Michelle Williams break hearts in 'Blue Valentine,' a film about a couple falling in and out of love.
The Solidarity of Sorrow
Nicole Kidman reveals how her performance in "Rabbit Hole" affected her mind, body, and dreams.

'Made' of Honor
Sally Hawkins and Miranda Richardson pay homage to the real-life women of "Made in Dagenham."
Shedding Light
In "Frankie and Alice," Halle Berry plays an exotic dancer who suffers from dissociative identity disorder, sharing her body and mind with two distinct alter egos.
Dancing Queen
After a long process, Darren Aronofsky and Natalie Portman finally get to collaborate in "Black Swan," Aronofsky's dark psychological thriller set in the world of ballet.
Drunk and Disorderly
Nothing seems to please British actor Lesley Manville more than being told she bears no resemblance whatsoever to her characters.
In the Family
One of the most heralded films of the year, "The Kids Are All Right" has been maintaining its buzz since it premiered in January at the Sundance Film Festival.
Mother Loving
Melissa Leo is earning raves for playing the brassy, controlling Alice, the mother of nine children, including boxers Micky Ward (Mark Wahlberg) and Dickie Eklund (Christian Bale) in "The Fighter."
A Girl With 'Grit'
December is a big month for Hailee Steinfeld. She will appear on screens across America opposite Jeff Bridges and Matt Damon in the Coen brothers' Western "True Grit," and she turns 14.
'Speech' Therapy
Geoffrey Rush discusses "The King's Speech," where he plays speech therapist Lionel Logue, who helped Prince George overcome his stammer before being crowned King George VI.

All Together Now
Film critics from Entertainment Weekly, New York Times, Newsweek, and Film Journal International forecast a few front-runners. 
With 'Conviction'
Having done his time, Sam Rockwell is finished breaking out—and finds his career has never been in a better place.
Hammer Time
For a young actor, could there be anything better than getting a role in a David Fincher movie written by Aaron Sorkin? If you're Armie Hammer, there is: getting two roles.
From 'Hedwig' to 'Rabbit Hole'
John Cameron Mitchell, the actor/director behind the campy rock 'n' roll musical-turned-feature "Hedwig and the Angry Inch" and the sexually laced ensemble drama "Shortbus," goes a new direction with "Rabbit Hole."


Reviews:

Blue Valentine
"Blue Valentine" might be hard to watch at times, but with two of the best performances of this—or any—year, it is a must see. More »
Biutiful
Whether he's playing an icy, menacing psychopath in "No Country for Old Men" or Julia Roberts' genial love interest in "Eat Pray Love," Javier Bardem's performances are always multilayered and stellar. More »
Rabbit Hole
Screenwriter David Lindsay-Abaire's celluloid version of his play "Rabbit Hole," brilliantly directed by John Cameron Mitchell, offers a surprisingly fresh take on the writer's compelling drama, punctuated with wry humor. More »
Black Swan
Certain to divide audiences, "Black Swan" is an instant guilty pleasure, a gorgeously shot, visually complex film whose badness is what's so good about it. More »
Made In Dagenham
A stellar group of actors makes this trip to the rather dreary-looking English factory town a terrific time at the movies. More »
127 Hours
Danny Boyle was determined to complete his new film, '127 Hours,' in time for this year's festival, and it premiered to loud ovations -- and a few squeals of terror -- during the weekend. More »
Inception
At its heart, "Inception" is an entertaining heist movie in the tradition of "Ocean's Eleven" but is also the most complex, complicated, and beautifully acted special-effects extravaganza in years.
Conviction
"Conviction" is the heart-wrenching true story of Betty Anne Waters and her quest to prove the innocence of her incarcerated brother Kenny.
Never Let Me Go
The storytelling in "Never Let Me Go" is compelling, the filming gorgeous, the acting sensational, and the sum total haunting.
The Social Network
A mesmerizing, bewildering and infuriating protagonist makes this movie about Facebook's creation a must-see.

VideosSally Hawkins Discusses "Dagenham"
Actress and "Made in Dagenham" star Sally Hawkins discusses her acting process with Back Stage's Los Angeles Executive Editor Dany Margolies.
Colin Firth and Tom Hooper Talk 'King's Speech'
"King's Speech" director Tom Hooper and star Colin Firth discuss the behind the scenes moments of making the film.
Darren Aronofsky Talks 'Black Swan'
Director Darren Aronofsky discusses the process behind shooting his highly-anticipated ballet film, "Black Swan."
Sam Rockwell on 'Conviction'
Actor Sam Rockwell describes the research proccess that went into creating his character in "Conviction."