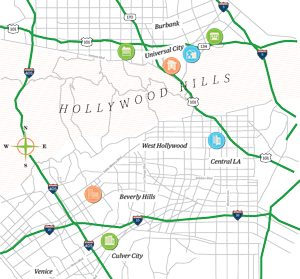 If your audition is going to take place on one of the big studio lots, it's super important to plan your travel in advance. The back lots are immense labyrinths with multiple entry points, littered with the desiccated corpses of actors who lost their way. You could be next if you aren't careful.
Someone from the production should provide you or your reps with instructions on what gate to enter and where to park (sometimes they'll even provide a map!), along with your drive-on or walk-on pass. But Backstage recommends engaging in further recon to ensure a timely arrival.
If you didn't receive a map of the lot from the production, you can download one. (We've conveniently gathered links to PDFs below; Disney and Warner Bros. don't make a lot map available to the public, but you should be able to find one by Googling.) Print out a copy, find the building where the casting office is, find the parking lot you've been told to use, and figure out how to get from one to the other.
Also make sure you can find your way to the lot itself. If you plug the mailing addresses into your GPS, you could be in for a frustrating day. That's why we've created a custom Google map with pins marking the various gates, which you can find below as well.
Google Maps also has a feature that predicts traffic patterns using past data (turn on traffic, then click the blue "change" link next to where it says "Live traffic" in the bottom left-hand corner). Use it! Plan your route (and your alternate route) accordingly.
Know how to get to the right gate, and how to get from your car to the right office before you leave, and you just might make it out alive.

View Backstage's Pilot Season Guide to Getting Around in a larger map