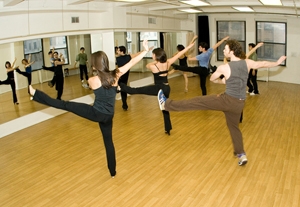 Finding rehearsal space in New York is a little like finding a place to live in New York. It can be as tough as anything else in the city—too many choices or nothing available, too expensive or just not suitable—or it can be one of those "OMG, I can't believe my luck" experiences.
To get a sense of what's out there, Back Stage spoke with eight rental organizations, all of which (with the exception of one brand-new player) are well-known and popular in the industry. We also talked to a few of their clients, who described their experiences and offered some tips for prospective renters.

SIZE MATTERS
"The first thing I look for is the size of the room, to make sure it's comfortable," says Joshua Nelson, owner and operator of Network Studio East, who typically rents studio space when casting films or for the agent/casting director workshops he conducts. "You want to make sure that they have room sizes that meet your need. If I'm doing a workshop where I need 20 chairs, I want to make sure that they can accommodate that." Customer service and hospitality also rate high on his list: "Some places are very cut-and-dry. You go there and do your work and it's fine. But when I feel they're welcoming and accommodating, that's when I'll keep coming back."
Nelson's choice on both counts is
Roy Arias Studios & Theatres
. "They're always ready to accommodate without an attitude," he says. "Roy makes me feel like whatever I'm going to encounter, they're there to help." Roy Arias Studios has a facility on West 43rd Street, in the heart of the theater district, as well as newer (and lower-priced) spaces on West 37th. The owner, Roy Arias, says that many clients find the 43rd Street location attractive because of its proximity to Times Square, close to many theaters and a block away from the Port Authority Bus Terminal.
Describing his various clients' needs, Arias says, "People look for pianos, sometimes they want a room with mirrors, and they're looking for someplace clean." He adds, "You know how it is in New York: You can't rehearse in your apartment because your neighbor will probably kill you. Our studios are pretty soundproof and are of all sizes—some large enough for Broadway shows, and smaller spaces to practice privately in or teach one-on-one. And we have a really large lobby for open calls, where 20 people can be accommodated sitting down."
BACK TO BASICS
While it sounds pretty basic, the question "What exactly are you planning to do?" is worth considering carefully. For example, are you singing, acting, or dancing? How many people will be in your rehearsals at any given time? Do you prefer hardwood or carpeted floors?
Robin A. Paterson, managing artistic director of Shetler Studios & Theatres, says, "These things may seem self-evident, but quite often clients will call and actually not have a clear sense of what they want. It's a matter of getting all your ducks in a row before you pick up the phone, and the likelihood of you finding an appropriate space is much higher. It's amazing how many people are unfamiliar with what the dimensions of a room mean. Quite often I've had conversations with people who won't have a real sense of 20 by 20 feet. I often tell them to take a look at the size of their own living room. If you know that the space is, say, 12 by 10, that will give you a spatial awareness of that room. Then you try to translate that to what you might need for your rehearsal."
Shetler Studios
, which is celebrating its 20th anniversary this year, offers 21 studios and two performance spaces on West 54th Street between Broadway and Eighth Avenue. It serves theater companies, dance companies, and musicians; rents space for film and television auditions and video projects; and also hosts "resident clients"—photographers and acting, voice, dance, and piano teachers who run their businesses out of the studios. "We have a much larger specialized staff than most facilities," says Paterson, "and the thing we hear most often from our clients is that we really offer a hands-on service here."
Bruce Baumer, a voice instructor who runs his private voice classes exclusively out of Shetler Studios, says, "Whenever a scheduling snafu or issue has arisen, they have always gone the extra mile in order to accommodate me and resolve it. I would not teach anywhere else."
A FAMILY FEELING
John Norman, operations director at
Ripley-Grier Studios
, also cites service to clients as the chief selling point of his organization. "You've got to have good dance floors, good pianos and sound systems, and very clean spaces, but our primary focus is customer service," he says. "We sell an experience, where an artist can come in, be relaxed, and not have to worry about whether the room is the right size or whether somebody next to them is making so much noise that they can't work."
Voted the favorite New York rehearsal studio in Back Stage's Readers' Choice poll for three years running, Ripley-Grier prides itself on maintaining the family-business vibe that was established when the husband-and-wife team of Patricia Ripley and Butch Grier first set up an exercise studio on the Upper West Side in the mid-1980s. The organization has grown since then and now offers 47 studios in three different buildings: the original facility on West 72nd Street and two other locations on Eighth Avenue, one between 36th and 37th streets and the other between 55th and 56th streets.
Ripley-Grier's clients run the gamut from high-profile names to the actor who's just coming into the city for a first audition and needs a quick warm-up, says Norman. "We have small studios that we rent by the hour, and we also rent by 15-minute chunks for warm-ups." He adds, "One of the unique things about our business, and a couple of others in town, is that we not only cater to the high-end people, but you can also get a small room here and be treated in the exact same way. We're going to roll out the red carpet for everybody."
CLEAN AND SIMPLE
At
Pearl Studios NYC
, located on Eighth Avenue between 35th and 36th streets, a block away from one of Ripley-Grier's facilities, the focus is on cleanliness. Pearl offers 29 studios, ranging from small 12-by-12-foot vocal studios to large performance-type dance studios of 1,400 square feet.
Pearl general manager Steve Roath, who over the years has experienced a variety of spaces in the city as an actor, says he was attracted to Pearl because the owners are "100 percent dedicated to keeping it clean and in tip-top repair at all times." The rooms on the 12th floor, which opened in January, have already been repainted once. He adds that he and the staff are also diligent about responding to booking requests. Casting directors will typically make three calls when they are booking space, he explains, and the first person to return the call or answer the phone gets the booking. "We answer every email within 15 minutes," Roath says, "and if a call goes into voice mail, we pick it up the second we hang up the previous call."
Given the array of choices in the city, it is helpful to know which studios cater to specific needs.
Simple Studios
, located on West 29th Street, for instance, rents mostly to improv actors. Holly Mandel, founder and artistic director of Improvolution, notes that Simple has become the temporary home for her improv school. "The staff is completely helpful," she says, "and everything about the place shows a level of care and professionalism that is hard to find elsewhere. It's really based on the true improv spirit of 'We are all in this together.' "
Brandon Harmon, general manager of Simple Studios, says, "You'll never see open calls here ever, because we don't have the space but also because we want to create an artists' environment where you can feel comfortable and safe and you're not inundated with 20-year-olds who are coming in just off the bus, trying to find their big break on Broadway."

ROOM TO DANCE…OR STORE YOUR STUFF
If you're looking for dance spaces, you might consider
Steps on Broadway
, on West 74th Street on the Upper West Side, which has 10 mirrored, climate-controlled studios for rent, all equipped with pianos and sound systems. Steps also provides dressing rooms and showers. Eight of the studios have Marley floors (on which ballet and most modern dance is performed), and two have maple surfaces for tap dancing.
As Patricia Klausner, director of marketing, points out, it is very important to know what type of dance you're doing, since tap requires a very specific surface. "Make sure that the room is large enough so that dancers don't go crashing into each other," she says. "Ideally, you would like the rehearsal space to closely approximate your stage space if at all possible."
Klausner, who rents space herself at Steps for her nonprofit theater company, Shotgun Productions, has other useful rental tips: "If you're booking a lot of space for your actors or dancers, I would say try to rehearse in the same space as much as possible. I like to book space in chunks. It gives a level of comfort to your actors or your dancers to know where they're going every day."
She also recommends that theater companies ask about storage for props. Space being a premium in this city, storage is often not available at many venues. At Pearl Studios, small companies that can't afford a lockdown—allowing them to keep their stuff overnight in the studio, which is not rented to anyone else—can pack their things in a storage bin. Shetler Studios offers storage only to those companies that use the space for all their rehearsals.
NEWCOMERS AND DISCOUNTS

You will find there are plenty of options for rehearsal space rental in New York, and even in the current economic climate, another one is scheduled to open shortly. Paul J. Michael, executive director of
the Network
, which for four years has been conducting classes and seminars in which actors meet agents and casting directors, says that in the past he employed the spaces and "organizational prowess" of Shetler Studios. But finding that "everything is always booked," he says, he decided to build his own studios on West 36th Street; they open for business Aug. 16. There will be five studios, mainly for theater rehearsals but also suitable for film shoots or casting sessions. "It's going to be very clean, very professional, and has a very sleek, modern look," Michael says. "And we will be offering an introductory rate of $10 an hour during the first month."
Finally, of course, your decision may come down to a matter of price. Given the economic downturn, it's not surprising to find many rental organizations offering discounts of various types, so make sure to always ask if one is available. Shetler's Paterson says, "Tell me what your budget is. It's very easy for people to get trapped into a situation simply because they don't know the alternatives." Shetler offers 40 percent discounts on weekends and same-day bookings. Many venues offer special deals to participants in festivals, such as the New York International Fringe Festival and the New York Musical Theatre Festival.
Teresa L. Hagar, studio manager at
Chelsea Studios
, a popular rental space on West 26th Street, says Chelsea tries to work within the budgets of small nonprofit companies, in keeping with the mission of its parent company, TheatreworksUSA. "We want to work with young theater people because a lot of actors got their Equity cards and a lot of writers, designers, and directors got their start through Theatreworks." Roath reminds renters that Pearl offers a 10 percent discount to union members: "I got my union card when I was 14 years old and spent a good deal of my life as a professional actor, so I know how every penny you can save helps."