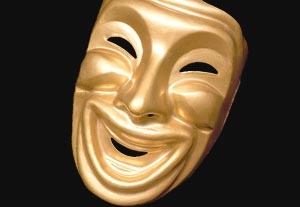 Cheers to Her
Jane Lynch is not Sue Sylvester. Yes, this is tough to imagine, given how thoroughly she inhabits the towering inferno of a cheerleading coach on 'Glee.'
The New Funny Business
The standup comedy playbook has changed. New media have created more ways to get your act to the masses, and the prevalence of reality TV means fewer scripted series, so success performing live is less likely to earn you a trip to the sitcom big leagues.
You Can't Think and Act
The great philosopher Yogi Berra once said, "You can't think and hit a baseball at the same time." Those words of wisdom hold true for a lot of other things too, including improvising on stage.
Taking Center Stage
TV audiences likely know her best as Officer Tig, the lesbian lawwoman who made Sarah Silverman question her own sexual identity on the Comedy Central hit "
The Sarah Silverman Program.
" But Tig Notaro has been making a name for herself as a standup comic since moving to Los Angeles 11 years ago.