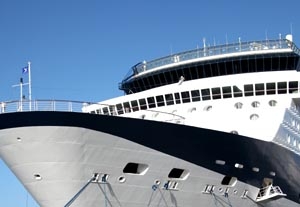 For some performers, the next job or audition is no more than a subway ride away. Yet the steady employment and challenging new shows aboard cruise ships have attracted many to this work-while-you-travel lifestyle.
Bree Delgado has been a director, dance captain, and cast member with Norwegian Cruise Line for more than six years. She began auditioning for cruise shows a couple of years after college. "It appealed to me because I hadn't traveled very much at all," says Delgado. "I actually had never even left the United States, and since, I've been to five continents."
The "Love Boat" stereotype of low-rent entertainment has recently given way to innovative new shows with budgets of hundreds of thousands, and sometimes millions, of dollars. Cruise ship entertainment can range from guest entertainers like comedians and magicians to Broadway- and Las Vegas–style extravaganzas; it all depends on the cruise line. Even established acts like Blue Man Group and Legends in Concert have made their way to sea.
A classically trained legit singer and frequent performer in Southern California opera houses, Jordan Miller says he likes "singing Elvis music just as much as the next guy," but with Holland America Line "we do heavy material and very dramatic material. It's not just everybody jumping around in flashy costumes."
Day-to-Day Life
Salaries for the bigger productions can be $600 to $800 per week for dancers and $1,000 or more per week for principal singers. Contracts typically last for six to eight months, and most career cruise-ship performers will take a couple of months off between gigs. Some performers, like Miller, have been able to manage work on land while not performing at sea.
As for accommodations, dancers typically bunk with a castmate, but singers always have their own rooms, although they're still below deck in the crew areas. Occasionally dancers and singers are also expected to help the crew with "cruise duties." These can range from working in the ship's library for an hour or two to mingling with guests at onboard clubs to short "Welcome aboard" and "Farewell" shows.
Most cruise lines rehearse their shows on land, where performers are expected to pick up the material "as instantly as humanly possible," says Delgado. This usually means about a week of rehearsal on land for every onboard show, for a total of a month of rehearsal.
Singers and dancers are expected to be flexible. Cruise lines typically offer three different mainstage productions during a seven-day cruise, so all the singers and dancers will have at least three shows to learn. But the cruise can be changed from seven days to 10 during the performers' contracts, so they might have to do a fourth and possibly a fifth production.
Work and Play
The desire of cruise lines to offer their passengers a variety of entertainment translates to an athletic schedule for the performers. Onboard theaters seat about half the ship's passengers, so on any given show night there are almost always 7:30 and 9:30 p.m. performances of the same production.
"You have to be able to perform a lot of different styles regularly," says Delgado. Revue shows alone can include tap, ballet, merengue, jazz, hip-hop, swing, or contemporary dance styles. "In a two-hour musical," she adds, "you might have a five-minute solo and that's it. In these shows, everyone—singer and dancer alike—is onstage from start to finish. That's completely exhausting."
It is also important to remember that a cruise ship is a moving object and, for dancers especially, an exhausting show will be "10 times" more exhausting if the ship, and therefore the stage, is rocking, Delgado says.
"The actual shows themselves really push you as a performer," says Brian Grades, a principal male singer with West End theater credits who works for Norwegian Cruise Line. Because of "the diversity of the shows and the diversity of the productions," he adds, "you're actually stretching yourself. I've done a rap on a cruise. I've never done a rap in my life!"
Though the quantity of material may be intimidating, performers have quite a bit of free time in their daily schedules—certainly more than the crew. Even if a port day and a performance day coincide, the morning tech rehearsal rarely interferes with performers' ability to get off the ship and enjoy the sites.
"If we're not at sea," says Grades, "we're on land, and if we have a show, we have an hour-and-a-half rehearsal, then you can pop off." Performers have plenty of time for exploring, sightseeing, shopping, and the beach. "I literally know all the beaches in every Caribbean port," he says. "I know most of the historical areas in Europe." Aside from show nights, rehearsals, and light cruise duties, performers' time is typically their own.
Getting the Job
Cruise line casting directors stress that professionalism is the key. "It starts the minute you walk in the room," says Jodie Stinebaugh, a casting director at Stiletto Entertainment, which works with Holland America Line. Adds James Nadeau, also a Stiletto CD, "I need someone to come in, in heels and a nice dress and their hair up and with makeup on, and be able to sing all kinds of music.... One of my ships has a country show!"
Simon Griffiths, production show manager at Carnival Cruise Lines, suggests that those auditioning "go in with the attitude that they've already got the job and they're learning part of the show—so confidence and being relaxed" are important.
Audition formats vary, but being prepared will set a singer or dancer above the competition. Singers should arrive with (of course) a headshot and résumé, but also 16 bars each of two songs, even if it's a karaoke-style audition. The casting director may want to see something from your repertoire before making a decision. The cruise line's website may give audition instructions, or at least clues to what the audition will be like, which can help with nerves.
Since dancers will most likely have to learn three completely different shows, the audition can include many styles of dance, so auditionees should bring different kinds of shoes, including pointe. Having a breadth of training can also help your chances. If you plan to attend both singing and dancing calls, bring your dance outfit in a separate bag. Casting directors suggest not wearing baggy dance clothes.
Though the websites of many cruise lines say they'll audition singers and dancers by looking at demo reels, "the reality is," Nadeau says, "very rarely do we do it, because the audition process shows us way too much to look at a demo reel and just hire from that." Many casting directors and production executives crisscross the world looking for talent, so you should be able to find an audition in your region.
Specialty Acts
Magicians, jugglers, and standup comedians are considered "guest entertainers" or "headliners" and go through a much different hiring process than singers and dancers. Most are submitted to the cruise line by an agent, although a minority have found success by submitting themselves directly. Cruise line entertainment directors are bombarded by demo reels and audition tapes; it's not impossible to get a job through self-submission, but an agent submission may be more successful.
Specialty acts are self-created, so the most important factor for a solo performer is that he or she have enough material to last the entire cruise. Guest entertainers are hired directly by the cruise line, as opposed to an outside production company. Therefore, the onboard entertainment director sets the length of the performance. An hourlong show, for example, can be performed all at once or broken into three 20-minute blocks.
Whatever the format—which could also include a "clean" performance for families and another show for adult audiences—"you have to have material hanging around in your back pocket," says Julie Barr, a 10-year veteran of cruise ship comedy who has worked with Holland America Line, Princess Cruises, and Royal Caribbean International. As with mainstage productions and revue shows, guest entertainers do two evening shows per night.
The passengers are often a broad cross-section of the public, so to stay relatable and keep the comment-card ratings up, Barr says, "I don't talk about sports teams to anybody, I don't talk about religion, and I certainly don't talk about politics."
The contracts for guest entertainers can vary widely in length. Some cruise lines hire performers for up to six months, while others, like Carnival, fly talent in twice a week—or as Edzui "Edge" Szumowski, a professional juggler, puts it, "Get on, get the laughs, get out."
Sweaters or Swimsuits?
Cruise ships sail all over the world, from Alaska to Asia, from Copenhagen to St. Martin, so packing for the climate of your destination is important. But there are some items you might not think of. They include a low-wattage hair dryer, says Delgado, because in a crew cabin, "anything over 1,600 watts is probably going to blow your fuse," along with a battery-operated alarm clock, a laptop, and a camera. Magnets can also be useful, since nothing can be nailed or taped to the metal walls of a crew cabin. Some performers also recommend bringing formalwear for special events.
Many performers mention that cruise ship audiences are often pleasantly surprised at the quality of the entertainment, and they can be grateful and intimate. However, the performers are just as captive as the audience.
Every week, passengers fill out comment cards about their experience, and the entertainers' performances—both on stage and off—are usually listed. So "if you choose to go out after your show," says Szumowski, "you better be ready to be social. Because otherwise you're going to get bad comments, and then you're not going to get a job again." But he adds that performers don't need to go into the ship's guest areas if they don't want to, as there are crew-only areas as well.
Guest entertainers should be ready for heavy travel between ships, and singers and dancers should be prepared for long months away from home. While it is possible to use a cell phone at sea, the charge can be up to $4.95 a minute. Phone calls and Internet service using the ship's satellite also cost money and are charged by the minute, although at a reduced cost to the crew. If the sea is stormy, checking just one email can take five minutes, so using the Internet when you're in port is a smarter option.
Melissa Randall, who hosted live cooking demonstrations with chefs aboard Norwegian Cruise Line ships, eventually left because she felt out of touch with the rest of the world. "There was this awesome thing where you felt like you're living on vacation," she says, "but that's the problem: You're living on vacation."
Cruise contracts often run through major holidays, birthdays, and weddings, but "you're getting paid to see the world," says Miller, "which is really kind of amazing."