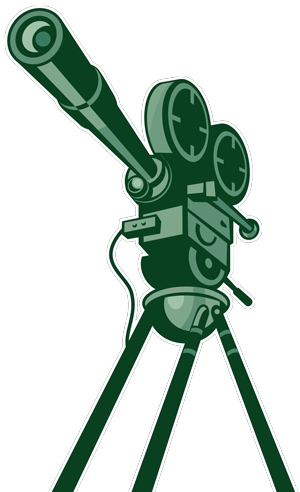 You don't have to be hired to work. As technological and cost barriers between actors and audiences break down, one of the best ways to stay competitive is to create your own best role.
"There's no reason now, with all this great technology and outlets like Web series, that an actor or several actors couldn't get together with maybe a young filmmaker they've met and put a project together," says Tom Blomquist, longtime network TV producer and writer. Blomquist teaches at California State University Long Beach's Film and Electronic Arts Department.
Film schools are where a vast number of filmmakers and content creators take their first developmental steps. Many successful actors have completed film programs, but for those committed to a performance career, a degree may not be feasible. Still, there are lessons to be learned from film schools and the instructors who teach at them. Professors say cross-pollination between dramatic arts and film programs is common and encouraged—and with good reason. With YouTube launching premium channels, Netflix and Hulu delving into original content, and the tools and tech needed to make anything from a feature film to a 30-second video more affordable and accessible than ever, now is a great time for entrepreneurial actors to create projects.
To find the right material for a short film or Web series, actors can seek out material or write original content. Creating compelling work takes commitment, says Jacki Ochs, chair of film and video at Pratt Institute. She says to look at ideas as "jumping-off points."
"It's really about the diligence, and the perseverance, and the amount of effort and time you put into it that makes it good," Ochs says. Don't be discouraged if things don't go the way you expect. "Oftentimes a moment of failure turns out to be a miracle in the long run. It forces you to turn in a different direction and ends up being better," she says.
Production can use cash quickly. Organization, Blomquist says, gives you an understanding of the cash you need and helps avoid surprise costs. Jay Anania, professor at New York University's Kanbar Institute of Film and Television, advises actors to choose a project wisely to minimize production costs.
"If you pick a story that doesn't require big production numbers and you do it with your friends all out of a labor of love…you can make films for almost nothing," Anania says. "Nobody says, 'I'm going to go see this film because I heard it cost this amount of money.' "
Storytelling requires a team, and networking saves your bottom line. Giving team members equal ownership in the project brings down production costs by ensuring that if the project has commercial success, everyone benefits. This can bring labors of love to fruition.
Any film project needs basic equipment. Keep in mind the work's eventual platform. An acceptable camera for a Web series may not work if you're shooting a short film for festivals. Aim for high-quality sound and images. Pixilation and poor-quality sound make it difficult for the audience to engage, especially in work that includes dialogue.
Equipment rental can offer a modest alternative to pricey purchasing and allow you to experiment with new tools. Online services ship equipment door-to-door.
"Know what you don't know," Blomquist says. Trust the practitioners you've brought together, and know to turn to them when you're out of your league.