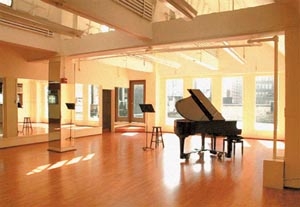 Not so long ago, most rehearsal spaces in New York City were rather grimy. But they've cleaned up their act, and actors looking for a place to rehearse or even perform now have a variety of inviting locations to choose from. Here's a quick rundown of some of the more popular ones.
Ripley-Grier Studios
Winner of the Back Stage Readers' Choice poll three years in a row, Ripley-Grier Studios (www.ripleygrier.com) offers 45 diverse spaces in three locations: 131 W. 72nd St.; 520 Eighth Ave. (between 36th and 37th streets), which also offers the reasonably priced Butch's Oasis Café; and 939 Eighth Ave. (between 55th and 56th streets).
The company is owned by the husband-and-wife team of former stuntman Butch Grier and fitness expert Patricia Ripley. In 1984, they began renting out five little rooms—while living in one of them—at their first location, on the Upper West Side. "As years went on," says Grier, "with me being a people person and attracting and keeping clients and my wife's ability to do business, we were able to do really well and expand." He also cites their friendly and dedicated staff as a reason for the company's success. Ripley is a feng shui consultant as well, and careful attention is paid to light, color, and placement to create comfortable and relaxing spaces.
Ripley-Grier's clients range from teachers conducting classes and workshops to celebrities preparing shows. Bette Midler has rented a floor to rehearse her Las Vegas show. Meryl Streep often comes with a private teacher for a couple of hours of singing, dancing, and yoga. She and Philip Seymour Hoffman rented space to rehearse for the movie "Doubt." Many Broadway shows also rent the facilities. "Billy Elliot" is a full-time client because the Tony-winning musical needs space to rehearse and tutor the kids in the cast. At the same time, Ripley and Grier are proud to offer modestly priced space to teachers who can't afford their own studios.
Shetler Studios
Shetler Studios (www.shetlerstudios.com), located at 244 W. 54th St. (between Broadway and Eighth Avenue), offers 21 upscale studios spacious enough to accommodate large-cast projects. And with two theaters (seating 30 and 60), three recital halls, and a screening room, Shetler can shepherd a production from audition to rehearsal to performance.
"Our clients range from Fringe Festival projects all the way up to Broadway," says managing artistic director Robin Paterson. "Currently there are five resident companies—the Bridge Theatre Company, the Acting Studio, Acting Success Now, the Network, and the Wealthy Artist—and classes are also taught here. We really are able to accommodate the full range of what's going on in New York in terms of the performing arts." Broadway clients have included "Wicked," "Hairspray," and "Chicago." Also using Shetler are MTV and casting directors such as Cindy Tolan and Rich Cole.
Urban Stages
Another option for those looking to rehearse and perform at the same facility is a legit theater such as Urban Stages (www.urban
stages.org), located at 259 W. 30th St. It features a 75-seat theater with a stage measuring 20 feet by 22 feet, a workshop, storage facilities, and two rehearsal rooms, and the lobby has a box office and two public restrooms, one of them wheelchair-accessible. Theater rental includes the use of lighting, video, and sound equipment. Although the rehearsal space can be rented separately, clients renting the theater can often use it for free or at a deep discount.
"Our rehearsal space is ideal for any kind of improv, theater rehearsals, classes and workshops, table readings; a lot of street plays rehearse in our space," says managing director Lauren Schmiedel. Currently, Folding Chair Classical Theatre is rehearsing at Urban Stages, while Electric Pear Productions is producing a Sunday workshop for young actors called the Generator, in which a theater piece is devised by the ensemble.
"Urban Stages was enthusiastic about our workshop and the philosophy behind the program and generously donated their rehearsal space," says Melanie Sylvan, executive producer of Electric Pear. "The staff has been nothing but generous and accommodating. The rehearsal space is open and flexible and has allowed the actors to be free to create and explore the range of their movement, and the director and actors have told me that the space feels like home." The company will return to the facility in the fall for a production of "Balaton," by artistic director Ashlin Halfnight.
The Producers Club
For more-intimate rehearsal space, there's the Producers Club (www.producersclubtheatres.com), located in Manhattan's theater district at 358 W. 44th St. Opened in 1993, its four theaters—ranging from 50 to 99 seats—and two black-box studios have been the birthplace of many productions.
New management recently renovated the bar and lounge area, which can be used for a pre- or post-show reception, a fundraising event, or a cabaret performance. Auditioning actors can also wait in the lounge, making the space convenient for casting, says owner Alfred Pollja. When renting a theater, clients are provided with insurance, free online advertising, a house manager, a box office, access to the lounge and bar, and lighting and sound equipment.
Pearl Studios
Another popular facility is Pearl Studios (www.pearlstudiosnyc
.com), at 500 Eighth Ave. It opened in 2007 with 13 studios on the fourth floor and will soon add 16 more studios on the 12th floor, which will be available for bookings next January. The new studios will feature larger rooms and hallways, plus a snack bar, and professional discounts will be offered the first year. Sprung wood floors, central air conditioning, pianos, mirrors, ballet barres, CD and DVD players, and iPods should attract dancers, with two of the new rooms reserved for tap dance.
If you're thinking of developing a cabaret act, Pearl Studios can also write, arrange, stage, and produce it. In-house production coordinator Dennis Blischak has extensive Broadway and pop credits. The production services include orchestrations, vocal arranging, digital recording, voiceover tracks, audio editing, and CD duplication. Pearl can also provide a musical director, a rehearsal pianist, and demo vocalists.
"Our claim to fame is that we're customer service–oriented and we believe in keeping our studios immaculate," says owner Richard Kay. Part of Pearl's success, he adds, stems from the experience of its management team, Michael Doane and Victor La Mantia, who have owned and operated theaters in New York for 10 years. "They have experience with the specific clients whom we're catering to."
Steps on Broadway
Ideal for dance or large-cast play rehearsals, Steps on Broadway (www.stepsnyc.com), at 2121 Broadway, offers 10 studios, all equipped with mirrors, barres (both stationary and portable), pianos, and stereo systems. One of the studios can also be used as a theater and comes with chairs, theatrical lighting, and a sound board. In addition to a wide range of dance classes, Steps also offers special rental rates for nonprofit organizations.
"Our renters are usually companies, individuals who come to practice, nonprofit companies," says operations manager and music coordinator Samantha Richman. "Also, a lot of people use our studios for private lessons. We have a lot of ballerinas who come in with their teachers, and a lot of the faculty from Steps will rent from us for various projects."