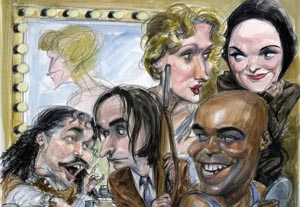 Welcome to our first-ever Great Performances issue, for which we asked respected industry professionals to share their favorite performances by an actor or a cast in a movie, TV series, or stage production. The response was tremendous. I'd like to thank our contributors to this very special issue for taking the time to highlight the work that moves them. I encourage you to track down some of these performances on DVD, and I hope they inspire you in your own pursuits as artists. On the top of my personal list of films to revisit are "Dog Day Afternoon," "Tender Mercies," "Network," and "After Dark, My Sweet."
I'd also like to thank Victor Juhasz for his outstanding illustration, which features (clockwise from top left) Meryl Streep, Christine Ebersole, James Earl Jones, John Cazale, and Mark Rylance.
I also hope you, our readers, will take the time to share your favorite performance by an actor or cast. Send your stories to
bsweditorial@backstage.com
, along with your headshot. Put "Great Performance" in the subject line.
Sincerely,
Jamie Painter Young, Editor-in-Chief
---
Jason Alexander on the cast of 'Network'
I've been part of some amazing ensembles in my career. So I am always more impressed by the work of an ensemble. Ensembles are a special kind of magic.
Jane Jenkins on James Earl Jones in 'The Great White Hope'
In 1969 I saw James Earl Jones in "The Great White Hope" with Jane Alexander. It was one of the last performances before the show closed, and 42 years later I still remember the power of that performance.
Charles Grodin on Montgomery Clift in 'A Place in the Sun'
Montgomery Clift not only inspired me to become an actor, he also saved me from being an actor from Pittsburgh with an English accent. I will always appreciate him and revere his work.
Donna Morong on Alison Pill in 'In Treatment'
Pill has a remarkable ability to completely listen, think, and react as the character of April. Her work creeps up on the viewer because it is never self-conscious or grandiose.

Neil LaBute on Jason Patric in 'After Dark, My Sweet'
Jason Patric was so amazing in "After Dark, My Sweet" that I watched the film, left the auditorium, went straight back to the box office and bought another ticket for the next performance.
Ashok Amritraj on Sidney Poitier in 'Guess Who's Coming to Dinner'
You can't talk about Sidney Poitier's performance in "Guess Who's Coming to Dinner"—really, you can't talk about Sidney's entire career—without acknowledging the major historical significance of his presence in movies.
Leslie Jordan on Christina Pickles and Cynthia Harris in 'Cloud Nine'
It was a rainy Wednesday and I decided to check out a matinee of "Cloud Nine," a play described as "a cautionary expedition into the cuckooland of sexual role-playing." My life was forever changed by that play.
Chris Game on John Cazale in 'Dog Day Afternoon'
As Fredo, Cazale almost shrinks himself. The lips are thin, the mustache is thin, the clothes are too big. He embodies that chair like a praying mantis on his back, flailing on the ice, then collapses in exhaustion.
Carmen La Via on Lee Marvin in 'Ship of Fools'
"Ship of Fools" is a great movie with a brilliant cast, but it is Lee Marvin's performance as a drunken, failed baseball player that is most vivid, specifically in a scene with Vivien Leigh.
Duncan Stewart on Christine Ebersole in 'Grey Gardens'
Christine was more than an actor playing a part; she was actually inhabiting the character. I was fortunate enough to see both productions and the portrayal was always thrilling.
Jackie Earle Haley on Matthew Fox in 'Lost'
When Matthew's character started to realize that he had died, his performance was so real, so true, so honest, that I started to choke up. I was still completely engrossed in the moment.

Hart Hanson on Jackie Gleason in 'Nothing in Common'
I have an unshakable prejudice, a certainty, which is that funny people can do anything. Jackie Gleason's performance in Garry Marshall's 1986 movie "Nothing in Common" seeded this conviction in my brain.
Paul Doherty on Michael Jeter in 'Greater Tuna'
What Michael did never rang false or seemed contrived. His choices always were of the earth and more inspired than directed. It was these gifts that made his performances so deeply memorable.
Jim Wilhelm on D'Jamin Bartlett in 'A Little Night Music'
I had never heard anyone sing live like that before. It was a performance that stuck with me for many, many years, and it was that performance that really fostered my love of girl belters.
Howard Fine on the cast of 'Sophie's Choice'
I am inspired every time I watch "Sophie's Choice." It reminds me of what I love most about our profession. It demonstrates the intellectual, emotional, verbal, and physical talent of three exceptional actors.
Octavia Spencer on Jessica Chastain in 'Jolene'
There are not many actresses who would consider playing a role with nudity, let alone a shy one. But Jessica was able to imbue the complex character with naïveté yet worldliness, insecurity and confidence.

Richard Maltby Jr. on Zoe Caldwell in 'The Way of the World'
Zoe Caldwell, I never met you, but you changed my life. And isn't that what theater is all about, changing the lives of people you'll never meet?
Jamie Harris on Richard Harris in 'This Sporting Life'
My father's turn in "This Sporting Life" was a fantastic performance. He was an animal. He was a brooding man. The '60s really had that brooding, strong man.
Justin Tanner on Gena Rowlands in 'A Woman Under the Influence'
Rowlands' performance as Mabel Longhetti is as ugly and clumsy as an actual life—so nakedly real that it hurts to watch. I remember thinking I had seen the greatest piece of acting ever captured on film. I still think so.
Gil Cates on Laurence Olivier in 'Othello'
That performance of Olivier's was extraordinary. He lowered his voice literally a full octave. He was just magical. His voice was unlike any I've heard him have before, either in movies or on stage.
Kathleen Chalfant on Lois Smith in 'East of Eden'
I wanted to be an actor, but that was mostly because I wanted to be in a Western and ride a horse and be kissed by the hero, so I'm not sure of the depth of my commitment until I saw Lois Smith in "East of Eden."
Alan Mandell on Frances McDormand in 'Good People'
She was that character. There was something so vulnerable about her. She was so convincing, she made me actually squirm in my seat. It was like being a child again.
Ellyn Long Marshall on Michelle Rodriguez in 'Girlfight'
She carried "Girlfight" with believability and a relentless consistency that far surpassed that of many more-experienced actors.
Jane Anderson on Vanessa Redgrave in 'If These Walls Could Talk 2'
Vanessa Redgrave. Her work is metaphysical. I swear to God, when she drops into character, her molecules get rearranged.

JoBeth Williams on Robert Duvall in 'Tender Mercies'
Robert Duvall's performance as Mac Sledge in "Tender Mercies" took my breath away and embodied what I consider the ultimate goal of an actor: to simply live in the skin of the character.
Giancarlo Esposito on Bruno Ganz and Frank Langella in 'Unknown'
If you're an actor, watching a master teaches you how to be smoother, more honest, and more trusting. Sometimes when actors audition, we're a little too big, and we don't realize that being more subtle is essential to acting. It really is just being.
Austin Pendleton on Uta Hagen in 'Who's Afraid of Virginia Woolf?'
The most exciting evening I've had in the theater was a preview of the original production of "Who's Afraid of Virginia Woolf?" and the most exciting aspect of that glorious production was Uta Hagen's as Martha.
Nathan Fillion on Ralph Fiennes in 'Hamlet'
The whole stage available, he stood in the center, and while delivering Hamlet's monologue, he was still. Using only subtle expressions, and the power of his voice, he commanded an entire theater.
Terry Schreiber on Mark Rylance in 'La Bete' and 'Jerusalem'
Mark Rylance is an ideal example of what a stage actor should be. Not only is he truthful and courageous in his own character development; he is also generous and supportive to the actors with whom he works.
William Esper on Alfred Lunt in 'The Visit'
Lunt filled his performance with the genuine inner agony that gave birth to his performance. I understood that in acting, no matter how vivid the external form, if it lacks inner content, it ultimately leads to an empty experience.
Contributing editors: David Fairhurst, Jessica Gardner, Erik Haagensen, Toby Hill, Travis Michael Holder, Daniel Holloway, Simi Horwitz, Melinda Loewenstein, Dany Margolies, Frank Nestor, Jenelle Riley, David Sheward, Les Spindle, and Jamie Painter Young