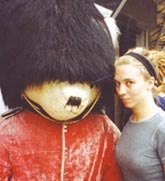 So many British actors say the actors they most admire are Americans: Brando, Streep, LuPone, Hugh Laurie. Okay, perhaps not that last one. Why, then, would Americans travel across the ocean to Britain to study, transplanting themselves so far from family and friends, starting anew in technique, living where one can barely understand the native speakers?
We at Back Stage wondered that also, and so we spoke with a variety of actors who — at whatever stages in their careers — went for the British-training alternative. Some were still in college, some had established careers and wanted a tune-up, some attended several programs in succession. But all went with open, eager minds, ready for the strict curriculum that is British drama school. And here's why.
Minding the Gap: The Decision to Go
Clifford Parks, now newly a working actor in Los Angeles, was a theatre major at USC when he decided to go to England to study. "I love Southern California," he says. "But when I hit my junior year, it was that point in me when I said, 'I should go see the world.' I didn't want to be like all my friends who keep bringing their laundry back home." The British American Drama Academy, across the street from London's Regent's Park, was the only theatre-related study abroad program USC offered, so that decision was easy. He studied at BADA, January through April, 2005.
In the early 1980s, Jenette Goldstein (24, Six Feet Under, Terminator 2) had been at Circle in the Square's two-year professional program in New York, married an Englishman, and then applied to drama schools in the U.K. She auditioned at the Royal Academy of Dramatic Art and elsewhere but wondered if a three-year program was for her. Webber Douglas Academy of Dramatic Art (recently subsumed by the Central School of Speech and Drama) offered a one-year postgraduate program for working professionals, foreign and British, and so she chose it for her British training, attending in 1982-83. She is now based in Los Angeles.
Carl Howell, currently an actor at NYU Tisch School of the Arts in his final year of training at the Atlantic Theater Company, figured he would make his living in either New York City or Los Angeles, so he, too, wanted to explore another part of the world and "experience new teachers and an entirely new environment of theatre," he tells Back Stage via email. He did so not once but twice. In July 2006 he studied at BADA's Midsummer in Oxford, and for the fall 2007 semester he trained at RADA, in central London. Why those schools?
"My girlfriend had studied at BADA the previous summer and raved about the experience, in terms of acting training and personal growth," he recalls. "I love Shakespeare, both the reading and acting of it, and I want to pursue professional Shakespeare work as much as possible throughout my career. And I was not where I needed to be experiencewise to be cast in festivals, so I looked into NYU-Tisch abroad programs, and RADA seemed like a wonderful place to be, not to mention the inevitable allure of living in London."
Melissa House is a working actor in theatre and film in New York City. In the 1990s she was majoring in theatre performance at Goucher College, in Towson, Md., but as she tells Back Stage via email: "I fell in love with travel, which deepened my understanding of history and culture, and therefore of humanity and myself." Also, she observes, "I was concerned that my liberal arts education might be too theory-based and not practical enough. I worried that by taking the academic route and not the conservatory route, I would be less competitive professionally." While working at Goucher's Office of International Studies, she found a summer study-abroad program at Shakespeare's Globe theatre in London. "The opportunity to spend my summer in London...to explore Shakespeare not only as an actor but as a director, to take master classes...with leading [Royal Shakespeare Company] performers, to explore Stratford-upon-Avon and to see loads of great West End theatre — it was a no-brainer!" she exclaims.
Sometime around spring 1998 she attended an information session about the University of Exeter — in Devon, England — with which Goucher had an exchange program. She studied acting and directing at the Globe theatre during summer 1998. Following that, she attended Exeter's School of Drama and Music, where she completed her senior year for her bachelor's degree and stayed to earn a master's in applied drama.
Matt Britten has been acting professionally since age 7, starting at the Marquis Theatre, a children's theatre in Northville, Mich. He graduated from Syracuse University in spring 2007, moved to NYC that summer, and has since worked in theatre and on television and the Web. "I am always looking for opportunities to broaden my horizons and to throw myself into situations and places that are 'different,'" he writes via email. "I hope that it helps to make me a more well-rounded actor and human being. Syracuse University offers many such opportunities.... Past students had found [studying in London] a very worthwhile experience.... We had something of a running joke: 'Go to London. It will change your life.' But there is some truth to it." So, in August-December 2005, Britten attended Syracuse's London Semester Experience, in central London near the British Museum.
Deidre Da Silva, who has been acting since age 13, was in the four-year BFA acting program at Mason Gross School of the Arts at Rutgers University in New Brunswick, N.J. In the third year of the program, the school offered a year in classical theatre at Shakespeare's Globe in London. "I've always wanted to travel to England," she tells Back Stage. "My mother studied at Reading University in England, and she had many fond stories of the country. When I found out that Rutgers had a year in England, it just seemed natural to follow that path."
The How-To and the How-Much
Because he went for spring semester only, Parks was able to audition via video — all other auditions at BADA are in-person — with a classical monologue, a contemporary monologue, and a song. Britten, going through his university's program, needed only to fill out an application. Webber Douglas held auditions in the United States, so Goldstein auditioned in New York. House's application for the Globe was paper-based, including an essay she was required to write. Acceptance at Exeter was based on recommendations and GPA.
For BADA, Howell recalls, two heads of the school came to several cities across the United States in March 2006; in New York, auditions were held at Juilliard, requiring one classical monologue, one modern one, and a short interview. "Very easygoing, nice people," Howell recalls of his auditors.
For entrance to RADA, Howell auditioned for its representatives who came to NYU in early spring 2007. "This was a bit more intensive," says Howell. "We presented a monologue for a very intimidating yet lovely man named Brian Stirner, and he gave us notes. Then, in a group of 15 other actors, we [had] a movement/improvisation session with another teacher. Here, she watched how we moved and explored different given circumstances, and we also had the opportunity to investigate other approaches to the monologues we had just performed. A few days later, a group of actors was called back, and we presented two monologues followed by a short interview."
Those who stayed fewer than six months did not need a travel visa to enter the country, but they needed written proof of their intent to study there. Da Silva applied to the British Embassy for a student visa, paying the fee ($132-$208) and bringing with her a letter from Rutgers, which stated she was indeed intending to study. Howell went through a different process: "I applied to the Department of State in New York City for my visa.... It took a few weeks to receive the visa after sending a folder full of documents: course schedule, RADA acceptance letter, an NYU abroad letter, as well as my old and current passports. It was a little nerve-racking, but all worked out perfectly fine." (For information on student visas, visit www.ukvisas.gov.uk.)
The courses ranged in price, of course. "I may start to cry, thinking about this," Howell now says. "Thanks to our struggling economy, even then, the U.S. [dollar] amount was approximately double. However, meals and housing were provided and very accommodating." He says of his time with BADA, "We lived on the campus of Balliol College [at the University of Oxford]. Of course it's very expensive but so worth it to be in the middle of so much history and beautiful architecture in the dead of summer."
At first, House took a loan because, as she recalls, students at the time were not permitted to work while abroad. "During my first year there, laws changed, and international students were permitted to work 20 hours during term time and 40 hours per week during the summer," she says. To stay on for her master's degree, she rolled over part of the loan from her undergrad year. She won a fellowship from Goucher, and she worked five jobs: bartending, waitressing at two locales, babysitting, and researching.
Currently at BADA, tuition for the 2007-08 program is $18,615 per semester — which includes all scheduled trips and excursions, special events, tickets, and library fees. Students are responsible for their own travel costs to and from London. The charge for a room is $4,400 per semester. At RADA in 2007-08, non-EU students paid £12,990 per annum (roughly $26,000); RADA estimates relocation and living costs at a minimum of £9,000 (roughly $18,000) per year per student.
Howell rationalizes the cost thusly: It was the same as his tuition at NYU. But, he adds, "With that expense came two meals a day at RADA (such excellent food!) and many events and perks through Tisch in London."
Mucking In
Although several of his schoolmates went on the program, says Parks, "Once I got to London, it was cold, and it was just me, by myself, with my big bag. And you're looking around, and you're just, 'I gotta make sure I don't get run over, because [Brits drive] on the left side.' BADA provided Parks with housing in the adjacent neighborhood of St. John's Wood. In most places, he felt accepted. "I even had a 40-minute conversation with my cab driver on the way to BADA, which instantly made me feel comfortable, knowing that I could easily integrate with the locals," he says.
House says she was for the most part made welcome in the U.K. "The general opinion of Americans is fairly low, which when you see the stereotypical tourist stomping around Big Ben, you can understand where that opinion comes from," she says. "But people are quite open to having conversations. My knowledge of European geography and interest in politics was quite helpful in the beginnings of small talk — though had I known more about football (soccer), I might have been given an even warmer reception. As a New Yorker, I find it rather astounding, now, that you can just go into a pub, order a drink, and strike up a conversation with the person sitting next to you. Hours later, you may have had one of the best conversations in years and be welcomed like an old friend by your new friend. And if you're foreign, your new friend might be like a tour guide, offering to show you places and have you home for curry."
Britten likewise recalls being welcomed by Brits, despite the occasional comment about Americans. "And that was probably when we were loudly trying to figure out which bus to take to get to Notting Hill Gate," he says.
"On a side note," says Britten, "a few weeks into the semester, we found that we had bedbugs in our flat. I had a pretty bad skin reaction to the bites. I went to the emergency room and couldn't believe that I walked in, was seen and treated, and walked out without ever having to fill out any paperwork or pay for anything."
"My husband wasn't an actor or even in the arts," says Goldstein. "So I didn't live in the West End or where any of the actors lived. I didn't have that much money. We had to live out where the real people lived. I'd get the paper, I'd see auditions, I'd write letters, I did a one-woman show. I tried to make friends and get involved. It was hard. I was as isolated as you can be. I went to as many shows as I could. That was great. That's what's so wonderful. You can see so many shows. And I took every class available."
A Whole New School
Howell may have had the best welcome of all. "On what would normally be Thanksgiving in the United States, RADA prepared a Thanksgiving meal for us at lunch," he recalls. "The Brits were thrown off big time. They don't know what to do with it if it ain't fish 'n' chips. The chef even said, 'Candied sweet potatoes? With marshmallows? Are you mad?' Maybe we're mad, but we know how to eat."
Da Silva recalls being made quite welcome at school. So, too, Goldstein, but the welcome cooled later on when she tried to get work in the U.K. Says Howell, "At BADA, there were actors from Malta, England, France, and all over the United States. Oxford is a lovely town — a lot of young, college students everywhere, so I fit in." As he recalls of his London experience, "The RADA program was made up entirely of American college students, mostly from NYU, as well as Vassar, Tufts, and Johns Hopkins. So we were a strong team of Americans busting the British party in the RADA refectory every day at lunch. The full-time RADA actors couldn't have been nicer, and the teachers with whom we worked were wonderful. Not only were they welcoming, but they were so excited that we were there. They were just as interested in us as we were in them. It was a great balance."
Better and Better
Not so quick, says House. "School was a little more challenging for me. Though I made a few great friends immediately, I found that most people form their circles quite early, and it's hard to get in or out. People are still close with the kids from their neighborhoods or primary schools. The friends that were formed in the first weeks of school sort of stick together. It took me a while to realize that my learning and communication style was objectionable to some people: I thought they were stuck-up, they thought I was rude and inconsiderate. I became conscious of being American. Once I realized that the U.K. isn't the U.S. and that culturally and socially I really was in a foreign country, I began to adapt better. My tutors (professors) were wonderfully supportive. I was given brilliant references by the then-head of the school (Christopher McCullough) and the head of the M.A. program (John Somers). They appreciated my enthusiasm and work ethic."
At the start of their British studies, the Americans observed how the U.K. actors in their classes were different from them. "U.K. actors are very savvy and specific with their acting choices. It was exciting!" exclaims Da Silva. "I was amazed by how creative the U.K. students were," agrees House. "I felt more competitive in my American college than in the English university. We were such collaborators; the challenges came in learning how to most effectively work together."
I Say! The Courses of Study
"The RADA actors were so charming and intelligent," says Howell. "And very much at ease with themselves. Of course that's understandable. Some of them have been there for three years.... The demands of the language in Shakespearean work completely bled into their contemporary work. The words mean everything to them."
Quips Goldstein, "They were better with the British accents." But she adds, "They felt a lack of what I learned from the Americans. They all wanted to go to New York to study."
The number of days per week of class and the hours per day varied, but all seem to recall a full-time experience, what with attending class, studying, and rehearsing. For the most part, each took the basic courses offered in British drama schools: voice, speech, movement, combat, text analysis, Shakespeare, scene study.
"Everything we had in Circle in the Square," says Goldstein of the courses offered. "But they were very insistent: They would not give you a critique on your acting unless your speech and your voice and your body were there. Technique. That had to be there before they'd address other things. It was definitely a good complement. It's a generalization, but American training works more from the inside out. So it was great to have that and then have the opposite."
In addition to the standard courses, Parks took dramatic criticism, "where we'd go to the theatre in Piccadilly or the Old Vic, and then we'd discuss what we saw," he recalls. "So sometimes our hours could go from 7 a.m. to 10 p.m." His stage combat class consisted of intensive work in rapier and dagger for two months, then hand-to-hand combat. He also took one class that mixed mask work, commedia, improv, and theatre games, taught by Mick Barnfather. "He was trying to get us to open up, explore our space," Parks recalls. "It was primarily for us to adapt the things they would teach at the Lecoq program in France." And he was given one private coaching session each week. "My teacher was Sheila Allen; she would work with us with particular sonnets and particular monologues, she and I," he recalls. "It was an outside perspective from what Ian Wooldridge was teaching us in Shakespeare." Parks also had a course in Restoration comedy. Howell adds audition technique to the list of his courses at BADA.
At RADA, Howell's course was called Shakespeare in Performance. This, he says, included classes in verse, movement, stage combat ("from which I still have a scar on my nose from an unsuccessful knife fight"), voice, speech, period dance, singing, sonnets, monologues, and Alexander technique.
The acting portion of the Syracuse University London Program consisted of two parts, says Britten. "Half of the time, we took classes with SULP professors on the SULP campus. The other half of the time we spent studying at Shakespeare's Globe theatre. At SULP, we took an advanced acting course, a theatre history course, and analyzed plays that we were seeing. At the Globe we had lectures, acting classes, voice classes, and movement classes. They all related to what it is like to work in that space. It is a very unique space; you feel almost reverential being on the stage. It was interesting as a historical reenactment but even more exciting to investigate the space for ourselves for the first time."
House's courses were probably the most eclectic. At Exeter, she took 17th-century revenge tragedy, playwriting, political Shakespeare, political theatre ("one of my favorite classes ever," she says), and directing. In earning her master's degree, she studied research methodologies, drama in education, forum theatre (exploring hospital politics), theatre as social intervention, and narrative.
Only Goldstein was required to learn Received Pronunciation, taught in speech classes. "For the English actors, R.P. was hard for them, too," she reports. "They came from North Yorkshire, they came from Scotland. We all were struggling." For play performance, all the students studied the necessary specific accents during rehearsals.
You Can Take It With You
No actor we spoke with noticed any resentment or poor treatment by the British teachers. Each actor was made to feel welcome and respected. Indeed, when House was evicted, one of her professors rented a room in her home to House at almost no fee.
And each actor saw envy-inducing amounts of theatre there. Tickets were either provided by the schools or available for purchase at steeply reduced prices to students. And ultimately, once each settled in, our actors also got to play the part of a tourist, visiting the famous sights, some occasionally traveling to another European country.
At these prices, and for the distance traveled, it's a relief to know that these actors are still keeping a lesson or two in mind from their days in the U.K. Here's what they say made a particularly memorable dent.
Says Parks: "Instead of going into Stanislavsky, carrying an emotional memory bank, let the words that Shakespeare put on the page carry you away. And they will carry you away in the right rhythm, the right pacing. So, just listening to the words on the page was the primary idea of the British training. Trust in the writer, and your performance will show it." And, for combat, recalls Parks: "To fight right, you'll always look into the eyes of the person you're facing." In sum, he adds, "I'm just grateful that I have another tool set to work with."
Recalls Goldstein: "I really enjoyed one teacher, Hillary Wood, a formidable woman, the main scene study teacher. In New York, I'd always had certain difficulty with remembering sense memory. I was struggling. And at one point Wood said, 'Children don't have to believe that there's a dragon in the closet. There is one. There is. Your imagination is so powerful.' I found that so freeing. It gave me another way in."
Da Silva's choice: "I learned the value of training. If an actor can take a classical text and make it come to life, they can do anything." Says Britten, "I obviously learned a great deal about Shakespearean technique at the Globe. Also, I became aware of how my performance was affected by the way that I, the person, was being affected by my new surroundings. We don't give the same performance on one stage as we will on the next. I think it was interesting to approach texts, especially British ones, with a new understanding of the world that I gained from living in a different country for a while."
"At RADA I learned that patience and time are what leads to compelling acting," says Howell. "The groundwork cannot be sacrificed in order to get to the interesting rehearsal stage more quickly. The words mean everything, and they have to mean something to me. I learned very personalized ways of releasing tension that always seems to build up in my shoulders, neck, and jaw. I learned that I do not breathe to my full capacity and that I am deathly afraid to be ridiculous on stage with dramatic work."
And House reports: "The most important thing that I learned is to be proactive. [I learned] to care about our world and to relish the ways that theatre and film can be a tool to inspire, educate, entertain, and fill gaps in society, not just escapist brain drain. I learned how to collaborate artistically — and these days, you'll only hear praise from people who have worked with me. I have a better appreciation for history and a sense of context, which is so helpful when approaching pieces that are stylized or period."
Given the opportunity to perform before a paying audience as he neared completion of his courses, Parks appeared as Trinculo the jester in BADA's The Tempest at the Oval House Theatre in the South Bank.
No Longer Sawing the Air
At the end of her year in England, Da Silva performed in Much Ado About Nothing on the Globe stage. House also performed at the Globe as Helena in All's Well That Ends Well as part of an MFA candidate's thesis production. She also produced and directed her original play A Sea of Faces and co-founded a theatre company.
For the final production of her studies, Goldstein and her class were even allowed to invite agents.
Goldstein remained in the U.K. until the late 1980s. Asked if she found it easy to work there, she chuckles darkly. "I'll tell you," she begins. "I was there four years, working as an actress. It was very hard. There was only one union: British Equity. And it covers film, television, and theatre. And the only way to get your Equity card was to be on stage. And the journeymen positions, with the rep companies — there were very few. You had to audition for them. It was like a LORT system. Well, they've got a bunch of local kids. They want to hire British. It was very difficult. I wrote every letter. They would say, 'If you're ever in the neighborhood....' I said, 'You know what? I am.' And I hitchhiked up to Scotland, and I was in the neighborhood.
"The one thing I found when I finally started to work on the stage was that my opportunities to play lots of different roles were sort of small, because I was playing Americans; they wanted me to play Americans," she continues. "Even in Chekhov, you're like, 'Wait a second. That's in translation. I don't have to be British.' I did find, unfortunately — not across the board — that there was always a wariness of, 'Can you do the accent?' They don't know that much about Americans and the different accents we have."
Howell did not seek out work in the U.K. "I was very focused on training rather than working. And it was better that way," he says.
Britten did an internship in publicity with the Weinstein Co. "I quickly rose to fame for my ability to whip up a pretty fancy chart on Excel," he recalls.
Where Are They Now?
What is the current upshot of all that training under the Brits? Now, Howell says, "I find that I am much simpler an actor than others. Perhaps that's boring at times for the audience, but I try to not 'add' much onto the surface but rather internalize it and let certain things escape. I also try not to 'effect' my voice, especially for Shakespeare. I base my performances in realism and curiosity rather than 'character.'"
Da Silva notes, "I am able to commit to big choices, and if my director doesn't like it, I change again and commit just as fully. I keep bringing choices and options. I take direction very well, and I'm not afraid of falling on my face. I make the best discoveries that way. Directors appreciate that."
House says she now has good instincts, which she attributes to experience: "The more you see and do, the more that stays with you." She also says she is now a good collaborator. "I'm also not waiting for anyone to hand a career to me," she adds. "And I'm always taking classes, reading about craft, and doing things outside my field."
Howell graduates in May and plans to remain in New York City, pursuing acting. He has been in "a handful" of shows through NYU and several outside of school with actors from Tisch, in several student films, and on a television pilot.
Britten is currently living and working in New York City. He recently appeared at the Laugh Factory in Times Square and has appeared on Studio 60 on the Sunset Strip and in Hearts Unarmored.
Parks is actively auditioning for voiceover, commercials, and film, currently looking for a new theatrical agent and manager; he is commercially represented by Almond Talent. He recently guest-starred on E!'s Sunset Tan. He also played Walt Disney in the short biopic Started by a Mouse.
House recently returned from the Slamdance Film Festival in Park City, Utah, where her film 4960, directed by Wing-Yee Wu, screened. She is also part of Hyer Ground Productions, a film production collective that is currently in postproduction on This End Up, and she is working with Sisu Productions on an original play, titled Twisted, for the New York International Fringe Festival.
Da Silva recently appeared in Big: 3rd episode happy/end at the Kitchen in NYC as part of the Under the Radar Festival, sponsored by the Public Theater. She recently completed an indie, Sisters, and next she'll be playing Paulina in The Winter's Tale, March 13-April 5 at the American Globe Theatre in Manhattan.
In the midst of a full career, Goldstein is appearing in Bryony Lavery's Frozen, through March 22 at the Lillian Theater in Los Angeles, and she'll star with Robert Patrick in Autopsy, a feature-length indie currently in postproduction.
British Acting Schools
When calling from the United States, dial 011-44.
ACADEMY OF LIVE AND RECORDED ARTS
Royal Victoria Building
Trinity Road
London SW18 3SX
81-870-6475
ARTS EDUCATIONAL SCHOOLS
14 Bath Road
London W4 1LY
81-987-6666
BRITISH AMERICAN DRAMA ACADEMY
14 Gloucester Gate
London NW1 4HG
0207-487-0730
CENTRAL SCHOOL OF SPEECH AND DRAMA Embassy Theatre
64 Eton Ave.
London NW3 3HY
71-722-8183
DRAMA CENTRE LONDON
176 Prince of Wales Road
London NW5 3PT
71-267-1177
DRAMA STUDIO LONDON
Grange Court 1
Grange Road
London W5 5QN
81-579-3897
EAST 15 ACTING SCHOOL
Hatfields
Rectory Lane
Loughton
Essex IG10 3RY
81-508-5983
GUILDFORD SCHOOL OF ACTING
Millmead Terrace
Guildford
Surrey GU2 5AT
48-356-0701
GUILDHALL SCHOOL OF MUSIC AND DRAMA
Silk St.
Barbican
London EC2Y 3DT
71-628-2571
LONDON ACADEMY OF MUSIC AND DRAMATIC ART
Tower House
226 Cromwell Road
London SW5 0SR
71-373-9883
MOUNTVIEW THEATRE SCHOOL
104 Crouch Hill
London N8 9EA
81-340-5885
QUEEN MARGARET COLLEGE
Gateway Theatre
Edinburgh EH7 4AH
31-317-3000
ROSE BRUFORD COLLEGE
Lamorbey Park
Burnt Oak Lane
Sidcup Kent DA15 9DF
81-300-3024
ROYAL ACADEMY OF DRAMATIC ART
Until summer:
18-20 Chenies St.
London WC1E 7EX
71-636-7076
ROYAL SCOTTISH ACADEMY OF MUSIC AND DRAMA
100 Renfrew St.
Glasgow G2 3DB
41-332-4101
WELSH COLLEGE OF MUSIC AND DRAMA
Castle Grounds
Cathays Park
Cardiff CF1 3ER
22-234-2854