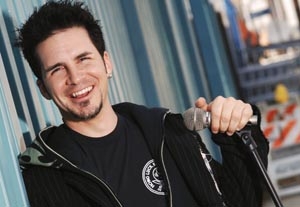 At one time, hosting and acting were mutually exclusive. But in today's multimedia environment, the lines have blurred. Greg Kinnear launched his career as an actor after hosting
Talk Soup
and went on to earn an Oscar nomination for
As Good as It Gets
. Paige Davis had no trouble moving from hosting
Trading Spaces
to acting in
Chicago
on Broadway. Howie Mandel seems to be having a fine time on
Deal or No Deal
. For some, hosting is just common sense in these down times; for others, it's enjoyable and even a good career move.
Career Killer?
For standup comic Bill Bellamy, it was a no-brainer to take gigs hosting NBC's
Last Comic Standing
and TV One's
Who's Got Jokes
, if for no other reason than to keep himself in the public eye. "But I don't want to be Bob Barker," he says. "He's a great host, but he's just a host. It was important for the audience to see me as a comic and a personality." The downside is that Bellamy must prove himself when auditioning for dramatic roles. That's true for any comic branching out, but more so for a comic who hosts a comedy show. 
Wanda N. Colón's situation is a little different. In addition to hosting TLC's
Home Made Simple
, a reality show in which she offers design tips, she is an interior designer and an aspiring actor who recently starred in and produced a short film,
Salt
. As an actor, she has to demonstrate her acting talent each time anyway, she says, but a big plus in working on
Home Made Simple
was her tech crew contacts: They helped make her film.
John Sencio, host of the now-defunct
Home Delivery
on ION and HGTV's
Cash in the Attic
, says it would be disingenuous for him to suggest that hosting is not a barrier to a serious acting career. "If you've been an accountant for 10 years and come home and say, 'I want to be a chef,' everyone is going to say, 'But you're an accountant.' " Still, he believes his visibility is a good thing in L.A., which he calls "a success-oriented town. People here revere success."
Not everyone thinks hosting is a great idea. Hal Sparks, who played Michael on
Queer as Folk
, says actors who host game or reality shows are "torpedoing their careers as actors. They're torpedoing their artistic integrity." Sparks, who has hosted
Survival of the Richest
and
Talk Soup
, among other shows, was concerned about hosting's impact on his acting career from the outset, but his agent insisted that "the industry has changed, and the attitudes that once existed about hosting no longer do," Sparks recalls. "But that's not true. If you don't have any other aspirations, hosting is a good paycheck and not much work. But if you want to act, avoid it like the plague. It's a gilded cage. I'll be a voiceover host, but I will not do on-camera hosting."
His major objection is the host's bland, Brand X persona. "A host has to be so affable and so normal, you lose whatever mystique you may have had," Sparks says. "It's the classic example of a sellout." Indeed, he suggests that even the most upscale hosts—such as David Letterman, Jay Leno, and Conan O'Brien—are "salespeople for other people's projects. They're facilitators for someone's new book, new movie, or whatever." Even if a Letterman wanted to act, he says, the best he could hope for is the self-mocking role of a talk show host.
On the other hand, Sparks says, hosting may not be a bad thing for a standup comic, especially if he or she is participating in some of the sketches. He adds that hosting indicates a level of achievement for a comic who is now in a position to showcase the talents of others.
Making Compromises
Sencio had his sights set on a legitimate acting career and majored in directing at Emerson College. But he was drawn to the role of TV interviewer as well. In fact, he began his career interviewing celebrities on MTV, while also doing news and sketches. That job led to a featured role on the short-lived 1998 WB sitcom
The Army Show
. Sencio is every bit the pragmatist. "I want to earn my living in the industry, and I do, but it's a game," he says. "And you have to play that game." The allure of being a starving artist wears thin quickly, he adds, especially if you have a mortgage and children. So he'll take a hosting gig if it helps pay the bills.
Nevertheless, Sencio is choosy about the shows he'll host. Game shows and reality TV do not automatically turn him off if they're well-made, though he won't host a show if he finds it morally reprehensible or shabbily produced. Unlike an actor playing a character, a host can't hide behind a mask. The host plays himself—or a facet of himself—and as such becomes the face of the production. If it stinks, the host is identified with the failure. "Audiences may not remember the show, but they'll remember you," he says. "I want to be associated with a quality product and then make it better."
Sencio says he'd love to host a variety show of the sort he grew up watching, hosted by stars like Carol Burnett and Flip Wilson. He envisions himself introducing the acts and participating in them. But he does not rule out straight acting jobs in the future.
Actor Idalis DeLeon,
who was a host of USA's
Extra
:
The Entertainment Magazine
, among other shows, believes that hosting is a perfectly valid way for actors to make money in this economic climate. While it has always been difficult to earn a living solely as an actor, it was not inconceivable 10 or 15 years ago, she says. "Now that's just not possible. Actors want to work, and hosting is a great outlet." And she doesn't view it as demeaning or feel that the industry will hold an actor in contempt for
doing it.
"No one is paying attention anyway," DeLeon points out. "And work begets work. Each job brings you to the next level." Only if you're totally repelled by the show—if it's your soul that's cringing and not your ego—should you perhaps turn it down, she says.
DeLeon, who teaches actors in L.A. how to host and market themselves, recalls how she backed out of a game show on E! and now regrets it. The host was expected to participate in the games—bouncing on giant balls, jumping into pools, and so on—and she found it undignified. She's convinced that the producers really wanted her, and had she expressed interest in the job—the program turned out to be short-lived anyway—she believes it would have been a steppingstone to "doing the news on E! now," a plum assignment in her view.
The Art of Hosting
According to DeLeon, hosting is a close cousin to acting and most actors can be taught to host. Actors and hosts are storytellers, though the actor is part of the story and the host is the narrator, she says. The major difference is that hosting is largely a technical skill. Hosts have to be able to think on their feet and keep the show moving, she says; it's about communicating and doing it artfully.
A key to success may be "hosting things you have passion for," says Babette Perry, an agent with IMG World who represents many actors who also host. "Faith Ford loves to cook; Ron Silver loved politics; Richard Dreyfuss loves history; Ian Ziering loves people and pop culture." 
Sparks says the host has to be entertaining in a limited amount of time, get into the meat of the subject quickly, and explain what it's all about in two sentences or less. "The best ones are very adaptable, good at improvisation, and in the present," he says. "A good host is able to riff back and forth."
But each show requires particular skills. On
Talk Soup
, he says, he was a commentator, not a host, because there was no one else there. On
Survival of the Richest
, he was a host and had to master all of the program's legalities. "If you screw up the rules, it can cost the show $50,000 or $100,000," he says. "You learn that and you become a robot. Most of the rehearsals are spent getting the language right. On a game show, the challenge for the host is describing the game, being specific and repetitive." Bellamy likens the role of host to playing point guard in basketball.
DeLeon says the key skills are speaking, thinking in terms of bullet points (introduce the guests, establish the rules, break for commercial), and remaining true to who you are—what she calls the actor's brand. But tone and style may change slightly depending on the audience. "The QVC demographics are housewives," she says. "It's middle America, while MTV's audience is younger, hipper, and edgier. Oprah is the same brand on ABC News as on Conan, but with Conan she's more playful."
The actors interviewed have agents and/or managers and landed most of their hosting auditions through their representation. If you have no representation or TV hosting credits, DeLeon advocates selling yourself as a live-event host to get experience and credit. She also suggests creating a demo reel that showcases whatever footage you have. Demo reels, websites, and Web radio shows are steppingstones to agents, she says. In addition, "Medialine, Entertainment Careers.net, Actors Access, LA Casting, and Back Stage are all great websites to look for on-air hosting gigs. Incidentally, Back Stage is the way I got my biggest hosting job: MTV."
To prepare for a hosting audition, DeLeon urges running the copy for rhythm, pace, and word emphasis. "Not unlike musical theater, it's the technical first and then the art," she says. "The last thing you think about is who you're talking to and who you are."
Sencio says he was hired for
Cash in the Attic
because of his persona. The producers were familiar with him from his work on MTV and said he had the qualities they were looking for. "They said they wanted to keep HGTV's audience while expanding it to include a younger, cooler, hipper audience," he recalls.
Mutual Benefits
Colon points out that her experiences as an actor have helped her forge her hosting persona, which she describes as quirky, serious, and clearly ethnic. But these are aspects of herself, she says: Landing a hosting gig depends on your ability "to let them know who you are." On the flip side, hosting hones skills that are useful for the serious actor. "With hosting, everything is done on the fly," Colon says. "You have to make it work in a short period of time. And that has helped me as an actor and filmmaker."
The experience of working in front of a camera, getting comfortable with multiple takes, and becoming familiar with the language of television—"even if it's reality or a lifestyle show"—is good training, says Sencio. Knowing how to relax and being prepared for the unexpected also serves actors well, he adds. But more than almost anything, an actor's improvisational skills are polished as a host.
On
Home Delivery
and
Cash in the Attic
, there's no script, Sencio says. In fact, his audition for
Cash in the Attic
, which involves families finding items that can be sold at auction, reminded him of an acting-class improv exercise. With the camera rolling, he was asked to imagine he was in someone's house looking for things that could be auctioned off. It's not always easy for the participants to part with their possessions, and Sencio has to talk them through it, though in the end the family usually makes a lot of money and everyone is happy.
Sparks says hosting was unexpectedly instructive for him as an actor. What struck him about the contestants—who were from all walks of life, he says—was how close to the surface their emotions were and how rapidly they turned from anger to tears to joy. "The reality show is based on B.S.," he says. "People are fighting for nothing. But they'll be in tears so quickly."
His observations about reality TV have challenged his notions about acting that often focuses on a character's backstory. "We concoct these huge stories and forget what a gut reaction is," he says. "As a host on a game show, I saw emotions pop out at a moment's notice." Has Sparks been able to incorporate what he's learned? Absolutely, he says. "I've become less presentational and more in the moment." But "I still believe Second City is a better acting school than a game show."
The Tribe Has Spoken
Sencio says he's satisfied with his steady, midlevel career as a host, but "you have to follow your gut. If hosting is something you're curious about, I'd consider it. You might learn a lot about yourself as a performer. You'll certainly learn a lot about the industry." He warns that hosting requires 12- to 14-hour days and team players; there is no room for prima donnas.
DeLeon's caveat is this: Actors cannot pursue a career in hosting halfheartedly. "Years ago, you were an actor or you were a host," she says. "Now you have to be both, but you'll have to give 80 percent of your time to one thing and 20 percent to the other for three to six months."