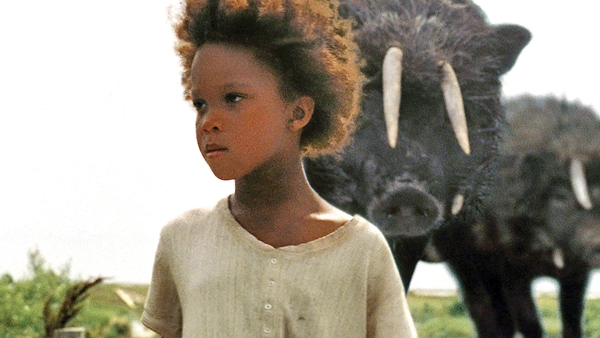 More so than in recent years, 2012 was shaping up to be the year studio films took back the Oscars. Front-runners such as "Argo," "Les Misérables," "Lincoln," and "Zero Dark Thirty" seemed to dominate the race—and still may. But the Oscar nominations include some strong independent showings, none more so than last year's Sundance Film Festival Grand Jury Prize winner, "Beasts of the Southern Wild." The scrappy indie starring a then-7-year-old newcomer with an unpronounceable name not only earned a nomination for best picture but bumped sure things Ben Affleck and Kathryn Bigelow out of the director race. "Beasts" had a budget that was probably smaller than the catering bill for "Argo," yet the story of a girl named Hushpuppy (Quvenzhané Wallis), who lives in a part of the Louisiana bayou called the Bathtub and encounters mythical prehistoric beasts, resonated with voters. Director Benh Zeitlin not only sneaked into the competitive director race but earned a writing nomination with co-writer Lucy Alibar.
For months, it was perceived that the big breakout from Sundance would be "The Sessions," which was picked up at the festival by Fox Searchlight—the same studio that nabbed "Beasts." Writer-director Ben Lewin's true story about Mark O'Brien, a man paralyzed from the neck down following a childhood bout of polio who decides to lose his virginity at age 38, picked up the Audience Award for drama and earned a Special Jury Prize for its ensemble. Stars John Hawkes and Helen Hunt were considered locks for acting nominations, and Lewin had a solid shot at a writing nod. But as the months went on, Hushpuppy worked her way into voters' hearts and stayed there. While Hunt still scored a nomination, Hawkes and Lewin were left in the cold.
Two other films from Sundance had hopes for their leading ladies; Mary Elizabeth Winstead in "Smashed" and Emayatzy Corinealdi for "Middle of Nowhere" had supporters but failed to break into the crowded category. But the now 9-year-old Wallis did, making her the youngest best actress nominee in the Academy's history. That's especially notable because "Beasts" was not eligible for SAG Award consideration, which could have given a big boost to the small film. In the end it didn't matter; Academy voters didn't need convincing to include Wallis.
Perhaps Sundance's biggest accomplishment at the Oscars this year is in the feature documentary category. All five of the Oscar nominees—"5 Broken Cameras," "The Gatekeepers," "How to Survive a Plague," "The Invisible War," and "Searching for Sugar Man"—played Sundance last year. While "The Invisible War" won the Audience Award, "Searching for Sugar Man" won a World Cinema Award, and "5 Broken Cameras" won a directing award. Which means when it came to forecasting this year's feature documentary nominees, the Sundance Film Festival was batting a thousand.