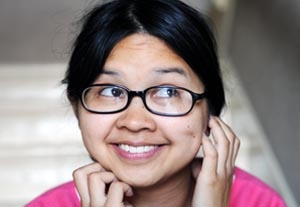 This week Back Stage shines the spotlight on Comedy and Improv. Charlyne Yi talks with us about her her new role in "Paper Heart" and top comedians talk about transitioning from comedy to drama. Also read about the hot, new comics who are on their way to the top.
She's on Fire
The absence of artifice also informs Charlyne Yi's bracingly unaffected stage presence—but the resulting comedy is about as far from mainstream as you can get.
And Now for Something Completely Different
Read the list of ten rising comedy talents from around the world set to shake up the status. quo
But Seriously...
When comedians transition into more-dramatic fare, it's not often an easy sell.
Can Comedic Timing Be Taught, or Is It Innate?
Timing is not something to be learned; it's something to be found.
'Improvising' in Scripted Comedy
I'm often asked by people who have seen "The 39 Steps"—in which I'm performing on Broadway, along with Jill Paice, Jeffery Kuhn, and Sean Mahon—how much of the show is improvised.