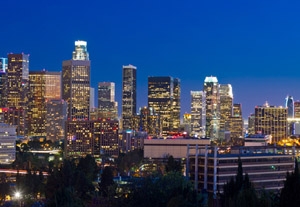 Los Angeles is a city where dreams can come true. For many working actors in Los Angeles, it takes a lot of hard work to make those dreams into a reality.
There's no easy way to the top, but sometimes in life everyone needs a map or some directions to help you get where you're going.
To help you along the road to success, Back Stage presents The Guide to the L.A. Acting Market, with advice, secrets, and stories by L.A. acting professionals about how to make the most of the City of Angels.
The A-Team
No actor is an island. Behind every great thespian lies a support system of oft-harried individuals, each working hard to provide artistic and professional guidance.
What to Know Before Moving to L.A.
Tips, hints, and suggestions from five Los Angeles actors who have learned the secrets to living and acting in Southern California.
Hey, Teach!
How should you go about finding the right L.A. acting teacher or class for you? With apologies to Paul Simon, there must be 50 ways to find a teacher. Check out the Back, Jack. Back Stage, that is, and other trade publications with ads and listings.