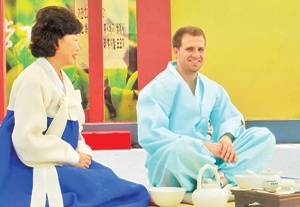 Travel is, famously, a "broadening" experience. A change of scenery, even for a week or two, can rejuvenate the spirits and induce a fresh perspective. When coupling a journey with new educational experiences to further the mastery of a craft or profession, the vistas grow wider still.
Back Stage recently spoke with eight acting students who have trained abroad. Their diverse stories provide an overview of the possibilities and challenges involved in studying outside America.
Planned itinerary
In the spring of 2008, Dan Reiss, then a junior at New York University, spent a semester at London's Royal Academy of Dramatic Art. The NYU-RADA program presented an engaging but relatively stress-free way of experiencing a different culture. NYU students lived together in a dormitory in the King's Cross area of London. An NYU representative met with them each Monday, keeping tabs on their welfare. Setting aside the unfavorable currency exchange rate for Americans, Reiss paid little more that semester than he would have back in New York. There was, however, an additional charge, for a package of live theater offerings—productions that Reiss would find exhilarating.
The Americans did not share classes with the British RADA students. "It wasn't as mixed as it could have been," says Reiss. "But I don't think that's such a bad thing, since we only had a six-month track and they were on a two-and-a-half-year track."
At NYU, Reiss had studied predominantly at the Stella Adler Studio, so he found it refreshing to experience the Brits' pragmatic "Say the lines and don't bump into the furniture" approach. He worked hard and stretched himself—even tackling, at age 21, the title role in an abridged "King Lear," in which he came off, he says, as "a mixture of Al Pacino and my grandmother." But he played hard too, especially when he and other students traveled to other parts of Europe during breaks. "You get to get drunk in many countries," he quips. "Very valuable."
Mornings in Moscow
Robin Vacek and Jeff Ronan enjoyed a relatively structured program at the Moscow Art Theatre School in the fall of 2009, under the auspices of the O'Neill National Theater Institute. Vacek, then a sophomore at Pennsylvania's Albright College, earned academic credits for her participation. Ronan had already graduated from Kean University in New Jersey.
Both students appreciated the Russian faculty. Vacek discovered that, although demanding, Russian teachers defied the stereotype of the stern taskmaster. As a student, she says, "you never felt like you were dumb or that your choices were inadequate." Ronan was particularly taken with the ballet instructor, Larisa Dmietrieva. A former Bolshoi prima ballerina, Dmietrieva would rise at 5:30 daily for her own barre exercises. "She wouldn't say, 'This is what we're doing,' because she spoke about 10 words of English," recalls Ronan. "She would just show us. And it was like having someone Photoshop the head of a 70-year-old on the body of a 30-year-old."
Most of the Russian teachers and students spoke little English. A preprogram orientation provided the Americans students with a few words of phrasebook Russian and familiarity with the Cyrillic alphabet. But a good deal of ingenuity was needed to communicate across the language divide. In the classroom, translators assisted. "You start talking," says Vacek, and the translators "will talk at the exact time. You have to get used to slowing down and not using too much American slang that maybe doesn't translate in the correct way."
Abbondanza!
Italy's Academia Dell'Arte is perched above Arezzo, a small Tuscan city. Classrooms and living quarters alike are housed in a hilltop villa with a sumptuous view. The Academia was one of three overseas options available when Zachary Spiegel enrolled at Muhlenberg College in Allentown, Pa. Spiegel picked the conservatory-style Academia over two alternatives in Great Britain, in part because of his interest in commedia dell'arte techniques. "Although it's a dead art form," he says, "it's a great template to apply to modern characters."
Hendrix College in Arkansas facilitates the Academia program, but many of the music and theater students who attended with Spiegel were fellow Muhlenbergers. The faculty members came from diverse international backgrounds, and instruction was in English. The students nevertheless spent mornings taking Italian lessons. And in the commedia class (taught by an Italian), Spiegel and his classmates were expected to inject Italian phrases into otherwise English improvisations.
Spiegel believes that his three months studying in Italy—which included mask work and collaborative cabaret-style performances—made him a stronger actor. "I have a better idea of how to use my body and my voice as a full package," he says. He also grew as a person. A turning point came when he first ventured into town alone to engage the services of a barber. His advice to anyone studying overseas is to "do at least one thing completely outside of your comfort zone, but do it within reason, so as not to harm your safety."
Extended Visit
Students wishing to push themselves in bigger ways might consider the option of a longer stay abroad. Like Vacek and Ronan, Ben Sargent studied at the Moscow Art Theatre School. But instead of three months, he stayed four years. Born in Rhode Island, Sargent had previously experienced life outside the U.S. as an undergraduate at McGill University in Quebec, Canada. There he took his first tentative steps toward "Russification," appearing in an adaptation of Nikolai Gogol's story "The Nose," directed by Russian director Alexander Marine.
Subsequently, Sargent attended the Stanislavsky Summer School in Cambridge, Mass., which led him to apply to a program underway at the Moscow Art Theatre. The program was populated with American students, mostly graduates of the LaGuardia High School of Music & Art and Performing Arts in New York City. Because the program was already a year in progress, Sargent and other newcomers played catch-up for a while, in acting classes and in their mastery of the Russian language.
In the classroom, translators were on hand at first but were soon deemed unnecessary. Scene work was performed in English—which made the Americans especially intriguing to Russian students and audiences. Sargent notes that Russians admire American playwrights like Tennessee Williams, Edward Albee, and Sam Shepard: "They know the plays, but there's something that the Russians just can never quite capture about what it's like to be an American. So finally they had an 'Our Town' where they could understand what was going on."
The Americans were such a hit that when they finished the program, the theater helped them form a company: Studio Six, so called because it is the sixth official studio of the Moscow Art Theatre. The troupe eventually returned to the U.S. and is currently based in New York.
Sargent recommends that overseas students remain "open to unexpected things happening—good things usually." Still, while in Moscow he was exposed to some harsh realities of Russian life. "The police are underpaid, and if they can identify you as a foreigner, they will try to get some bribe out of you, by intimidation," he says. Sargent would always resist those demands until the police released him, viewing the showdown as "a game." But for a friend of Sargent's, who was of South Asian descent, it wasn't much fun. "If there's racism thrown in, it can get scary," Sargent says. "To the point that he had a gun held to his head by a cop, which I never experienced."
Artistic Differences
As an undergraduate, Marie Gouba studied vocal music education at Olivet College in Michigan. For her graduate degree, she decided she didn't want to take "the safe route," she says. So in 2008, she began a one-year master's program in music theater at the Central School of Speech and Drama in London.
"I love New York, and I go there all the time to visit," Gouba says. "I thought it was the center of the theater world and that was it. Then I started thinking, 'You know what? There are other hubs in the world.' "
As an American, she paid double the tuition of her British classmates. But, she says, "The wonderful thing about other education systems in the world is that they're not nearly as expensive as ones in the U.S., so it was honestly cheaper for me to go to school over in the U.K. for a year than it would have been to spend two years at New York University."
Gouba found the British students somewhat slow in warming to her. In the beginning, she spent more time mingling with other international students. And differences between the British and American approaches to musical theater emerged in class. At first the British students would ask her why Americans hate Andrew Lloyd Webber, but Gouba came to appreciate their country's eclectic approach to musical theater. "They identified it as an American art form," she says, "but it wasn't just about the Broadway musical; it was about theater and music together, and that could mean a variety of things, in different countries and in different places."
The school offered Gouba a chance to work on her "Broadway belt" voice, something she had not practiced much at Olivet. One thing the program lacked, though, was a strong dance component. So Gouba sought classes at studios elsewhere in London. The ones she found proved "fast-paced" and "rewarding," she says.
American in Paris
As a teenager in Santa Fe, N.M., Joy Mills was greatly impressed by the local Theater Grottesco production of "The Angel's Cradle." Later, while at Swarthmore College, near Philadelphia, she saw performances by the Pig Iron Theatre Company and was similarly moved by the bold theatricality on view. When Mills learned that Grottesco and Pig Iron practitioners had been trained at the same school—L'École Internationale de Théâtre Jacques Lecoq, in Paris—she planned her next move.
In 2005, she was accepted by the school and headed to France, despite a limited facility with French and a stretched budget. She received a scholarship from Swarthmore but says, "I spent every penny I had." Mills adds, "The nice thing about going to theater school in Paris is that you learn the language like a toddler learns the language. They say, 'Mettez le bassin vers la droite.' And you say, 'I know "mettez" means "put" and "droite" means "to the right." What's everybody putting to the right?' " (Answer: Their pelvises.)
Lecoq was not an academic program. "We never wrote a paper; we never wrote, period," Mills says. Yet the atmosphere was highly competitive, because at the end of the first year, two-thirds of the students would be cut. Still, things were not uncomfortably cutthroat, she says, "because you were always doing collective creation, so you couldn't be competitive to the detriment of the other people." Mills was one of two lucky Americans retained for the second year.
Surprising frankness on the part of Lecoq's faculty prepared Mills to handle any sort of negative feedback that might come her way. "I remember the first time I looked over and a teacher was mouthing 'Yes!,' and it was like flying," she says. "I've never been so happy with a bit of feedback, ever."
Since completing the program, Mills has worked with colleagues in Spain and South Africa, and also with Grottesco back in New Mexico. She's now living in London and planning a new project. She advises students who follow her path to be "totally fearless"—and to join the American Library in Paris, which provides valuable contacts with the American expatriate community.
Seoul Searching
While the most likely places for American actors to study are European, some students look farther afield. During his undergraduate program at Miami University in Oxford, Ohio, Zak Slemmer spent six months at the Korean National University of Arts in Seoul, South Korea.
A self-described "wandering soul," Slemmer was encouraged by Miami professor Howard Blanning to enter a student exchange program. "I'm sure he thought that this would, perhaps, get me in line—with the pretty strict Korean culture—but also open me up and give me some specific training that I needed and would benefit from," says Slemmer.
Before leaving the States, he was tutored in the language by a young Korean woman—the other half of the student exchange program. Once he arrived in Seoul, Slemmer took his studies very seriously. He avoided spending too much time with other Americans. He threw himself entirely into the new culture, even going to a fish market where merchants teasingly crammed some not-quite-dead squid into his mouth. "The only thing I refused to eat," he says, "was a soup that had a pig spine sticking out of it—like a stalk of celery sticking out of a Bloody Mary."
At the university, Slemmer took courses in martial arts as well as in corporeal mime—"a completely new way of moving," he says, "not to music, not to other people, but to feelings." In scene class, he acted in English and in Korean: "It was specifically interesting in the realistic acting course, where I got to see Koreans tackle the same moments in 'A View From the Bridge' that I would tackle, and the ways in which it worked out in their brains, as opposed to the ways it worked out in mine." These experiences unlocked something significant in Slemmer's consciousness. "Now when I look at a part," he says, "I think I'm more free. I'm not as limited to what I thought reality was."
Of course, epiphanies like Slemmer's can happen anywhere. Somehow, though, when the sun slants at an unfamiliar angle and the breeze carries a surprising fragrance, the lesson comes through especially sharp and clear.