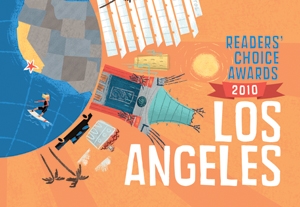 Back Stage is doing something different this time around with our annual Readers' Choice Awards. We're presenting the Los Angeles and New York awards in a single issue this week.
This year marked a record in terms of the number of voters: More than 5,300 of you took the time to share your L.A. favorites in more than 20 categories—including favorite headshot photographers, teachers, and places to work out. And if you go on to our website, you'll find additional categories, such as favorite casting directors.
It's interesting to note that there were few repeat winners from years past. There is something refreshing about having new blood (I guess I have "True Blood" on my mind) to profile and to be able to spread the wealth. Although L.A. acting teacher Kimberly Jentzen, a previous multiple Readers' Choice winner, did not take the top spot in any category this time—she is a runner-up in four areas—she always appreciates being cited by Back Stage readers and has found great students as a result.
"It's been an honor to be recognized," says Jentzen. "Interestingly, this exposure through the articles and awards has greatly supported attracting wonderful actors. In order to be a great teacher, you must attract great students. So having exposure is crucial in allowing the right actors to find you."
She added, "Back Stage is very special in that it is the first organization/publication to recognize teachers; and because actors are continuously studying their craft, it makes complete sense to recognize those that stand behind them."
So thank you for standing behind the people and companies that help you achieve your goals every day.
Sincerely,
Jamie Painter Young
National Editor-in-Chief
To make it easier, we divided the awards by topic. Please click on each link to see the list of winners!
Casting Directors
Six years ago, accomplished actors Patricia Tallman and Judy Kain found that work had slowed for each of them. They decided it was time to create a casting director workshop that would help experienced actors further their careers in a way that showcased the actors' strengths.
Classes and Coaches
Craig Wallace's teaching adheres to an overriding philosophy: "to give my students the confidence to be who they already are." That approach made him our readers' favorite audition teacher.
Headshots and Reels
Before becoming a full-time photographer, David Muller worked mainly as a commercial actor and print model, originally in New York and later in L.A. He recently decided to retire from acting to concentrate on his photography business full time.
Health and Fitness
With more than a dozen Southland locations, it's no wonder YogaWorks topped our readers' picks for favorite yoga class/studio. Among the nationwide chain's other virtues are the rainbow of styles offered and its nearly 200 instructors, ranging from yeomen to superstars.