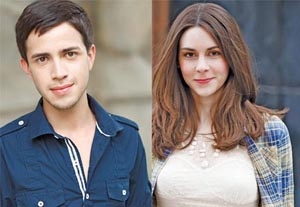 The old adage about a picture being worth a thousand words is especially true when it comes to actors' headshots. This one photo is supposed to convey your personality, your age range, your ability to work well with others, and dozens of other elements that will influence a casting director's decision to bring you in for an audition. How do you and your photographer capture all that information in a single image? What combination of lighting, wardrobe, and spontaneity will produce the best result? To get the answers to these vital questions, we asked photographers in Los Angeles and New York to send us two outstanding examples of their work—one of a man and one of a woman—along with a brief explanation of why they think these particular pictures are successful in "selling" their subjects. Their responses, along with the photos, are on the following pages.
---
(Photos by Liam Alexander)

Liam Alexander
The most important thing is that your headshot look like you. When actors submit for a project, casting directors are looking at a sea of little pictures on a website and putting a check next to the ones that look like what they want. So the lighting must be clear, and the photo must read at a small size, look exactly like you when you walk in the door, and look like your type.
For Eric's outdoor shot, he's unshaven, looking a little rough, with a more tousled "hit me up" look. This is what they see, and this is exactly what they get when he walks in.
For Leigh, this shot is simple but successful. Women have to remember that being mature isn't bad; it's how you wear it. I love this shot of Leigh because she reads as a mature woman but with a great youthful energy. You want her to come to the casting just to brighten your day. Nobody wants to see a dead body on TV, and people want to see that you're proud of who you are and comfortable in your skin. And she really shines in this picture.
(Photos by Jinsey Dauk)

Jinsey Dauk

It's all in the eyes! Here in their headshots, actors Rhonda Jensen and Miguel Perez are both open, approachable, warm, and engaging. They emit a spirit, a personality, and a feeling. That's exactly what you want in a headshot—you want the casting director to feel all that. Because I shoot with natural light and not flash, it's easy for clients to feel more natural themselves; they are spontaneous and being, not posing. Their eyes are alive. Casting directors and agents like this because not only do the actors look like their headshots, but the CDs and agents get a sense of communication and honesty.
Regarding the background, I always keep it out of focus to help the subjects become more three-dimensional, as if they're jumping off the page. Regarding the clothing, I prefer that we keep the shot simple by going with mostly solid-colored clothing. That makes the eyes the most important thing in the shot. People feel they almost know these actors just by looking into their eyes. That's the kind of connection to strive for in a headshot.
(Photos by Rod Goodman)

Rod Goodman
What makes the headshot of Jarvia Udosen successful is her warm eye contact and smile. This is also a good example of a three-quarter shot that works, because this young lady has a full face and, in showing some of her body, we are able to see that she is in good shape. We may not get that with a tighter headshot.
John Buxton's headshot is successful because he has layers to the emotions he's conveying. The muscles of his face and mouth are relaxed and he has great eye contact. If you saw either of these actors in person, you would see that they look just like their headshots.
(Photos by Joe Henson)

Joe Henson
The best headshots are a perfect mix of aesthetics and useful information. To attract the viewer's attention, a headshot must be compelling and attractive to look at, a magnetic combination of composition, lighting, color, and personality. I want all of my headshots to look great, even upside down. Once you have the viewer's attention, a great headshot must define and clarify the elements of an actor's presence that define the character types best suited to that actor.
My photo of Will Lyman reflects his intensity, strength, and sensitivity. He is raw and direct. He can play powerful characters with depth. My photo of Susannah Hoffman is as striking as her beauty and reflects her playful, romantic-lead intelligence. She can easily be seen as the lead female in the relationship. My job is to take away the guesswork and reveal the truth in a visually compelling way.
(Photos by Jason Homa)

Jason Homa
Erin Lamey is classic beauty. Putting her in this simple studio environment places all the focus on her. Her features really stand out and her beauty shines. But what one really sees is the intensity and depth in her eyes, the confidence she has, her presence, and the attention she can command from an audience. We know she can be soft and emotional or a strong leading lady. This photo is captivating and really holds the viewer's attention. It's certainly not going to get overlooked or passed by, even in a stack of 100 headshots on a casting director's desk.
From his shot, we know that Esdras Toussaint is a powerful leading man and leans toward serious dramatic roles. From the thought we can read in his eyes, the slight smile, we get a sense of the subtleties of his emotional range. But in this seemingly simple shot of him on the street, we also know he's approachable. We get a strong sense of who he is.
(Photos by Peter Hurley)

Peter Hurley
I took this headshot of Casey Bond, and what I really wanted to capture was his charm. In this shot in particular, he has a great connection to the camera and an inviting expression that draws the onlooker into the shot. In order to create the kinds of expressions that stand out when casting directors flip through headshots, you need to engage the three things we use on our face to communicate: mouth, eyes, and eyebrows. Casey did a great job of meshing the three together to show off a touch of his personality.
Each time I look at this photo of Adepero Oduye, a smile comes to my face. Her smile is so infectious and genuine, as is her personality, and I firmly believe that a photographer could never accomplish this by asking the subject to smile. Yes, I know that's a strange thing for most to hear, but in my studio I create an atmosphere that is fun in order to pull natural smiles out of my clients that give you a feeling when you see them. I can't wait to see where Adepero's career is headed and am glad this headshot has helped her along the way.
Note: Peter Hurley also has a studio in Los Angeles.
(Photos by Jimmi Kilduff)

Jimmi Kilduff
Stephanie was ready to make the transition from theater to film and TV and wanted a shot that would help her accomplish that goal. The horizontal framing, defocused sunset in the background, and contrast of the oranges and yellows with her blue shirt and eyes make the shot "pop" and help to create a more cinematic feel. Her open, confident expression and natural beauty combined with these cinematic elements create a headshot that speaks directly to film and TV casting directors, showing them she is able to step into a dynamically framed shot and become the missing piece that brings it together, making it memorable.
Michael, a confident and easygoing "young leading man," needed a shot for both musical theater and film. Framed at just below the sternum and cutting off the shoulders slightly, this shot accentuates his tall, broad frame and gives him the physical appearance of a young leading man. His slightly tilted head, his boyish smile, and the highlights on his jaw line enhance this impression while maintaining the ease of his personality. Because there is enough of his body to give a clear impression of his physicality while the shot is framed close enough to display the expressive qualities of his face, this headshot can be used for either theater or film.
(Photos by Kendall Pettygrove)

Kendall Pettygrove
This headshot captures Kathleen's inner softness and ease, and yet she reads as a professional and someone that you'd like to work with. Her unique physical attributes include a leonine mane (which is captured without taming it or having it overwhelm her face), charming freckles, amazing dimples, and—last but most important for a commercial shot—a gorgeous, natural smile. I think this headshot covers all that an 8-by-10 can demonstrate. I wouldn't hesitate to call her in if I were a casting director, as I would feel I knew a lot about her already.
Rob's agent wanted a shot that she could submit to show his more serious professional side—his "Law & Order" shot, we joked. This shot highlights his overall good looks, intensity, and intelligence. He could easily be seen as a lawyer, doctor, detective, husband, white-collar criminal, businessman, etc. So the shot satisfies the agent's request while also showing Rob's versatility. Additionally, there is a playfulness and accessibility to his humanity under that smoldering professionalism. This pic says, "He could handle all aspects of a serious professional, from hero to criminal."
(Photos by John Quilty)

John Quilty
I find Georgia Engel's headshot successful because it presents Georgia in a manner that is familiar to her fans and audiences while representing her look and style in 2011. She appears as the ultimate professional, yet accessible and friendly. Rob Gallagher's headshot reflects the actor's ability to project confidence and the charm of a leading man. His Broadway career demands a headshot that is classic in its dual ability to be used for casting and publication in Playbills and concert programs.
(Photos by Susan Shacter)

Susan Shacter
The woman's photo is simple, clean, pared down, with no distractions. She is fresh, alive, and touchable. The first thing you see is a healthy, beautiful woman. You don't really notice the makeup, hair, or clothes. You want to know who she is. In the man's photo, everything in the image points to his eyes. They grab hold of you and pull you in. His skin is free of makeup; it's alive and touchable. You want to know him.
(Photos by James Shubinski)

James Shubinski
I believe that, of course, a headshot must be a completely accurate visual representation of the actor, but it is also essential to identify an actor's unique qualities and make them stand out in a very competitive marketplace. I do a planning session before every shoot, which includes exercises to identify how the actor is perceived and how the actor views him- or herself, and we use the results to plan every detail of the shoot. Once we're shooting, I do whatever it takes to make the actor feel relaxed, comfortable, and safe.
Amber Swenson has that wholesome "Ivory girl" quality. But she is also strong, frank, ambitious, defiant, and sexy. This look was put together to show a sexy, smart, fun, strong, confident woman who could drink you under the table after she mopped the floor with you in court that day and will rock your world later that night. But you could still bring her home to mom.
Chris Nunez is fresh out of acting school. He is controlled, wise, searching, and driven, with access to a dark, moody, passionate undercurrent. Our goal for this look was to show a strong young man a step away from childhood innocence, who is willing to take on any challenge to get what he wants.
(Photos by Hayley Sparks)

Hayley Sparks
The headshot of Jon Hamm works because you get a sense of how smart and magnetic he is, and it has integrity. The headshot of Maya Ferrera is successful because we captured a beautiful, natural smile and you can feel her charm, confidence, and joy.
I use natural light, which gives depth and context to the space and allows for shallow depth of field to bring focus to the eyes and beautiful light on the face. My angle of shooting and style empower the actor. It is my job to help the actor relax and connect and to capture the moment in which he or she is really smiling or feeling centered and confident.
(Photos by Gabrielle Stubbert)

Gabrielle Stubbert (Raw Photos)
Very few people I have met—including actors—like to get their pictures taken. This is pretty comical, especially when you consider that the business you are in involves getting up in front of an audience and giving them an experience, touching their heart in a way that makes them fall in "love" with you. The same applies to your pictures. You are trying to get the casting director's attention. All the photographers will tell you, "You need a picture that jumps out and says something about you." Well, yes, but what you want every time, whether it's your picture or your audition, is for them to fall in love with you.
We all have something about us that is lovable. Is it your sense of humor, your warmth, your sense of honor, your loyalty? Really sit down and think about your best qualities. And by that I mean your qualities, not the ones you want to emulate. What is it about you that makes you lovable? Take some time to think about this and then practice in a mirror or with your iPhone or a video camera. Come prepared knowing who you are. Then take the picture.
(Photos by Blu Toth)

Blu Toth (Bluface Photography)
I think the most important thing about a good headshot is that it really has to look like you and represent you the best possible way. There is nothing more interesting than the real you. My work is a significant factor in getting my actors a foot in the door where once they could not enter. At Bluface, I want actors to feel completely safe and able to be themselves, not playing a character. A comfort level with the viewer must be established at a glance. If an actor presents a picture of him- or herself playing a character or expressing a specific style, it can be limiting. But if an actor shows openness and honesty, the result will be callbacks and castings.
The picture of Malaika Mqulo is one of my favorites because of its honesty, charm, and depth. You are drawn to her smile, both in the expression in her eyes and in her compelling smile. The picture of Ken Zwerin shows that the eyes truly are the mirror of one's soul. Notice how open, warm, and interesting he looks. His eyes show strength and vulnerability at a glance.