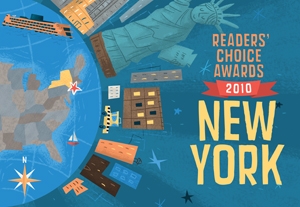 If this week's issue of Back Stage looks a little bit different to you, that because we're trying something completely new.
For the first time, our annual Readers' Choice Awards are covering New York City and Los Angeles in one issue. Every year, we've asked our readers for their favorite headshot photographers, acting teachers, theater companies, yoga classes, gyms, etc., etc.—everything an actor needs to know—in the two acting capitals of the U.S. and published them in separate issues.
Today you hold the best of both cities in your hands. You'll be truly bicoastal, and it won't even cost you a plane ticket.
In addition to the winners and runners-up in our print edition, you'll find online more quotes from readers recommending their choices, plus additional categories.
Thanks to everyone who participated in the survey and the entire Back Stage staff on both coasts for all their hard work in putting this special issue together. And congratulations to all the winners and runners-up.
David Sheward
Executive Editor, New York
Classes and Coaches
"Singing is a big coordination act, and I think a lot of people come in focusing on one aspect," says voice therapist and teacher Jackie Presti. "It's sort of like juggling and riding a bike and reciting Shakespeare at the same time."
Headshots
"When I work with actors, I always remember that every actor is unique, with their own personality and style, which needs to come across in the photograph," says Douglas Gorenstein. "If it's not about you as the actor, then it's not going to serve you—and my job is to help, in my small way, to further your career."
Performance
"I think that something really unique is happening at the Terry Schreiber Studio," says actor Ian Bell. "I think the instruction and the approach to the craft carry over into their productions. I think the acting and the direction are really on point." 
Health and Fitness
"We've been part of New York for 36 years now," says Bob Giardina, president of New York Sports Clubs' parent company, Town Sports International. "Because exercise is so important to actors' careers, it's even more special for us to get this honor and know that they see the difference."