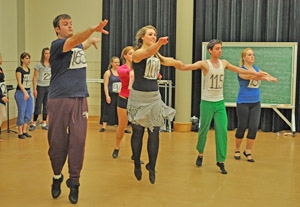 You may have moved to New York or Los Angeles from places north or south, east or west, to pursue a career as an actor. But if you don't have a manager or an agent or can't seem to land paying work consistently, your best bet, ironically, may be to move back home—temporarily. Wait, we're not suggesting giving up on your dreams. We're suggesting that venturing beyond the New York or L.A. city limits might actually get you on the yellow brick road of your dreams faster.
Below is our annual list of regional combined auditions, where professional theaters across the U.S. seek actors and other theater professionals (designers, technicians, etc.) for year-round or summer employment. You may miss the bright lights and big city for a while, but the excitement and accomplishment of being able to perform in front of a live audience night after night—and make money at it—is well worth the personal sacrifice.
Portland Area Theatre Alliance
Portland, Ore.
Jan. 15, 16, 18
This year, the Portland Area Theatre Alliance holds its annual auditions Jan. 15, 16, and 18 at Artists Repertory Theater, where representatives from local Equity and non-Equity companies will come to scout actors. Current members of the alliance include Classic Greek Theatre of Oregon, Lakewood Theatre Company, and Willamette Shakespeare. A non-Equity performer must be a current PATA member to audition; Equity performers do not need to be members.
The application deadline was Dec. 28; you may still apply, but you will have to pay a $20 late fee. Actors and singers have three minutes to present contrasting monologues and songs (a monologue is optional for singers). Props are not allowed. An accompanist is provided. Go to www.patagreenroom.org for detailed info and an application, and even a list of 10 good reasons why you should audition, or contact audition coordinator Sam Hull at (503) 241-4902 or sam@patagreenroom.com.
Ohio Theatre Alliance
New Concord, Ohio
Jan. 23
The North Central Regional Auditions and Technical Interviews are held annually by the Ohio Theatre Alliance on the campus of Muskingum College, located approximately 70 miles east of Columbus. In past years, 24 Ohio-area theater companies have auditioned more than 200 actors, with over 85 percent receiving at least one callback and over 50 percent receiving multiple callbacks. Past attendees include the Barn Theater, Thunder Bay Theater, and Porthouse Theater.
Registration is on a first-come, first-served basis, so get your application in early. Before Dec. 31, the registration fee for an audition or design/tech/staff interview was $50 ($60 for both). Now it's $60 ($70 for both). Equity and non-Equity actors who are at least 18 are eligible. Performers audition in groups and have 90 seconds to act, sing, or do both (an accompanist is provided). Callbacks are posted immediately after each half-hour audition block, with invitation-only dance auditions held after the initial auditions end. Design, tech, stage manager, and administrator applicants are required to bring a professional portfolio and résumé.
See www.ohiotheatrealliance.org for more-detailed info and to download an application. For additional questions, email ota@muskingum.edu.
Theatre Bay Area
San Francisco Bay Area
Jan. 29–31
Even the City by the Bay boasts a combined audition, but the Dec. 7 application deadline has passed and, unfortunately, late applications are not accepted.
Theatre Bay Area's general auditions are an opportunity to be seen by more than 150 representatives from 80 to 90 West Coast theater companies, as well as independent directors and casting directors. (See the website for a complete list of the 2009 attendees.) Actors new to the area, senior actors, actors of color, and actors who are physically challenged are especially encouraged to apply.
Equity members are automatically eligible for audition slots; non-Equity actors with at least one year of full-time training or eight nonschool productions on their résumé can join TBA for the chance to participate in a weighted lottery based upon the casting needs of the attending theaters. Last year, more than 500 applicants vied for 350 slots. Those not selected had their headshots distributed to the auditors. Equity performers get three minutes and non-Equity performers get two minutes to showcase themselves in whatever manner they choose.
Future applications can be downloaded at www.theatrebayarea.org. For more information, call Dale Albright at (415) 430-1140, ext. 14, or email him at dale@theatrebayarea.org.
Illinois Theatre Association
Chicago
Jan. 30–31
The Illinois Theatre Association's 31st annual non-Equity professional auditions will be held Jan. 30 and 31 at the theater department of the University of Illinois at Chicago. Forty Illinois-based resident and summer-stock theaters, talent agencies, and casting offices are scheduled to attend. Past participants include the Goodman Theater, Steppenwolf Theatre Company, and the Timber Lake Playhouse. The event draws more than 300 actors annually and has expanded to include designer and stage manager interviews.
The application deadline is Jan. 9. Non-Equity actors, children and senior performers, talent new to Chicago, and recently graduated students are eligible to audition. A professional or faculty letter of recommendation is required. The nonrefundable registration fee is $25 for ITA members, $35 for nonmembers. Actors get a minute and a half to present two contrasting monologues. For design/tech interviews, a professional portfolio and résumé are required.
To download an application and for all other details, visit www.illinoistheatre.org. You may also email info@illinoistheatreassociation.org.

Unified Professional Theatre Auditions
Memphis, Tenn.
Feb. 5–8
One of the country's largest combined auditions, the Unified Professional Theatre Auditions will be held this year from Friday to Monday, Feb. 5 to Feb. 8, 7:30 a.m. to 7:30 p.m., at Playhouse on the Square in Memphis, Tenn., with callbacks at the nearby Holiday Inn Select–Airport.
Last year, more than 1,000 registered attendees were seen by 116 companies, 60 of them Equity. Among the Equity theaters registered to participate this year are the Texas Shakespeare Festival in Kilgore, Texas, and the Mill Mountain Theater in Roanoke, Va. Approximately 50 non-Equity companies are also expected to attend. The audition fee is $50.
Actor registration forms must be received by Jan. 8, and actors must upload headshot photos and résumés. Space is limited. No walk-ins are allowed. Registration does not guarantee an audition slot. Registration materials for production personnel must be received by Jan. 29. A registration form (which outlines further requirements) is available at UPTA's website or by sending a self-addressed stamped envelope to the address below.
Please note: All non-Equity actor audition slots are currently full. As of press time, Equity slots were still available, as were waiting-list spots for non-Equity actors. Registration for production personnel is still open.
Both Equity and non-Equity actors are eligible. For the preprofessional auditions, actors must have an undergraduate theater degree by Sept. 1, 2010, have their registration form signed by the head of their program, and be available for year-round employment (no returning to college in the fall or spring.)
For the regular auditions, actors must be available for employment year-round and have at least one of the following: (a) a postgraduate theater degree by Sept. 1, 2010; (b) their registration form signed by a registered 2009 or 2010 UPTA theater; (c) their registration form signed by a current Theatre Communications Group member theater; (d) attendance at a previous UPTA; or (e) membership in Equity or the Equity Membership Candidate Program.
For production jobs, candidates must be available for work year-round and have at least one of the following: (a) an undergraduate degree in their technical/administrative/design field by Sept. 1, 2010; (b) their registration form signed by a registered 2009 or 2010 UPTA theater; (c) their registration form signed by a current TCG member theater; (d) attendance at a previous UPTA; or (e) membership in Equity as a stage manager.
Actors are seen in groups of 25 and have 90 seconds each. Auditions must include at least one monologue. Musical and nonmusical auditions are run separately, but musical auditions must also include a monologue. An accompanist is provided. Equity actors will audition on Sunday and Monday following lunch. All non-Equity auditions will be videotaped. (Equity actors will not be videotaped.)
After each session, callback lists will be posted at the Holiday Inn Select–Airport. Acting and dance callbacks occur in the evening, so be ready and rested and have extra songs and monologues prepared. Some companies may not have a piano at their disposal for the callbacks, so bring a small music player and recorded accompaniment. For the dance auditions, you'll choose two of three routines that involve tap, ballet, and jazz, so bring appropriate attire and shoes.
For design/tech staff positions, interviews will be held on Saturday, Feb. 6, at the Holiday Inn Select–Airport. Bring a portfolio, drawings, slides, marketing materials, and anything else you need to show off your behind-the-scenes skills.
For additional information, contact Unified Professional Theatre Auditions, 51 S. Cooper, Memphis, TN 38104, or call (901) 725-0776. You can reach audition coordinator Michael Detroit at upta@upta.org or assistant audition coordinator Courtney Oliver at courtney@upta.org. On UPTA's website, www.upta.org, you can register and find detailed info.
Rocky Mountain Theatre Association
Helena, Mont.
Feb. 10–13
Founded in 1951 by Campten Bell of the University of Denver, C. Lowell Lees of the University of Utah, and Vio Mae Powell of Idaho State University to bring students together with theater professionals, the Rocky Mountain Theatre Association now annually holds combined auditions to fill acting and behind-the-scenes jobs with professional regional summer-stock companies. Its four-day gathering also features theatrical workshops, performances, and competitions, and it is hosted this year by the Grandstreet Theater in Helena, Mont. (Separate auditions are scheduled for students seeking admission to college theater programs.)
Additional information, a downloadable registration form, and an employment audition application are at www.rmta.net. The nonrefundable convention admission fee is $55; there's also a $5 audition fee and a $25 fee for RMTA membership ($20 for students). For questions, go to www.grandstreettheatre.com or call (406) 442-4270.
Wisconsin Theatre Workshops, Auditions & Tech Interviews
Madison, Wis.
Feb. 12–13
Wisconsin Theatre Workshops, Auditions & Tech Interviews, a 30-plus-year-old gathering open to non-Equity actors, will be held Feb. 12 and 13 on the University of Wisconsin–Madison campus. Among the 23 theaters participating last year were the American Folklore Theatre, American Players Theatre, Santa Fe Opera, and the Utah Shakespearean Festival.
The nonrefundable registration fee is $30 for a performance audition or tech interview ($45 for both). Actors will have two minutes (including their introduction) to perform contrasting humorous and dramatic monologues; actor-singers get two and a half minutes to sing "several appropriate bars of a musical number" (accompanist provided; no recorded music) and perform a monologue. Actor-singers are also encouraged to attend the dance call that follows the regular auditions. Designers, technicians, and management staff will receive individual 10-minute interview appointments with the companies of their choosing. All applicants should bring résumés and portfolios.
Registration forms can be downloaded at www.dcs.wisc.edu/lsa/theatre/auditions.htm. Forms must be received no later than Feb. 5 (after this date, applications will only be accepted on-site). For more information, contact Sarah Marty at (608) 263-2790 or smarty@dcs.wisc.edu.
StrawHat Auditions
New York City
Feb. 13–15
This year's annual StrawHat Auditions will take place Feb. 13–15 at Pace University in New York City. In previous years, more than 750 participants were seen by over 40 mostly summer-stock theaters offering hundreds of non-Equity positions, with 85 percent of those auditioning getting callbacks. Statistically, musicals tend to predominate at the attending theaters, so they're partial to performers who can sing well.
Actor applications must be received by Jan. 16; for production personnel, the cutoff is Feb. 6. You can register on StrawHat's website, but you must print and mail the application with your fee, headshot, and résumé. You can have an application mailed to you by sending a business-size self-addressed stamped envelope to the address below. Audition slots fill up fast, so the organizers encourage applicants to register early. A few standbys are scheduled in advance, but no walk-ins are allowed.
Applications are screened to match the needs of the attending companies, but every performer who pays the registration fee gets his or her photo and résumé posted in a casting database. Actors selected to audition will also have their photo and résumé published in a directory distributed to attending theaters. You must be a non-Equity performer and at least 18 when you start working. Theater students need the recommendation of a faculty member.
The nonrefundable registration fee is $33 for actors. There's an additional $43 audition fee, which will be returned if you don't receive a slot. (There's also an additional $25 fee should you wish to change your audition time slot.) The registration fee gets your profile, photo, and résumé posted in StrawHat's Online Casting database, which the organizers say participating theaters use to cast shows. You also gain access to the site's members-only area, with information on the attending theaters, audition tips, discussion forums, a bulletin board, articles, and other helpful info.
To audition, you can sing or just do a monologue, but fewer companies (about a third) attend the acting-only auditions, and slots are limited. Performers have exactly 90 seconds to present two pieces. If you're singing, a monologue should follow your song. An accompanist will be provided or you can bring your own.
Callback lists are posted throughout the day. Some theaters prefer to contact actors at a later date, but most will hold callbacks in the late afternoon and evening, so plan on staying all day. At the dance audition, on Feb. 13, space is limited to 30 candidates with extensive dance training in all disciplines. Dancers must be prepared to sing an uptempo song following their dance combination.
For those applying for design, tech, and staff positions, StrawHat will post the résumés of qualified personnel in its searchable online database for free as soon as the application is received. You can also post three selections from your portfolio. Musical directors and accompanists may provide a CD with three short piano samples to be posted as an audio portfolio for $20. Production candidates (including Equity stage managers) will have access to a list of theaters and the positions they're seeking to fill.
For additional information, contact StrawHat Auditions, 1771 Post Road East, #315, Westport, CT 06880, email info@strawhat-auditions.com, or go to www.strawhat-auditions.com.

MidWest Theatre Auditions
St. Louis
Feb. 19–21
Unfortunately, unless your application is already in, you may be too late for the 2010 auditions, to be held Feb. 19–21 on the Webster University campus, home to the Repertory Theatre of St. Louis. Dec. 7 was the application deadline for actors. (In past years, space permitting, late applications were accepted for an additional fee; call the number below for information.) For designers, technicians, and stage managers, the postmark deadline is Jan. 9. Among the 50 to 70 summer stock and year-round theaters attending in previous years were the Arrow Rock Lyceum Theater, the Blue Ridge Dinner Theater, and the Shakespeare Festival of St. Louis. A complete list of last year's attendees is available on the website, in addition to some audition dos and don'ts.
Open to Equity and non-Equity actors, these auditions attract more than 650 performers and 100 production hopefuls annually. Actors have 90 seconds to perform a monologue and/or song (accompanist provided; no recorded music). Callbacks follow, and an optional dance audition is held at day's end. Designers, technicians, and stage managers will be assigned a time slot on Sat., Feb. 20, to interview with the theaters of their choice.
The nonrefundable application fee is $35. Applications, which must be signed by a professional director or theater educator, are available at www.webster.edu/depts/finearts/theatre/mwta/. For more information, call (314) 968-6937 weekdays, 11 a.m.–1 p.m. CST (long-distance calls won't be returned), or email mwta@webster.edu. You can also snail-mail to MWTA, 470 E. Lockwood Ave., St. Louis, MO 63119.
Southeastern Theatre Conference
Lexington, Ky.
March 3–7
The Southeastern Theatre Conference, another one of the country's largest audition gatherings, will hold its auditions March 3–7 in Lexington, Ky., with 800 actors expected to audition for more than 85 professional companies for either summer or year-round employment. This year, emerging artists can also enter the first Digital Cinema and Television Festival at the convention.
The online application deadline is Jan. 15. (There's no mail-in registration for performers.) Design/tech/staff position applications must be postmarked by Jan. 28, or you can register on-site for a late fee. Non-Equity participants must become SETC members and register for the convention; Equity participants must only join SETC, but you'll pay extra if you want to attend the convention. (See fees below.) Applications can be downloaded from the website.
To be eligible for the Spring Regional Professional Auditions, a non-Equity actor must be a high school graduate, at least 19, available for full-time year-round employment, and not currently enrolled in school. You'll also need at least two paid professional theater acting jobs on your résumé and two recommendations from professional directors. A current Equity member must be at least 19, a high school graduate, and available for full-time year-round employment. Performers wishing to audition who don't meet these qualifications must first pass one of SETC's State Screening Auditions.
SETC also holds auditions for dancers. An applicant must be at least 18, a high school graduate, available for summer or full-time year-round employment, and have at least four years of dance training and performance experience or two paid professional dance jobs on his or her résumé and a director or choreographer's signature on the application. Professional dancers with extensive training must also submit a videotape or DVD; see the application for numerous additional requirements.
Fees (including a one-year SETC membership) are as follows: $180–$250 for non-Equity participants, depending on how early you sign up, including admission to the convention; $80 for Equity members; $100–$175 for students. For dancers, it's $200–$230 ($155 for students), including convention registration.
The day begins with a mandatory audition briefing at 8:30 a.m. Afterwards, actors are seen in groups of 25 and have 60 seconds each to perform a monologue or song, or 90 seconds to do both. An accompanist is provided. No recorded music, no self-accompaniment, and no singing a cappella. You must choose one audition category: acting-singing, acting only, or singing only. For singing auditions, give your music—in the right key—to the accompanist before the audition begins; you'll also need to write the last two lines of your monologue at the top so the accompanist knows when to start playing. No lead sheets, and remember to turn off your cell phone before you enter the audition room.
Actors are strongly advised not to use dialects and to avoid doing Shakespeare unless you're a proficient, classically trained performer. Standard American diction should be used for all audition material. Stay away from "sexually explicit or socially offensive material," according to the SETC website.
Callback lists will be posted after each group of 25 is finished. Callbacks are held throughout the day. Dance auditions are held after the regular auditions end. Unless you're auditioning in the dancer-only category, attendance at a dance audition is solely at the request of a theater company. You'll choose from various combinations: advanced ballet/jazz (mandatory for dancer-only applicants), intermediate/advanced tap, and "actors who move well."
SETC's Job Contact Service, for designers and technicians, connects theater professionals with theatrical employers year-round through a résumé-matching service, an online database of available positions nationwide (with weekly email updates), and personal interviews conducted at the convention. This year's interviews will be held March 4–6. You must supply one reference. Be sure to bring plenty of résumés and your portfolio. Registration (including SETC membership and convention admission) is $200 for adults and $120 for students (those fees increased to $235 and $160 after Dec. 21). Among the many companies that hired in 2009 were the Orlando Shakespeare Festival, Theatre by the Sea, and the Maine State Music Theatre.
For more information, contact SETC, P.O. Box 9868, Greensboro, NC 27429; call (336) 272-3645; email april@setc.org; or go to www.setc.org.
National Outdoor Drama Auditions
Chapel Hill, N.C.
March 13
If you're drawn to theater performed under the stars, then the Institute of Outdoor Drama's auditions may be the perfect fit. Scheduled for March 13 at the University of North Carolina at Chapel Hill's Center for Dramatic Arts, this year's outdoor-drama auditions will include representatives from approximately 10 companies looking for performers and crew members for summer employment. According to previous years' statistics, the auditions have resulted in jobs for more than 3,000 actors, singers, dancers, and technicians. Companies slated to participate this year include Horn in the West (Boone, N.C.), the Lost Colony (Roanoke Island, N.C.), and Texas Musical Drama (Canyon, Texas).
The application deadline is Feb. 26. Registration is completely online and begins Jan. 19. Auditionees must be at least 18, have previous theater experience, and be willing to make the nine-to-12-week commitment (including two weeks of rehearsal). Most jobs are non-Equity, but some companies hire union members or participate in the Equity Membership Candidate Program. The nonrefundable registration fee is $60. All audition applications require the signature of a sponsor (a director, teacher, or past employer). Space is limited.
Actor-singers have 90 seconds to present a monologue and a song. Actor-only and singer-only applicants each get one minute to present a monologue or song. Prepare additional pieces for callbacks (accompanist provided; no recorded music). Dance auditions will include combinations in various styles. Technicians should check the company callback schedule on March 13, then sign up for an interview at the company's callback location.
For an application or more information, go to www.unc.edu/depts/outdoor/auditions, call (919) 962-1328, or email outdoor@unc.edu. Add sdphilli@email.unc.edu to your email contact list so you can receive your confirmation via email.
New England Theatre Conference
Natick, Mass.
March 13–15
The New England Theatre Conference auditions are set for March 13–15, 9 a.m. to 6 p.m., at the Crowne Plaza Hotel in Natick, Mass. (about 15 miles west of Boston). More than 700 actors are expected to audition for approximately 60 Equity and non-Equity theaters, including college-based summer theaters, repertory theaters, Shakespeare and Renaissance festivals, and outdoor dramas. Previous attendees have included reps from the American Stage Festival, the Westport Country Playhouse, and the Dorset Theatre Festival.
Applications must be postmarked by Feb. 1 (design/tech/staff applicants can submit their applications until the date of the auditions). Applications are available at the NETC website or by sending a business-size self-addressed stamped envelope to the address below. A separate application is required for actors who are also applying for a staff, technical, or design position.
Auditions are open only to non-Equity actors and Equity membership candidates who are at least 18 and no longer in high school. Applications are screened by a panel of theater professionals. Those selected to audition (along with a limited number of standbys) will be notified about three weeks in advance. Those not selected will have their résumés distributed to the attending theaters. Standbys won't receive a time slot, but they're guaranteed a chance to audition on a first-come, first-served basis.
For current NETC members, the application fee is $30. The $55 nonmember fee ($45 for students) gets you membership in NETC through August 2010. For those applying for actor-tech positions, there's an additional $5 charge. Fees are nonrefundable and do not guarantee an audition appointment.
Two audition rooms run simultaneously: one for actors and one for actor-singer-dancers. You can't audition in both, so it's essential you choose the one that will showcase your strongest talents. NETC advises applicants with limited musical theater experience not to apply for musical auditions; previous experience is a strong consideration in filling these slots. Performers have two minutes to present two contrasting selections: two monologues, two songs, or one of each. An accompanist is provided (no transposing), or you can bring your own. Singing a cappella or to recorded music is strongly discouraged. Obscene or violent material is frowned upon. Costumes and props are unnecessary; just bring yourself and your talent.
Callback lists will be posted every hour, and most theaters will hold callbacks and interviews after each audition session, so plan to stay at least an hour after your audition. Some theaters may ask performers to attend callbacks at other times and places. A dance call will also be held at each day's end.
Interviews for staff/technical positions take place March 15 from 1:30 to 5:30 p.m. A list of theaters and the positions they're seeking to fill will be distributed at the auditions. Unless specified by a theater, there are no advance appointments, though some companies may post specific interview times. Bring your best work samples to demonstrate your qualifications.
For further information, contact Joseph Juliano Jr., Auditions Chairperson, New England Theatre Conference, 215 Knob Hill Drive, Hamden, CT 06518; call (617) 851-8535; email mail@netconline.org; or go to www.netconline.org.
Atlanta Coalition of Performing Arts
Atlanta
March 29–30
At the Atlanta Coalition of Performing Arts' annual Unified Auditions and Designer Showcase, Equity and qualified non-Equity actors can audition for approximately 60 companies from across the Southeast. Past events have drawn more than 200 performers. Auditions will be held March 29–30 at the 14th Street Playhouse in midtown Atlanta. Greater Atlanta theaters that attended the 2009 auditions include the Alliance Theatre, Georgia Shakespeare, the Hippodrome State Theatre, and ART Station.
The application deadline is Jan. 15. Actors must be at least 18 and meet stringent résumé requirements (see the website for details). Equity auditions will be held the first half of March 29, with non-Equity auditions following. Non-Equity actors must also be members of ACPA (the fee is $50 for non-Equity performers, $40 for Equity), but there is no audition fee. Non-Equity applications are screened by a committee of theater professionals; performers with the requisite stage experience are assigned a time slot. Eligible Equity members are guaranteed a chance to audition.
Non-Equity performers have two minutes to present either two contrasting monologues or a monologue and 16 bars of a song (accompanist provided). If you're Equity, you get two and a half minutes to present either two contrasting monologues or one or two monologues and 16 bars. Auditions are held during the day, and there are no callbacks or dance calls. If a company is interested in you, it will schedule a callback at a later date.
For more information, see the comprehensive FAQ page at ACPA's website, www.atlantaperforms.biz, or email unifieds@atlantaperforms.com.
League of Washington Theatres
Silver Spring, Md.
March
As of press time, information was not yet available about these auditions, other than that they are scheduled for March. Last year, Chesapeake-area performers made a beeline to Maryland for the League of Washington Theatres' annual open call. From 10 a.m. to 5 p.m., professional actors (including Equity membership candidates and non-Equity performers) were seen at the Round House Theater in Silver Spring, Md. More information will be posted later on the website of this D.C.-area nonprofit professional theater group, www.lowt.org. Or call (202) 638-4270 or email info@lowt.org. (Do not call the Round House Theater for audition information.)
Baltimore Theatre Alliance
Spring
Details on this year's auditions are not yet available, but the Baltimore Theatre Alliance's May 2009 auditions gave performers the opportunity to be seen by 21 member companies, including the Heritage Theatre Artists Consortium, the Baltimore Shakespeare Festival, and the Taylor Royall Talent Agency. For a fee, BTA also offers a post-audition review-and-feedback workshop for participants. Check www.baltimoreperforms.org for details on this year's auditions as they're announced, or call (410) 662-9945 or email info@baltimoreperforms.org.

Theatre Alliance of Greater Philadelphia
Philadelphia
June
Participants in the Theatre Alliance of Greater Philadelphia's annual auditions must live within a 50-mile radius of Center City, Philadelphia. Check the map on the group's website to see if you qualify. (New York City residents do not.)
Actors who do qualify have three minutes to showcase their abilities to more than 50 theater representatives, along with local agents and casting directors. The TAGP website lists links to participating theaters, including Bloomsburg Theatre Ensemble, the Delaware Theatre Company, Theatre Ariel, the Shakespeare Theatre Company, and the Wilma Theater. The alliance also hosts an audition workshop, where applicants can meet local casting directors, and the group's website features audition tips and the Philly Talent Database, showcasing performers and behind-the-scenes personnel from the Greater Philadelphia region.
More-specific information will be posted at www.theatreallaince.org/auditions as it becomes available. Or call (215) 413-7150 or email info@theatrealliance.org for updates.
New Jersey Theatre Alliance
New Brunswick, N.J.
August
For New Jerseyites who prefer auditioning on their home turf, the New Jersey Theatre Alliance is the one for you. Representing 22 of the Garden State's professional Equity theaters—including stalwarts like McCarter Theatre Center, the George Street Playhouse, and Paper Mill Playhouse—along with nine non-Equity companies, NJTA usually holds its combined lottery-based auditions in August. Preference has traditionally been given to New Jersey performers, both Equity and non-Equity (actors who have auditioned for NJTA within the past two years are not eligible). Twenty-five to 30 theaters are expected to attend. Details on the 2010 auditions will be posted at www.njtheatrealliance.org this spring. Email rcarr@njtheatrealliance.org or call (973) 731-6582 for further information.