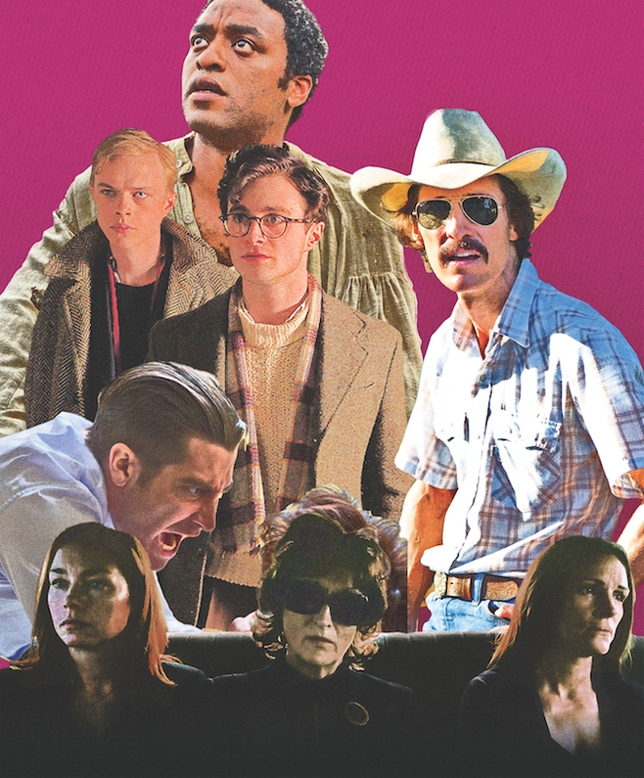 This year has seen a lot of performers take flight and own his or her movie. Sandra Bullock in "Gravity" is probably the most exhilarating example, but Cate Blanchett's turn in "Blue Jasmine" has outdistanced the rest of the supporting cast, and it is certainly Joaquin Phoenix's performance in "Her," largely opposite just the voice of Scarlett Johansson, that will have audience members tearfully talking afterward.
Then there are those movies that may boast movie stars above the title but are actually perfectly executed, intricately designed, and carefully cast puzzles in which each joint and pivot carries the same amount of weight. These are the ensemble movies, where a working actor like Julianne Nicholson gets the chance to take on Julia Roberts and Meryl Streep in "August: Osage County," or Oscar Isaac becomes a movie star in front of our eyes reacting to Carey Mulligan, John Goodman, and Justin Timberlake in "Inside Llewyn Davis."
In the new era of celebrity, where the rich and famous trade on their likability factor on talk shows and in interviews to give the illusion that they're just plain folk, the ensemble film is the ultimate testament to their real-person-sized ego. (George Clooney is a master at this, but his ensemble film "The Monuments Men" got pushed to 2014.) Thus we have Streep and Roberts sharing the screen with boldfaced names Ewan McGregor and Dermot Mulroney, but also character actors such as Nicholson, Margo Martindale, and Juliette Lewis, all providing a master class in varying acting styles.
Matthew McConaughey is another performer who has recently discovered crowd appeal, burying himself in the role of Ron Woodroof in "Dallas Buyers Club," while sharing the screen with Jennifer Garner, Denis O'Hare, Griffin Dunne, and Steve Zahn—and letting Jared Leto steal scene after scene as destined-for-tragedy transsexual Rayon. But where McCounaghey is kinetic, always lighting a cigarette, swigging from a bottle, or starting a fight, Chiwetel Ejiofor is the calm epicenter around which the drama swirls in Steve McQueen's "12 Years a Slave." Boasting a cast of actors who make no pretense at trying to stay likable (Sarah Paulson doesn't wink at the audience; Michael Fassbender doesn't dull his character's sadism with a momentary pause before committing an act of violence), the slavery epic offers precise, exacting performances from actors both famous and unknown, including known quantities Alfre Woodard and Garret Dillahunt and newcomer (and immediate Oscar hopeful) Lupita Nyong'o.
This year also saw the release of Denis Villeneuve's uncompromising, gritty thriller "Prisoners," with chilling performances from the usually twinkling Hugh Jackman and Jake Gyllenhaal and memorable supporting turns from Maria Bello, Terrence Howard, Viola Davis, Melissa Leo, and Paul Dano. Other than Jackman and Gyllenhaal, none of them had more than a handful of scenes, but all of them found the kernel of truth to their characters and transformed themselves, both physically and psychologically.
The same is true for the cast of "Kill Your Darlings," which starts out as a stylish post-WWII drama about Allen Ginsberg at Columbia and morphs into a muted-color noir about the seedy aspect of homosexual life in a pre-Stonewall New York City and a long-forgotten scandal that involved fellow Beats Jack Kerouac and William Burroughs. As Ginsberg, Daniel Radcliffe firmly leaves behind his child actor days, but he's seamlessly supported by an array of unlikely actors, from David Cross and Jennifer Jason Leigh as his father and mother to Michael C. Hall as his romantic rival and Dane DeHaan as the magnetic man who binds them all together—yet more proof that star power is not the same as chemistry.