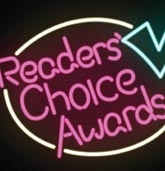 Welcome to Back Stage's third annual Readers' Choice Awards, in which you, our readers, offer your recommendations on local people, products, and services — from headshot photographers and demo reel producers to acting coaches and representation. Approximately 2,000 of you participated this year, and we thank you so much for your enthusiasm and your great tips.
I'd also like to thank our previous Readers' Choice winner for best place to network, the Actors' Network, and its members for helping to spread the word again on our survey. And many thanks to photographer and Readers' Choice runner-up Alan Weissman (www.alanweissman.com) for his generosity in giving away a headshot package to a lucky survey participant, along with makeup artist Rita Montanez (Readers' Choice favorite makeup artist 2007) for providing her services on the day of the shoot. As has become a tradition, Back Stage selects one actor in L.A. and one in NYC to receive this free headshot package as thanks for casting a vote. This year's West Coast winner is Heidi Schooler, whom I had the pleasure to meet recently. Schooler has strong opinions on everything pertaining to acting and enthusiastically shares advice. Not only did Schooler win, but so did Back Stage, which has found a new contributor to our publication. "I've never been someone who sits around at home waiting for the phone ring," she notes. "What do you have control of as an actor? Be proactive and have an impact on other people."
Schooler, who is originally from New York and has called L.A. home for 14 years, works as an actor in all mediums — including voiceover, commercials, film, TV, and theatre. She is proud to say that for the past two years she has been making a living as an actor. Most recently she shot two commercials, including an OnStar spot; was cast in a voiceover-motion-capture role for the video game sequel of The Chronicles of Riddick; and landed a guest-starring role on CSI: NY. Below are some of her recommendations that she hopes you find helpful. Likewise, I hope you find the rest of this special issue valuable.
Sincerely,
Jamie Painter Young
National Editor-in-Chief
Favorite Acting Coach
Kimberly Jentzen first started coaching actors in a stairwell of the fourth floor of the Dorothy Chandler Pavilion. And, yes, two years in a row Jentzen has won the accolades of Back Stage readers.
Favorite Acting Teacher
"I love actors. I get it. I understand it." This is not a glib attempt at empathy on the part of Scott Sedita, who has been teaching actors at his Larchmont studio for the past 10 years.
Favorite Open Mike
How do comics get their own HBO specials, network sitcoms, and lucrative bookings in ritzy Vegas casinos? The same way people make it to Carnegie Hall: practice, practice, practice.
Favorite Headshot Photographer
"Blake is a great people-person type of guy — nice, funny, relaxed. He is intelligent and quick-working, without giving you a sense of being rushed. He really gives you a sense you are both working together toward a common goal."
Favorite Photo Lab
When asked why he thought Reproductions won this year for best photo lab, Robert Browne, general manager of the Los Angeles office, attributed it to the company's unique product : MasterPhoto/Heavy.
Favorite Agent
"My commercial agent is Samantha Daniels of Bicoastal Talent. I can't say enough good things about her. She's professional, loyal, extremely hard-working, and just a fabulous agent. I feel lucky to have her."
Favorite Improv Company
Reader Matt Lutz aptly describes the Groundlings as the "granddaddies of the L.A. improv and sketch comedy scene." Perhaps that's why, for the third year in a row, the comedy company was voted favorite place to see improv.
Favorite Manager
"Paulo and Kurt are both genuinely nice guys who really care about their clients and work hard to guide their careers, including helping one client who was having a tough time at auditions and getting another into a big movie audition the producers didn't think she was right for — and that she ultimately booked."
Favorite Theatre Company To See/Act With
Receiving a double vote of confidence from the Back Stage readers seems a fitting testament during a watershed year for Hollywood's 13-year-old Elephant Theatre Company.
Favorite Film CD
Finding the right person for each and every part is something Deborah Aquila is passionate about, and her instincts are spot-on: She cast a teenage Adrien Brody in a few films before he became an Oscar winner for The Pianist, and she gave Edward Norton his break in Primal Fear.
Favorite Place to People-Watch
Is that Mischa Barton behind those gigantic sunglasses? Richard Belzer cutting you off in the parking lot? If you're at the Grove or the adjacent Farmers Market, it just might be.
Favorite Television CD
The winner of an Emmy and two Artios Awards, April Webster's first credit was the original Knight Rider series; her most recent is the latest Star Trek film, now in postproduction.
Heidi Schooler's Picks:
Favorite Demo Reel Producer: Robert Campbell at Quick Nickel. "He is very talented at the flow of editing, what is good footage to use or not. And he's an actor, so he knows the instinctual 'beats' of when something should end or when material is funny or dramatic."
Favorite Acting Teacher/Private Coach: Stephen Book. "I've been studying with him for six months. He also has written some amazing books that are terrific, one being on the improvisational techniques for theatrical acting that we are doing in class. He doesn't teach through any kind of put-downs. His way of teaching makes you start to become very aware of things to focus on to get more believable in your work." Schooler has studied with a variety of teachers and schools over the years, including the Actors Studio in Los Angeles, and recommends that actors "have a whole bag of tools from different places and use whichever one you can for whatever is appropriate." Lastly, she suggests, "Be in a class of some sort that helps you to understand what to do with a script, what to do with a character, and how to develop a character."
Favorite Commercial CDs: Craig Colvin, Terry Berland, Shane Liem-Jacobson, Sheila Manning, Cathi Carlton, Ross Lacy, Stuart Stone
Favorite Film CDs: Mary Vernieu and Victoria Burrows. "Both are extremely nice and have great people that work with them," Schooler says.
Favorite Television CDs: Jennifer Cooper from FMW Casting — "such a great gal, and the FMW women are very kind, helpful, and very professional."
Favorite Place to People Watch: Hollywood Boulevard. "You definitely see some interesting character studies there."
Favorite Agents: At Independent Artists, Laura Fogelman and Beverly Kline for voiceover; at Coast to Coast, Hugh Leon for commercials
Favorite Manager: Michael Abrams of the Michael Abrams Group. "What is so special about my manager is that he helps build people's careers by giving them the information and the confidence they need and a realistic way at looking at themselves so that they can see what kinds of parts they can portray and what to go after," she says. "He's a career builder."
Favorite Demo Reel Producer
Robert Campbell is an actor, and he has interned with casting directors and talent agencies. So his demo reel production company, Quick Nickel, combines his knowledge of acting skills with his business savvy to create actors' reels that appeal to the industry.