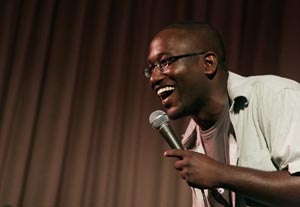 From improvising at auditions to the ten comedians to keep your eye on, Back Stage explores how to make it in the comedy and improv business in good humor.
Kristen Schaal is Keeping it Real Weird
Schaal is an exuberant entertainer, one whose comedy is rooted in an exaggerated awkwardness and at times can feel a bit performance-arty (in a good way).
Podcast is the New Standup Album
The live album was at one time the definitive work that a standup comic could share with the world. That was before podcasts changed the way comedy content is created, distributed, and enjoyed.
Comic Richard Ayoade Brings 'Submarine' to America
Ayoade has been building an impressive résumé behind the camera. But it's his feature directorial debut, "Submarine," that is currently earning him widespread acclaim.
How does a Standup Comic Land a Spot on Late-Night TV?
I scout local clubs and industry showcases as often as possible, although the majority of our submissions come in via YouTube links or DVDs.
To Improvise or not to Improvise
"Although we can't ask anyone to improvise"—because of Screen Actors Guild rules—"people will expect you to be able to," says David Cady.
10 Comics to Watch
These 10 comedians are tearing up the Web, the screen, and the stage.
CD Wendy O'Brien on What She's Looking For
She currently handles "It's Always Sunny in Philadelphia," "Sons of Anarchy," "Men of a Certain Age," and "Teen Wolf," as well as slew of pilots—and she loves her job
TV Writer Hilary Winston Talks About Her New Book
The book contains a wide range of stories that chronicle a variety of work, love, and life experiences about everything from the Shy Pooper to gay ex-boyfriends to cat acne.
Marc Maron's 12 Steps to Enlightenment
Maron, 47, started his comedy career in the mid-1980s in Boston and moved to New York City a few years later; he is considered one of the founding fathers of the alternative comedy scene.

Comedy and Improv Schools in Los Angeles and New York
As part of our Spotlight on Comedy and Improv, here is a list of comedy schools in Los Angeles and New York City. Each listing includes the school's specialities as well as their location and contact info.