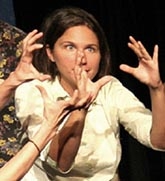 In this spotlight, Back Stage examines the roots -- and rules -- of comedy and improvisation. Hear from the masters at the Upright Citizens Brigade, get advice on making a perfect demo reel out of your stand-up, and find out how to apply comedy skills to your acting.
'Citizens' Arrest
In ordinary-looking bucket that contains all the secrets of the universe. A man who puts pennies in his rectum to build confidence. Cyborgs hiding everywhere, even the U.S. Senate. These were only some of the weird, wonderful creations of the Upright Citizens Brigade, the offbeat comedy troupe whose brand of humor often blended the seemingly sophomoric with the fiercely intelligent.
Making an Entrance
Tim Meadows is that rare performer as at home playing understated deadpan as he is embodying larger-than-life characters, and his range has garnered him a loyal fan base. Like the careers of so many nimble comic performers, Meadows' has its roots in improvisation.
School of Spontaneity
Improv comedian Rick Kuhlman was visting his mother in Ohio when she asked him to explain what he did for a living. More specifically, how did Kuhlman, an instructor at Second City's Los Angeles Training Center, teach people how to be funny? "I don't," said Kuhlman. "Once you're being honest, the humor just happens all over the place."
Reel Funny
Helen Hong, like other comics, was searching for the elusive "perfect" demo reel. Sometimes she felt cursed. Whenever she had a really good set, the camera wasn't running. And when it was, she either had an off night or something happened to spoil it — a server walking into the frame in the middle of a punch line, for instance.
Applying Acting Skills to Standup Comedy
Woody Allen, Jerry Seinfeld, Ray Romano, Steve Martin, Bob Newhart, and many others made their names as standup comics before embarking upon acting careers. Among the random handful of standup comics I contacted, all have had at least some acting training, most have acting experience, some continue to act, and all see a strong correlation between the two.