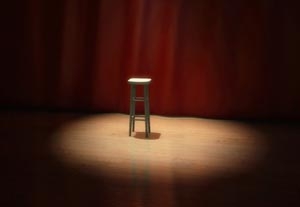 Back Stage goes comedic with rising star Hannibal Buress, 10 comics to watch, L.A. and N.Y. comedy shows, and preview of Montreal Just for Laughs.
Hannibal Buress' Year of Magical Thinking
How Just for Laughs fest's rising comedy star award-winner Hannibal Buress took control of his career, one joke at a time.
Back Stage's 10 Comics to Watch in 2012
Watch Megan Amram, Jerrod Carmichael, Ilana Glazer, Lauren Lapkus, Joe Mande, Arthur Meyer, Sean Patton, Rebecca Delgado Smith, Betsy Sodaro and Sheng Wang.
Where Kristen Schaal and Cool Comedy Kids Go
Emily Gordon and Dave Ross, bookers for "The Meltdown" and "Holy Fuck," talk about alternatives to comedy clubs, and we list some of the hottest.
Comics Introduce Themselves at Montreal Just for Laughs
The 30th anniversary of the Montreal Just for Laughs Festival boasts a bigger lineup than ever before, and offers more ways for comics to break out.
Paul Provenza's Favorite Montreal Hangouts
Comedian Paul Provenza gives his take on the hot spots in Montreal during Just for Laughs.
The Work of a Warm-Up Comic
Warm-up comics lead the studio audiences of such shows as "The Dr. Oz Show," "The Chew," and "The View."