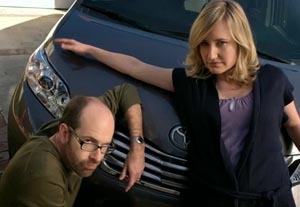 Back Stage has gathered the top experts and actors to share their advice on acting for commercials, such as how to create a demo real and how to use improvisation to your advantage.
Strategies For Starting Off Your Commercial Audition Right
When you slate (speak) your name in auditions today, it's the very first time the director and ad agency get to see you and decide whether they will actually watch the rest of your audition.
When Shooting One Ad Can Prevent You From Shooting Another
"Sometimes, with a smaller, regional spot to cast, it's hard to get the best talent in to audition," says commercial casting director David Bellantoni.
What You Need to Know About Commercial Reels
Commercial reels are most useful for trying to secure a commercial agent. An actor with a reel is much more likely to get a meeting than one without.
David Theune Goes Goofy-Creepy for Stanley Steemer
The actor says he had a wonderful time doing these spots. So far, 13 have been shot, five this year and eight last year, with each series of ads taking three days to complete.
Jonathan Goldsmith Does More Than Sell Dos Equis Beer
Goldsmith never even intended to become an actor, but he says, "It was a love affair from the very beginning"—in more ways than one.
Farris Patton is Living Her Dream as the Orbit Girl
Farris Patton is living a "commercial actor's dream" as the spokeswoman for Orbit gum in its 10-years-and-running "Dirty mouth?" campaign.
Jerry Lambert Can't Escape His Role as Sony VP Kevin Butler
Kevin Butler is not your normal spokesperson. The job title–toting Sony executive leads departments from Add More Awesome to Family Showdowns. Just don't tell gamers he isn't real.
Rachael Drummond and Brian Huskey Get Their Swagger On
The stars of the Toyota Sienna "Daddy Like"/"Mommy Like" campaign discuss why improvisation is an important commercial acting skill.