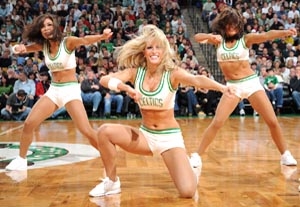 In our Spotlight on Dance, Back Stage is focusing on two unique niches in the dance community: Cheerleaders for sports teams, and back-up dancers for pop stars. They are two of the most hard-working and lucrative groups of professional dancers.
"Most of the dancers are type-A personalities," says Stephanie Jojokian, director-choreographer for the Washington Redskins dancers. "They're go-getters at everything, and most people would be amazed."
Read our stories below, and see our list of Dance Schools.
Halftime Movers and Shakers
Christina Iannelli says dancing with the New York Nets has boosted her credibility in the professional dance world. "We're working with very talented Broadway choreographers, and the skill level is amazing," she says. "It can compete with anything out there. Performing with the Nets has made me a better dancer and given me confidence and poise."
Dancing Behind the Stars
The right backup dancers bring enormous energy to the stage, and their motion helps focus the audience's attention on the singer. So how are dancers chosen for this kind of work? Does it pay well? Is it gratifying or just grueling to be out on tour for months at a time? And what kind of relationship does a backup dancer have with the star?
Dance Schools and Classes
From Bhangra to chair dancing, belly dancing to krump, a melting pot of cultures, new technologies, and the Internet have brought exciting new choices to the world of dance classes from coast to coast. Here is a brief listing of schools and class offerings in New York and Los Angeles.