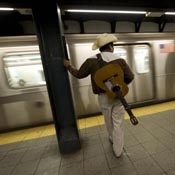 Every actor struggles with the decision of whether to pursue a career in Los Angeles, New York or work regionally. New York actors who have made the big move, discuss landing an agent, finding work, expenses -- especially rent, and adjusting to life in the Big Apple.
If ever a TV series celebrated the joys and challenges of life in New York City, it's ABC's "Ugly Betty."
Even as a native New Yorker, actor Steven Leon doesn't know all the city's secrets.
After 20 years of acting in L.A., Mary VanArsdel had saved enough money to survive temporarily in Manhattan.
New York isn't just a place. Making it there symbolizes acting success.
These days, just about any job is a great job to have.