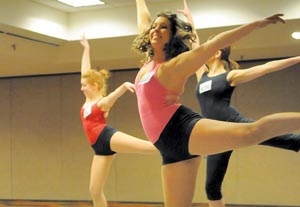 Attending a regional combined audition can be like playing the cymbals in an orchestra: You sit patiently in a stiff tuxedo, waiting for your big moment of crashing truth, and then, before you know it, it's over. Actors may plan several months for the big day, drive overnight to get there, and pay for a hotel room, and when their few seconds in the spotlight are over, they're left like Peggy Lee, wondering, "Is that all there is to a regional combined audition?"
With any luck, the answer will be no, and your audition will be followed by several theaters and producers inviting you to their callbacks, which will offer you an array of choices for summer employment or even long-term gigs. But whether you're lucky or not, you'll want to get your time and money's worth from any combined audition event. To help with that goal, Back Stage spoke with audition administrators and a few veteran auditionees.
---
What Are You Looking for at Regional Combined Auditions?
---
Planning Ahead
Selecting the audition or auditions you'll attend is the first step. Geographical proximity is obviously a big factor, but you may find that you'll need to travel farther to meet your needs. The websites of the various combined auditions and theater conferences will tell you what each one entails and which theaters will be sending representatives. For instance, if you're a college student, the Unified Professional Theatre Auditions in Memphis, Tenn., which cater to established professionals, might not be the best fit, whereas New York City's StrawHat Auditions, which offer many summer-only jobs for nonunion newcomers, could be just the ticket.
Ryan MacConnell, a musical theater student at Ithaca College who auditioned last year at the New England Theatre Conference in Natick, Mass. (he also had a behind-the-scenes administrative job there), thinks attending multiple audition events may not make sense. Many theaters and producers, he says, are represented at both StrawHat and NETC, for example. If you're on a tight budget, you should choose the one that is most likely to bring you success.
Once you know which theaters will be attending a combined audition, it's a good idea to learn what shows they'll be doing in the upcoming season and begin looking for trends, suggests Todd Zehrer, a 2011 graduate of Millikin University who recently moved to New York. Zehrer has attended both UPTA and the MidWest Theatre Auditions, which are held at Webster University in St. Louis. "I know that in the year coming up, 'Legally Blonde' is really popular," he says. "If you're the kind of person who's dead-on the right type for a show that's happening at a lot of different theaters, it might be smart to really market yourself for that show."
---
List of 2012 Regional Combined Auditions
---
Getting There
Traveling to regional combined auditions can be expensive, especially if you're going alone. Rachel Swartz, now an MFA student at the University of Southern Mississippi, drove by herself from Ohio to New York for StrawHat. "I learned a very valuable lesson," she says. "Ohio girls don't belong driving in New York City…. It was terrifying. I parked my car at the hotel and didn't take it out again until it was time to come home."
Meg Maley, a senior at Baldwin-Wallace College, remembers a similarly "insane" trip from Ohio to New York for StrawHat. She and her classmates performed "Rent" on campus on Sunday evening, drove through the night to their Monday auditions, stayed in New York overnight, then drove back the next day in time for their Tuesday-night "Rent" curtain.
That sort of madcap road trip may be one for the memory book, but it's probably not conducive to delivering your best audition. The stress of the drive had a negative effect on Swartz's StrawHat performance. "That was a bit of a flop for me," she recalls. If you have the time, you might want to combine business with pleasure by making the trip a mini-vacation. When Swartz traveled to Memphis for UPTA, the trek was much more relaxed. She arrived a couple of days ahead of time, visited the local zoo, and spent time resting before the auditions. "And it was kind of wonderful to have my car down there," she says.
Traveling with other actors—assuming you're compatible, of course—can make a long trip more enjoyable, even if you don't have time to stop and see the sights along the way. April J'Callahan Marshall, director of professional theater services for the Southeastern Theatre Conference, notes that SETC helps actors find both travel partners and roommates. And if you're journeying a very long distance, you might consider flying at least part of the way.
Once you reach your destination, you'll need a way to get around—but that doesn't necessarily mean renting a car. Peter Sargent, auditions coordinator for MWTA, says some hotels in St. Louis provide shuttle service to and from the Webster campus to accommodate auditionees.
Staying There
Some actors prefer to avoid hotel costs altogether. If you live relatively close to the event's host city, you can be a day tripper, but as MacConnell points out, callbacks can last late into the evening, and you may find that splurging on a room for the night will keep you (and your carpool mates) from getting restless or impatient as the hours tick by. If you have friends or relatives who live nearby, you can save money by staying with them. "Any trip to New York, you call your friends from the past," says Maley, noting that many Baldwin-Wallace alumni have relocated to the city and are willing to host former classmates.
If you stay at a hotel, consider doubling, tripling, or quadrupling up. Swartz thinks it's "nonsense" to spend $300 per night on a room for one: "I've yet to go to a conference where, if I wasn't staying with my buddies, I didn't run into 15 that I could have stayed with." Such group adventures may have stressful moments, but when everyone cooperates, things can turn out well. "If you don't mind six girls getting ready in one bathroom," Swartz says, "it's a worthwhile experience—if for nothing else than the stories of being with five other actors in a hotel room at the most dreadful point in their year."
According to Swartz, there are definite advantages to staying at the hotel where the auditions are being held: "It was so nice when, if I needed five extra headshots or I needed my tap shoes, they were there, rather than having to get across town and miss a callback that could be a potential job, because you needed something you didn't have. I tried lugging around a whole bag of dance shoes and music books and everything one year, and it was just a terrible mistake."
Sometimes hotels will offer special deals. Joseph Juliano Jr., auditions chairperson for NETC, says Natick's Crowne Plaza Hotel, which hosts NETC's auditions, has provided meal vouchers to entice actors to lodge there. Similarly, says Sargent, MWTA works with hotels in St. Louis to keep costs low, while Webster University keeps its food service outlet open so attendees won't have to buy expensive meals elsewhere.
Things to Do
When a regional combined audition is held in conjunction with a theater conference, you may find all sorts of theater-related events that can augment the value of attending. According to Marshall, a vast number of enriching opportunities can be found at SETC's professional auditions, held in the spring and fall, including social events, master classes with renowned teachers, 300 workshops, and six theater festivals (featuring about 50 shows). Swartz, for instance, took a workshop on "Shakespeare and scrolls" in 2010, which demonstrated "a way of doing Shakespeare as it might have been done" originally, she says, "reading straight from the page."
Some theater conferences keep their auditions separate from their other activities. Juliano explains that although NETC has considered creating one large event, it continues to hold its annual convention in November and its combined auditions in March, as the two tend to attract completely different attendees. But if actors are traveling a long distance for NETC's auditions, they can still find plenty of shows and other theater-related activities to enjoy in nearby Boston—or even use the trip as a chance to check out the theater scene in New York.
Likewise, auditionees at other events can find things to do in those cities. While attending MWTA in 2010, Zehrer and his fellow actors saw a production of "Spring Awakening" at St. Louis' Fox Theatre. When in Memphis for UPTA, he attended a blues concert.
People to See
Another way to add value to your experience is by networking, both with theater representatives and with other actors. Networking was "the biggest benefit" of his attending last year's NETC auditions, says MacConnell, explaining that the layout of the audition area was especially conducive to mingling with others: "All these people are in this huge hallway together for hours, so you're just talking to everyone…. Producers will walk in the halls and sometimes grab someone aside and talk to them or say, 'I remember seeing you last year. You've improved a lot.' "
At the NETC auditions, MacConnell became acquainted with some students from Syracuse University and they spent time hanging out after callbacks. He later saw them again when he attended one of Syracuse's theater productions. "And then everybody requests each other on Facebook after that weekend," he adds. "It's like everyone goes nuts trying to figure out each other's connections…. If you have to reach out, now you know those people, even if you're not the best of friends."
When Swartz was offered a job with the outdoor historical drama "The Lost Colony" in Manteo, N.C., she remembered someone who had worked there. "I was able to call my friend Max that I met being No. 87 at UPTAs that year," she says. "So it's kind of neat. It's interesting to see where you end up running into these people, over and over and over again."
Zehrer and Swartz say the hotel bar is a good place to interact, both with fellow actors and with theater reps. "All the casting directors seem to go down there afterwards," Swartz notes, "and they want to meet everybody that they saw for 90 seconds and talk to them there and get to know you on a more casual level, rather than just hearing 'your best 16.' I know for a fact that I've booked several jobs after just sitting down with a director for an hour or so and having a couple of drinks and just relaxing."
Time to Keep
Actors don't have much downtime on audition day. In fact, one of the most important skills that auditionees mention for enhancing your success at combined auditions is time management, especially when it comes to scheduling callbacks. If you're fortunate to get a number of them, Zehrer says, you may find yourself scrambling to attend them all. He has usually been able to schedule meetings with his top choices, but "you definitely have to prioritize and map out your route," he says.
If you've done your research and kept track of who's who and which theaters will be producing which shows, then you should be able to sort out your options satisfactorily. Maley recalls that in preparing for callbacks, she kept a small notebook listing all the theaters represented at the event, their locations, the shows they were staging, and their payment policies.
"It's sometimes hard to navigate when there are so many theaters there and so many people," she says. "If you kind of have an idea of where you fit in their seasons…it makes it easier for them, and for you."