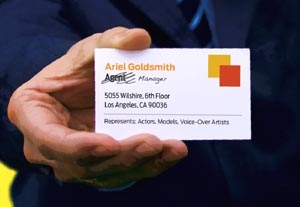 So, what's the difference between an agent and manager? It's the age-old question, but simply put, an agent can procure employment and negotiate contracts, while the manager—who guides an actor's career in broader terms—cannot. Still, most assert the line between agent and manager is blurring. Back Stage helps explain the changes, as well as how to maintain the relationship with your agent.
Switching Hats
Though precise numbers are not available, those we spoke with agree an ever-growing number of agents have decided to shift gears in the world of representation, removing their agent's hat in favor of a manager's. Their motivations and circumstances may vary. Some lose their jobs due to downsizing; others suffer burnout. Still others see new opportunities as it becomes increasingly difficult for talent—even those with track records—to land agents. Managers can fill the gap. There is also greater freedom and fewer restrictions for the manager, regardless of the client's experience or the size and status of the management firm, be it small, boutique, or large.
Maintaining a Relationship with Your Agent
The relationship between client and agent is delicate. On the one hand, there is the agent, most days too busy with the demands of the industry to take time to call or email each client to "catch up." On the other hand, there is the client, out there in the world, with many of life's distractions. Days turn into weeks, and the relationship between client and agent can go through periods when there simply is no "relationship." There is hope.