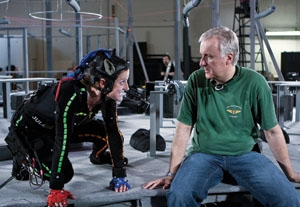 Andy Serkis on the Motion and Emotion Needed in Today's Technology
Best known for his work as Gollum in director Peter Jackson's "Lord of the Rings" trilogy, Serkis was seen by many as the true heart of "Rise of the Planet of the Apes."
Actors Sound Off on Performance Capture
In video games and feature films—such as 2007's "Beowulf" and the upcoming "The Adventures of Tintin"—performance capture is an increasingly popular method for bringing characters to life.
Growing Audio Book Industry Offers Rewards and Challenges for Actors
According to a 2009 survey by the Audio Publishers Association, 30 member companies totaled $331 million in revenue in 2008, and the industry as a whole might gross close to $1 billion a year.
Web Series Directors Prove You Don't Need A Big Budget To Make Quality Indie TV
"Our competition is not only other Web series but also viral videos on YouTube," Sean Becker says. "With sites like Hulu and Netflix, now we're competing with actual TV and actual film."
How Has Technology Changed Your Career?
"Acting and technology have been inexorably linked since the beginning of the technological age." - Kevin McCorkle
How the Internet Continues to Shape the Casting Process
As the tech universe continues to change, new platforms and social media are making the casting process more accessible and casting information more available—to the benefit of actors and casting directors alike.
How to Film a Video Audition
You're not expected to shoot a professional-quality video, but do make sure it's good enough that you can be seen and heard clearly throughout before you send it.
Samuel French Launches Downloadable Plays
By the time you read this, publisher Samuel French will have begun offering 400 plays for download, sold through Apple's iBookstore.