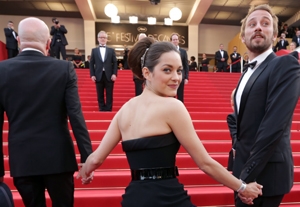 Check out Back Stage's coverage of the 2012 Cannes Film Festival!
'Moonrise Kingdom' Opens Festival; Alec Baldwin Wows Crowd
Back Stage arrives at the Palais des Festivals in Cote d'Azure, France for the Cannes Film Festival.
Lily Rabe Cast as Mary Pickford
The producers are currently taking meetings about additional casting at the Cannes Film Festival.
Cotillard Stars in 'Rust & Bone,' Plus Surprise Musical Performances
On day two of the Cannes Film Festival, Marion Cotillard and Matthias Schoenaerts premiere their new film "Rust & Bone," and LMFAO takes the stage.
Filmmaker Chloé Robichaud Discusses 'Chef de Meute'
Up-and-coming Montreal filmmaker Chloé Robichaud discusses her short film, "Chef de Meute," one of the official selections at Cannes.
'Madagascar 3' Summons Celebs; Jackie Chan Retires From Action
Jessica Chastain discusses voice acting in 'Madagascar," and "Reality" actor Aniello Arena misses festival.
Guy Pearce is Creepy in 'Lawless'; 'Antiviral' is 'Nasty'
John Hillcoat's "Lawless," starring Shia LaBoeuf, Tom Hardy, and Guy Pearce, and Brandon Cronenberg's "Antiviral" are not for everyone.
Thomas Vinterberg Talks 'Jageten'; Pete Doherty Delights Fans
Danish filmmaker Thomas Vinterberg discusses his film, "Jageten," and Pete Doherty plays up his bad boy image.
Directors Anurag Kashyap and Alain Resnais Discuss Acting
"I love Back Stage," director Anurag Kashyap said. "I have lots of theater friends and actors who depend on Back Stage."
Brad Pitt in 'Killing Them Softly'; How Movie Deals are Made
Back Stage ventures into the lower levels of the Palais to Le Marché du Film and checks out Brad Pitt's "Killing Them Softly."

Caleb Landry Jones is Conflicted About Celebrity
Caleb Landry Jones is shaking things up in "Antiviral," the first feature film by Brandon Cronenberg, son of David Cronenberg.

Kristen Stewart Discusses 'On the Road'; Festival Sidebars
Cinéfondation is a sidebar that selects fifteen to twenty short and medium-length pieces from film schools all over the world.

Meryl O'Connor Discusses Her Film and Working with Actors
The student filmmaker talks about "The Ballad of Finn + Yeti," part of the Cinéfondation Selection at the Cannes Film Festival.
Zac Efron, Nicole Kidman, John Cusack Talk 'The Paperboy'
Zac Efron, Nicole Kidman, and John Cusack discuss stepping out of their comfort zones in Lee Daniels' "The Paperboy."
Tom Hardy, Guy Pearce Talk Violence in 'Lawless' at Cannes
"Lawless" stars Tom Hardy and Guy Pearce, director John Hillcoat, screenwriter Nick Cave, and others talk about how no one's making Westerns anymore at Cannes.
Philip Kaufman's Master Class; Robert Pattinson's New Movie
Director Philip Kaufman talks "Hemingway & Gelhorn," starring Nicole Kidman and Clive Owen. Robert Pattison breaks the "Twilight" mold in "Cosmopolis."

Reese Witherspoon, Matthew McConaughey Talk 'Mud'
As the festival finishes up, Reese Witherspoon and Matthew McConaughey discuss Jeff Nichols' "Mud." Elijah Wood's "Maniac" screens out of competition.
Director Matthew James Reilly on 'Abigail' and Growing Up With Actors
The day after winning second prize at Cannes in the Cinéfondation selection, Matthew James Reilly sat down with Back Stage to discuss "Abigail."
Short Film Director Zia Mandviwalla Discusses 'Night Shift'
New Zealand filmmaker Zia Mandviwalla's film "Night Shift," was part of the short film competition at the Cannes Film Festival.

Álvaro Aponte-Centeno Finds Inspiration in Music for 'Mi Santa Mirada'
Puerto Rican director Álvaro Aponte-Centeno's new short film, "Mi Santa Mirada," delighted audiences at the Cannes Film Festival.
Director Grainger David Discusses 'The Chair' and Working With Children
Director Grainger David is channeling his past in his new short film "The Chair," which is part of the in competition selection at the Cannes Film Festival.